October 15, 2014 -
Joe Fortenbaugh
Week 8 college football betting primer
Before we begin, a rant:
Stop taking exception to the way Florida State is handling quarterback and 2013 Heisman Trophy winner Jameis Winston. Forget about the fact that the University of Georgia suspended star running back Todd Gurley for making a couple bucks signing autographs while FSU will allow Winston to play despite doing the exact same thing. Disregard the fact that Winston appears to make headlines every other week for breaking laws, violating rules or acting like an immature, selfish jackass.
The truth of the matter is that Florida State football is a business and they don't give a damn what you or I think. Winston gives the Seminoles the best chance to win and the more the Seminoles win, the more money the school makes. Public outrage, allegations of rape, NCAA rules violations and overall despicable conduct mean nothing to the people calling the shots at Florida State University. The school plans to cover up all of Winston's indiscretions and ride that Benjamin Franklin-laced wave of money and exposure for as long as it can before the quarterback becomes some NFL team's problem.
Florida State won't change until somebody forces it to, and that somebody doesn't exist. So there's really no sense in getting upset about the way the University is flaunting it in everybody's face.
Last week: 2-3
Season: 18-22 (.450)
#14 Kansas State Wildcats (4-1, 1-0 road) at #11 Oklahoma Sooners (5-1, 2-0 home)
When: Saturday, 12:00pm ET
Open: Oklahoma -9.5
Current: Oklahoma -8.5 (Wynn)
Kansas State in 2014: 3-2 ATS, 3-2 to the OVER
Oklahoma in 2014: 3-3 ATS, 5-1 to the OVER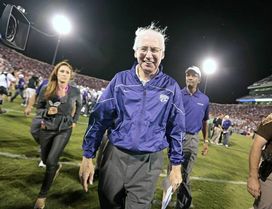 In a battle of wits between Bill Snyder and Bob Stoops, we'll side with Bill Snyder.
Analysis: Kansas State head coach Bill Snyder has had two weeks to prepare his squad for eighth-ranked Oklahoma while reinforcing the fact that the Sooners defeated his Wildcats 41-31 last season. Snyder is 10-1 against the number over his last 11 outings in the road dog spot while Kansas State is 11-4-1 ATS over its last 16 road contests and 10-4 ATS over its last 14 outings overall. Two weeks ago Oklahoma fell 37-33 at TCU and responded to that setback last Saturday with a less-than-stellar 31-26 victory over a bad Texas team. Be advised that after blowing out Louisiana Tech and Tulsa to open the 2014 campaign, the Sooners have converted just 33.3 percent on third down over their last four matchups (Tennessee, at West Virginia, at TCU, Texas). In addition, take note that Kansas State is 5-1-1 ATS over its last seven road trips to Norman.
Notable trends: Kansas State is 19-6-1 ATS over its last 26 games against teams with a winning record while Oklahoma is 1-6 ATS over its last seven games played in the month of October.
Pick: Kansas State (+8.5)
Iowa Hawkeyes (5-1, 2-0 road) at Maryland Terrapins (4-2, 1-2 home)
When: Saturday, 12:00pm ET
Open: Maryland -3
Current: Maryland -4 (Westgate)
Iowa in 2014: 3-3 ATS, 4-2 to the UNDER
Maryland in 2014: 3-3 ATS, 3-2-1 to the OVER
Analysis: Here's another situation where we're backing a team entering Saturday on extra rest. The Terrapins have the speed and talent on offense—especially in the passing game—to exploit Iowa's slow secondary. Through six contests, Maryland is averaging a healthy 34.6 points and 399.6 total yards per game, numbers that indicate this will be a much different test for a Hawkeyes defense that has faced a relatively soft schedule so far in 2014 (Northern Iowa, Ball State, Iowa State, Pittsburgh, Purdue, Indiana). They say that styles make fights and with Iowa ranking 71st in passing, 83rd in rushing and 89th in scoring, the Hawkeyes will need to lean heavily on an aforementioned defense that doesn't match up well with the Terrapins.
Notable trends: Maryland is 4-1 ATS over its last five games following a loss.
Pick: Maryland (-4)
#10 Georgia Bulldogs (5-1, 1-1 road) at Arkansas Razorbacks (3-3, 2-2 home)
When: Saturday, 4:00pm ET
Open: Georgia -3
Current: Georgia -3.5 (MGM)
Georgia in 2014: 3-3 ATS, 5-1 to the OVER
Arkansas in 2014: 5-1 ATS, 4-2 to the OVER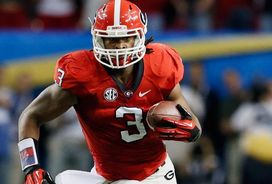 Georgia will be without the services of running back Todd Gurley once again on Saturday.
Analysis: In the wake of the news that star running back Todd Gurley was hit with an indefinite suspension last week, Georgia rallied around its leader, elevated its game and throttled Missouri on the road 34-0. And impressive performance to say the least, but now the adrenaline and emotion have worn off just as the Bulldogs head back on the road to visit a live Arkansas squad that took Alabama to the wire last Saturday in a 14-13 defeat. Head coach Bret Bielema has the Razorbacks playing with some gusto this season, which is part of the reason why this school is 5-1 against the number in 2014, which includes five consecutive covers. We're calling for the outright upset here.
Notable trends: Georgia is 2-8-1 ATS over its last 11 conference games while Arkansas is 6-0 ATS over its last six contests against teams with a winning record.
Pick: Arkansas (we think this line will continue to climb and, therefore, are holding out for a number better than +3.5)
Washington Huskies (5-1, 2-0 road) at #9 Oregon Ducks (5-1, 3-1 home)
When: Saturday, 8:00pm ET
Open: Oregon -19.5
Current: Oregon -21 (Stations)
Washington in 2014: 3-3 ATS, 5-1 to the UNDER
Oregon in 2014: 2-4 ATS, 3-2-1 to the UNDER
Analysis: Not too long ago, there was a time when bookmakers had some difficulty keeping up with the influx of Oregon money they saw every week. I remember one bookmaker in particular telling me in regards to the Ducks, "We can't set these numbers high enough."
Fast forward to 2014 when the Ducks are still laying massive points on a semi-regular basis, despite the fact that the team is 3-8 ATS over its last 11 outings and 1-5 ATS over its last six home contests. Oregon is still a good football team, but the Ducks are now overvalued when it comes to the Las Vegas point spread on a near weekly basis. As a result, there's value to be found in betting against Oregon, which is exactly what we plan to do Saturday by grabbing three touchdowns with a Washington team that cashed for us last week.
Notable trends: Oregon is 1-6 ATS over its last seven conference games.
Pick: Washington (+21)
#5 Notre Dame Fighting Irish (6-0, 0-0 road) at #2 Florida State Seminoles (6-0, 3-0 home)
When: Saturday, 8:00pm ET
Open: Florida State -12.5
Current: OFF THE BOARD
Notre Dame in 2014: 4-2 ATS, 4-2 to the UNDER< br /> Florida State in 2014: 1-5 ATS, 3-3 to the OVER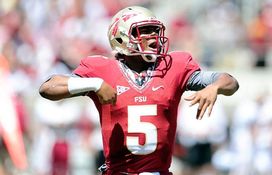 Winston and the Seminoles are not the same team this season.
Analysis: The Seminoles may be undefeated midway through the month of October, but this team has looked nowhere near as good as it did last season en route to winning the national championship. Take note that in 14 games last year, Florida State decimated the competition by a staggering average of 39.5 points per game. Now compare that to 2014's results, which have the Seminoles beating the opposition by an average of just 18.3 points per game. And be sure to remember that those six opponents include The Citadel, Wake Forest and N.C. State.
Quarterback Jameis Winston is involved in yet another scandal (which is why this line is currently off the board) and you get the feeling that the FSU program is ready for the 2013 Heisman Trophy winner to depart Tallahassee as soon as he's done making as much money as possible for the program. Meanwhile, Brian Kelly and Notre Dame keep chugging along.
To conclude, here's a great trend from our friend Marc Lawrence of Playbook.com: Defending national champions are 10-17-2 ATS since 1980 as favorites of less than 14 points in matchups featuring two undefeated teams.
Notable trends: Notre Dame is 5-0 ATS over its last five games against teams with a winning record while Florida State is 1-4 ATS over its last five contests played on grass.
Pick: Notre Dame (we'll post the spread we play the Irish at on Twitter)
Hit me up on Twitter: @JoeFortenbaugh