October 17, 2012 -
Joe Fortenbaugh
Week 8 college football betting primer
No need to celebrate over last week's 4-2 effort. My season still looks something like this:
Last week: 4-2
Season: 21-22 (.488)
CLICK HERE to check out all of the current lines.
Penn State Nittany Lions (4-2, 1-1 road) at Iowa Hawkeyes (4-2, 2-2 home)
When: Saturday, 8:00pm ET
Open: Iowa -2
Current: Iowa -3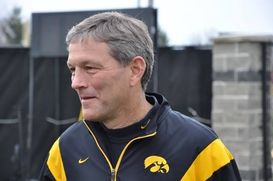 Iowa head coach Kirk Ferentz owns the Nittany Lions.
Analysis: This Big Ten matchup makes the Week 8 list for one, simple reason: Penn State-Iowa marks the return of the annual alumni bet between myself and Matt Bowen. This time around, Bowen is putting up pizza from Lou Malnati's in Chicago against a $25 spin on the roulette wheel, courtesy of yours truly. And let me state for the record that I hate being on the PSU side for this one. The Lions are 3-9 against the Hawkeyes since 1996, with Kinnick Stadium serving as a house of horrors for the boys in Blue and White, who are 0-4 at Iowa since 2001. With the exception of Iowa's 1-7 ATS mark over their last eight games following a straight-up win, there's not a whole lot for me to get excited about here.
Take note: Penn State is 3-8 ATS in their last 11 games against Iowa and 1-4 ATS in their last five games at Iowa.
Pick: Iowa (-3), meaning the Hawkeyes will win by two, effectively making me a loser on both bets.
North Carolina Tar Heels (5-2, 1-2 road) at Duke Blue Devils (5-2, 4-0 home)
When: Saturday, 7:00pm ET
Open: UNC -11
Current: UNC -10.5
Analysis: A sixth win would make Duke bowl eligible for the first time since 1994, but my rationale for backing the Blue Devils on Saturday has more to do with UNC's struggles on the road. In three away games this year (1-2 SU, 0-3 ATS), the Tar Heels have committed five turnovers, 29 penalties and boast a time of possession average of just 26:07 per contest. And with their loss to Virginia Tech last Saturday, Duke realizes that if they can't get the job done this weekend, the upcoming schedule (at FSU, vs. Clemson, at Georgia Tech, vs. Miami) could very well send the Blue Devils on a six-game slide that keeps them out of a bowl game for the 18th consecutive year.
Take note: North Carolina is 0-4 ATS in their last four road games while Duke is 7-0 ATS over their last seven home games.
Pick: Duke (+10.5)
Indiana Hoosiers (2-4, 1-1 road) at Navy Midshipmen (3-3, 1-2 home)
When: Saturday, 3:30pm ET
Open: Navy -3
Current: Navy -2.5
Analysis: Navy's first four games of the season featured three losses. And in those three defeats, the Midshipmen committed 10 turnovers and averaged just 154.6 rushing yards per game. But something's brewing in Annapolis. Navy has now won three of their last four games and in those three victories, the Midshipmen have turned the ball over just twice and are averaging an impressive 308.6 rushing yards per game. We're going to ride the hot hand here.
Take note: Indiana is 2-6 ATS in their last eight non-conference games while Navy is 11-5 ATS over their last 16 games following a straight-up win.
Pick: Navy (-2.5)
Boston College Eagles (1-5, 0-3 road) at Georgia Tech Yellow Jackets (2-4, 2-2 home)
When: Saturday, 3:00pm ET
Open: Georgia Tech -14
Current: Georgia Tech -14
Analysis: Boston College has dropped four straight, most recently losing 51-7 at Florida State, and the prevailing thought is that head coach Frank Spaziani is on his way out the door. The Eagles are a team in turmoil and could be very close to throwing in the towel on the 2012 campaign, if they haven't already. Georgia Tech has their own problems, but the Yellow Jackets are 13-6-1 ATS over their last 20 games against teams with a losing record. The gamble here is that Boston College doesn't bother showing up.
Take note: Boston College is 0-4 ATS over their last four games overall while Georgia Tech is 3-7-1 ATS over their last 11 conference games.
Pick: Georgia Tech (-14)
Florida International Golden Panthers (1-6, 0-3 road) at Troy Trojans (3-3, 0-3 home)
When: Saturday, 1:00pm ET
Open: Troy -6.5
Current: Troy -7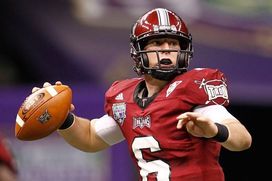 If Troy quarterback Corey Robinson is able to play, expect to see this line start moving in a hurry.
Analysis: FIU has dropped five in a row, losing by an average of 13.2 points per game. The upside for the Golden Panthers is that the underdog in this series in 4-1 ATS over the last five meetings, but keep in mind that Troy is coming into this game on extra rest, having lost to Western Kentucky last Thursday night. But here's the real key to this game: Troy starting quarterback Corey Robinson suffered a concussion in last week's matchup and his status for Saturday is uncertain at the moment. If it's announced that Robinson will play, this line is going to skyrocket. So we'll roll the dice by grabbing the early number. Backup Deon Anthony has appeared in six games this season, so it's not as if he's unfamiliar with the offense.
Take note: FIU is 2-6 ATS in their last eight games overall while Troy is 2-6 ATS in their last eight home games.
Pick: Troy (-7)
Ball State Cardinals (4-3, 1-2 road) at Central Michigan Chippewas (2-4, 1-2 home)
When: Saturday, 3:30pm ET
Open: Ball State -3.5
Current: Ball State -3
Analysis: Central Michigan currently ranks 116th in the country in scoring defense (39.2 pts/gm) and has dropped three straight contests, losing by an average of 21.5 points per game. Ball State is equally pathetic on defense (35.4 pts/gm, 107th in NCAA), but the Cardinals are 10-3 ATS over their last 13 games overall and head to Central Michigan on Saturday to play a Chippewas team that is 0-6 ATS over their last six home games.
Take note: Ball State is 36-15 ATS over their last 51 road games while Central Michigan is 2-14 ATS over their last 16 games against conference opponents.
Pick: Ball State (-3)
Hit me up on Twitter: @JoeFortenbaugh