October 29, 2010 -
Joe Fortenbaugh
Week 8 Fantasy Starts & Sits
Before we get to our Week 8 business, here is your motivational moment of the day:
Also, be sure to check out the NFP Expert's League and let me know your suggestions for which players I should start, which guys I should sit and which free agents are worth a pickup for Week 8 and beyond.
START 'EM UP
Matthew Stafford, QB, Detroit Lions: Stafford makes his return to the starting lineup this Sunday after missing the last five games with a shoulder injury. What better way to welcome him back to action than by inserting the second-year quarterback into your starting lineup when he takes on a Washington Redskins defense that is giving up an average of 20.6 fantasy points per week (fourth worst in NFL) to opposing quarterbacks? The Redskins currently rank 31st in the NFL in pass defense (292.1 yds/gm) and are surrendering an average of 255.3 passing yards per game on the road this season. In addition, Stafford has thrown eight touchdown passes in five career home games as opposed to just five TD tosses in six career road contests.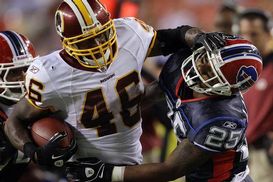 You couldn't ask for a better matchup for a running back than the Detroit Lions.
Ryan Torain, RB, Washington Redskins: Torain's topped 20 carries and 100 rushing yards in each of his last two games. Expect that trend to continue this Sunday in Detroit when the veteran ball carrier takes on a Lions defense that ranks dead last in the NFL in points allowed to opposing fantasy running backs this season (25.8 pts/gm). While Jim Schwartz's squad has shown improvement this year, Detroit is still getting gashed on the ground to the tune of 138.8 rushing yards per game (27th in NFL). Keep in mind that in two home games this season, the Lions have surrendered an average of 145.0 rushing yards per contest and allowed a total of three rushing touchdowns.
Pierre Garcon, WR, Indianapolis Colts: With tight end Dallas Clark and wide receiver Austin Collie on the shelf, look for Garcon to see a serious increase in targets from quarterback Peyton Manning on Monday night against a Houston Texans defense that is allowing and average of 28.5 fantasy points per week to opposing wide receivers (second worst in NFL). The Texans have spent the 2010 season getting exploited by opposing quarterbacks through the air and currently rank dead-last in the NFL in pass defense (306.2 yds/gm) and 29th in the league in scoring defense (27.8 pts/gm). As an added bonus, keep in mind that in his last 11 battles with the Texans, Peyton Manning is averaging 298.6 passing yards and 2.4 touchdowns per game. Cha-Ching!
Beanie Wells, RB, Arizona Cardinals: It's been a rough 2010 for the former Ohio State Buckeye as Wells is averaging just 3.5 yards per carry with only one rushing touchdown this season. The good news is that he's carried the ball 35 times over his last two games and takes on a Tampa Bay defense this Sunday that is giving up an average of 21.9 fantasy points per week to opposing running backs (seventh worst in NFL). In addition, the Buccaneers rank 31st in the NFL in run defense (157.7 yds/gm) and are surrendering an average of 5.3 yards per carry to opposing ball carriers (32nd in NFL). If there were a week for Wells to break out, this would be it.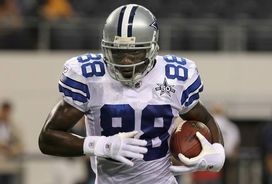 Bryant will look to stay hot vs. the NFL's worst pass defense.
Dez Bryant, WR, Dallas Cowboys: The rookie from Oklahoma State posted the best fantasy performance of his short career last Monday night against the New York Giants when he caught four passes on seven targets for 54 yards and two touchdowns. While his opportunities will be somewhat limited with Miles Austin, Roy Williams and Jason Witten all on the field at the same time, a favorable matchup against the Jaguars this Sunday should still result in some fantasy success. Jacksonville is surrendering an average of 30.0 fantasy points per week to opposing wide receivers, which ranks dead last in the NFL. In addition, no defense has given up more passing touchdowns (16) this season than the Jaguars. His targets may be limited, but look for Bryant to cash in when he gets the chance.
Tony Moeaki, TE, Kansas City Chiefs: The rookie from Iowa has posted some modest statistics this season, but he's still done enough to crack the top-16 in scoring among fantasy tight ends. However, if there were ever a week to get this guy in your lineup, Week 8 would be it. Moeaki and the Chiefs plays host to a Buffalo Bills defense that is surrendering an average of 14.3 fantasy points per week to opposing tight ends (dead last in NFL). In addition, the Bills have given up 14 touchdown passes this season (31st in NFL) and are allowing opponents to score an average of 33.0 points per game (32nd in NFL). Moeaki may not see a ton of targets, but with Tony Gonzalez, Todd Heap, Greg Olsen, Brent Celek and Ben Watson all on the bye this weekend, he's a solid starting option with plenty of upside.
Dallas Cowboys, D/ST: It's hard to imagine, but despite ranking tenth in the NFL in total defense (317.3 yds/gm) and seventh in passing defense (200.0 yds/gm), the Cowboys rank just 21st in scoring among fantasy D/STs. With quarterback Tony Romo on the shelf for the next 6-8 weeks, we expect this unit to step up and start playing some football. This weekend provides an excellent opportunity to get the ball rolling as the Cowboys host a Jacksonville Jaguars offense that ranks 25th in total offense (301.0 yds/gm) and 22nd in scoring offense (18.6 pts/gm). In addition, Jacksonville's opponents are averaging 9.7 fantasy points per week this season (ninth most in NFL). If Dallas can't produce some numbers in this game, you have our permission to stick a fork in them.
SIT 'EM DOWN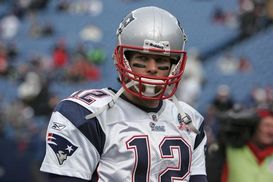 ICONBrady's October numbers have been pretty ordinary.
Tom Brady, QB, New England Patriots: This guy may be headed for the Hall of Fame, but right now owners can't let Tom Brady's past cloud their judgment. The New England quarterback is averaging only 201.3 passing yards and 1.0 touchdown passes per game over his last three outings which has contributed to an October QB rating of 83.1. This Sunday Brady and the Patriots host a Minnesota defense that is giving up an average of just 16.0 fantasy points per week (eighth best in NFL) to opposing quarterbacks. Brady and the Pats will probably win this one, but we don't expect him to roll up gaudy numbers.
Ryan Mathews, RB, San Diego Chargers: With just one touchdown this year and not a single game on his resume that features a rushing performance of more than 80 yards, Mathews is dangerously close to falling into the dreaded "bust" category as we approach the midpoint of the 2010 season. Sadly, we don't see him breaking out this Sunday against a Tennessee defense that i s surrendering only 13.7 fantasy points per week to opposing running backs (fourth best in NFL). In addition, the Titans rank ninth in the NFL in run defense (97.7 yds/gm) and have only allowed one rushing touchdown all season. With poor pass protection skills keeping him off the field on third downs, we advise owners to once again send Mathews to the bench.
Mike Williams, WR, Seattle Seahawks: Williams has amassed 31 targets, 21 receptions, 210 yards and one touchdown over the last two weeks, giving many of you the impression that he is now an every week starter. While his comeback story has been fun to follow this season, Williams has his hands full in Week 8 with an Oakland defense that is giving up only 17.4 fantasy points per week to opposing wideouts (sixth best in NFL). Not only that, but BMW is averaging just 54.0 receiving yards per game on the road this season with no touchdowns. Williams has been coming on strong as of late, but this weekend is one where we advise you to look for another option.
Chris Ivory, RB, New Orleans Saints: If Pierre Thomas somehow manages to get himself into the starting lineup this weekend, Ivory is an obvious sit. However, if Thomas is ruled out yet again due to an ankle injury, we still advise you to look for another option at the running back position. Ivory hasn't scored a touchdown in five games this season and has topped 70 rushing yards in a contest just one time (at Tampa Bay). Expect the unimpressive numbers to continue on Sunday night when the New Orleans running back takes on a Pittsburgh Steelers team that ranks first in the NFL in run defense (63.7 yds/gm). Keep in mind that only the New York Jets (8.7 pts/gm) are giving up fewer fantasy points to opposing running backs this season than the Steelers (10.9 pts/gm).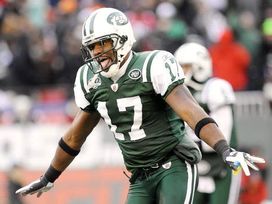 Edwards could have a tough time trying to shake free from Charles Woodson this weekend.
Braylon Edwards, WR, New York Jets: Edwards has found the end zone in four of his last five games, but be advised that he has yet to top 90 receiving yards in any outing this season. The veteran wideout may struggle to rack up the fantasy numbers this Sunday against reigning Defensive Player of the Year Charles Woodson and the Green Bay Packers, who are surrendering a reasonable 20.8 fantasy points per week to opposing receivers. Green Bay's pass defense has been victimized at times this season, but if Edwards spends his afternoon trying to get free of Woodson, it could be a very long day.
Owen Daniels, TE, Houston Texans: Daniels has been slowly working his way back to 100% after blowing out his knee midway through the 2009 season. He caught a season-high five passes for 79 yards in Week 6 against the Kansas City Chiefs, but this Monday night Daniels takes on an Indianapolis pass defense that is surrendering only 3.9 fantasy points per week to opposing tight ends. While those numbers should worry you, be sure to also keep in mind that the last time these two teams met (Week 1 in Houston), quarterback Matt Schaub recorded just 17 pass attempts. In addition, the Houston tight end has been held out of the end zone in all six games this season.
New Orleans Saints, D/ST: This is not the same unit we remember from last year. The Saints rank just 20th in scoring among fantasy D/STs this season and have forced only nine turnovers through seven games (tied for 22nd in NFL). This Sunday night, New Orleans will try to slow down a Pittsburgh Steelers offense that is averaging 363.0 yards and 25.5 points per game since quarterback Ben Roethlisberger returned from a four-game suspension. If that wasn't enough to sell you on why the Saints D/ST isn't a good play this weekend, be advised that opposing defenses are averaging only 6.7 fantasy points per game (sixth-fewest in NFL) against the Steelers in 2010.
Hit me up on Twitter: @JoeFortenbaugh
Win cash today playing fantasy football with the NFP and FanDuel.