October 23, 2012 -
Joe Fortenbaugh
Week 8 fantasy waiver wire recommendations
Rashad Jennngs, RB, Jacksonville Jaguars: Jennings rolled up 102 yards and a score on 28 touches Sunday against the Raiders, but more importantly, he's in line to start for the next few weeks now that Maurice Jones-Drew is on the shelf battling a foot injury. It's not all that often a starting running back becomes available on waivers, so Jennings should be a high priority for both MJD owners and those in need of RB depth. Two of Jacksonville's next five games come against defenses who do a solid job against the run (vs. Detroit, at Houston), but the other three are favorable matchups against the Colts, Titans and Bills.
Titus Young & Ryan Broyles, WRs, Detroit Lions: The rookie from Oklahoma was the one who put up the numbers Monday night in Chicago (3-51-1), but now that No. 2 Nate Burleson has been lost for the season, look for Titus Young to step into the starting rotation. Both wideouts are worth acquiring, but Young appears to be the guy in line for a big increase in both playing time and targets.
Matt Hasselbeck, QB, Tennessee Titans: Hasselbeck's stat lines over the last two weeks haven't been all that impressive, but he's averaging 247.5 passing yards per game and, more importantly, has led the Titans to two straight victories. This has caused head coach Mike Munchak to keep Jake Locker on the sidelines in an attempt to get him 100% recovered from a separated shoulder, but make no mistake about it: If Hasselbeck keeps winning, he'll keep starting. Advised only for owners in leagues with 12 or more teams.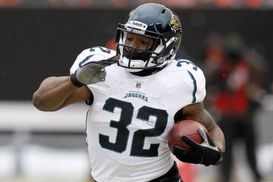 ICONWith MJD (above) out of action, Rashad Jennings becomes this week's most coveted waiver wire acquisition.
Josh Gordon, WR, Cleveland Browns: Seriously, how many times do we need to mention this guy's name before he's no longer sitting out there on waivers? I know that Gordon plays for the Browns, but the rookie wideout has now caught seven passes for 210 yards and four touchdowns over his last three starts. Gordon won't amass a lot of targets or receptions, but he's the type of receiver who can make your fantasy week with just one play.
Detroit Lions, D/ST: They held the 5-1 Bears to just 13 points on Monday night and currently rank 12th in the NFL in sacks (17). This isn't the type of unit that you can start every week, but keep in mind that Sunday offers up a home matchup against a Seattle Seahawks offense that is averaging only 12.7 points per game on the road this season.
Jeremy Kerley, WR, New York Jets: Kerley hasn't found the end zone since Week 3, but he's coming off a career-high 11-target performance that resulted in seven receptions for 120 yards against the New England Patriots. With Mark Sanchez under center in New York, this will continue to be one of the most inconsistent offenses in the league. But Kerley has become Sanchez's favorite target ever since Santonio Holmes was lost for the season. Consider him a WR3/4 with upside depending upon the matchup.
LaRod Stephens-Howling, RB, Arizona Cardinals: Be careful with this one. LSH had a monster game at Minnesota on Sunday (24 touches, 149 yards, 1 TD), but running behind that offensive line in Arizona is a big cause for concern. That, and you also have to remember that Stephens-Howling has an upcoming Monday night date with a San Francisco 49ers defense that has yet to surrender a rushing touchdown this season. Don't go overboard, here.
Correction: San Francisco's defense gave up a rushing touchdown to Ahmad Bradshaw back in Week 6.
Cecil Shorts, WR, Jacksonville Jaguars: He's found the end zone in three of six starts this season and is coming off a career-high 10-target outing against the Oakland Raiders. The problem is that Shorts was producing with Blaine Gabbert under center and it now appears that backup Chad Henne could have to step in due to a left shoulder injury sustained by the Missouri product in Week 7. This one is only advised for owners in leagues with more than 12 teams.
Minnesota Vikings, D/ST: If for some reason this unit is still sitting out there on waivers, drop what you're doing and pick them up. Minnesota currently ranks in the top-5 in scoring at the fantasy D/ST position and has been lights out at home this season, which is where they'll be Thursday night against a shaky Tampa Bay Buccaneers offense. Expect another solid outing.
Montario Hardesty, RB, Cleveland Browns: Starting running back Trent Richardson sustained further damage to the rib cartilage injury he suffered in Week 6 this past Sunday and could wind up missing some playing time down the road. That would open up the door for Hardesty, who has carried the ball 22 times for 84 yards and a score over the last two weeks in relief duty. Be sure to monitor the situation this week, but if anything else, Richardson owners should make sure they have this guy on the roster.
Jonathan Dwyer, RB, Pittsburgh Steelers: It's a long shot, but after Dwyer rolled up 122 yards on 17 carries (7.2 YPC) Sunday night against the shaky Bengals defense, the former Yellow Jacket could be headed for a bigger portion of the workload in the future. Unfortunately, once Rashard Mendenhall gets healthy, it's likely that Dwyer will go back to watching the games from the sidelines. Just something to keep in mind.
Logan Paulsen, TE, Washington Redskins: Starting TE Fred Davis was lost for the season with an Achilles' injury, which means that Paulsen will step into the starting lineup for the time being. Against the Giants on Sunday, the three-year veteran caught four passes for 76 yards, so he's certainly worth keeping an eye on. The only problem is that Washington just re-signed TE Chris Cooley, so this could wind up being a timeshare situation where nobody produces consistent numbers.
Hit me up on Twitter: @JoeFortenbaugh