October 29, 2013 -
Joe Fortenbaugh
Week 9 fantasy waiver wire acquisitions
Bye week: Cardinals, Broncos, Lions, Jaguars, Giants, 49ers
Jonathan Stewart, RB, Carolina Panthers (vs. Atlanta, owned in 10% of Yahoo! leagues): The 26-year-old out of Oregon (ankles) returned to practice last Tuesday and is on track to make his season debut this Sunday against the Falcons. The Panthers currently rank ninth in the NFL in rushing offense, but starter DeAngelo Williams has found the end zone only once this season and is averaging just 68.1 rushing yards per game on the year. It may take some time for Stewart to get back into football shape, but he'll have every opportunity to stake claim to the starting job.
Marvin Jones, WR, Cincinnati Bengals (at Miami, owned in 27% of Yahoo! leagues): Has found the end zone in three straight contests highlighted by Sunday's redonkulous 8-122-4 performance against the New York Jets. Take note that Jones has recorded season-highs in targets in each of his past three starts, signifying an increased role in the Cincinnati offense.
Andre Ellington, RB, Arizona Cardinals (Bye, owned in 54% of Yahoo! leagues): After rolling up 154 yards and a touchdown on just 15 carries Sunday against the Falcons, it's safe to say that the starting job in Arizona is Ellington's once the Cardinals return from their Week 9 bye. With a YPC average of just 3.1 and a per game rushing average of only 40.1, it's unlikely that head coach Bruce Arians goes back to free agent acquisition Rashard Mendenhall in the near future.
Lance Moore, WR, New Orleans Saints (at NY Jets, owned in 29% of Yahoo! leagues): Returned to action after a month on the sidelines to catch three passes for 34 yards and a touchdown Sunday against the Buffalo Bills. Quarterback Drew Brees has so many weapons that, with the exception of tight end Jimmy Graham, most of these guys will be hit or miss from week to week. But with Graham battling a foot injury and the heavy bye weeks upon us, Moore makes for some quality receiver depth. And so does…
Kenny Stills, WR, New Orleans Saints (at NY Jets, owned in 12% of Yahoo! leagues): The rookie from Oklahoma has now found the end zone three times over the last two weeks which culminated with a monstrous 3-129-2 performance Sunday against the Bills. Take note that Stills is averaging only 3.28 targets per game on the season, but just like Moore, he makes for good receiver depth this time of year, especially while playing on the same offense as Brees.
Andre Brown, RB, New York Giants (Bye, owned in 21% of Yahoo! leagues): Qualified for this list last week and is mentioned again because he's still widely available in leagues all across the internet. Brown is expected to return from a preseason leg injury in Week 10 and should immediately see a respectable workload, considering how bad the Big Blue running game has been this year. This could be your last chance to snag this guy at such a cheap price.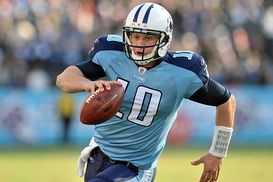 Locker finds himself in a favorable situation heading into a Week 9 date with the Rams.
Jake Locker, QB, Tennessee Titans (at St. Louis, owned in 19% of Yahoo! leagues): Functions as a respectable Week 9 substitute for bye week quarterbacks thanks to a matchup with a St. Louis Rams team operating on short rest (lost Monday night game to Seattle) that is currently surrendering an average of 19.2 fantasy points per game to opposing quarterbacks this season. In addition, Locker is coming off the bye week and has thrown five touchdown passes over his last two starts.
Ted Ginn, WR, Carolina Panthers (vs. Atlanta, owned in 13% of Yahoo! leagues): Believe it or not, Ginn actually leads WR1 Steve Smith 357-335 in receiving yards this season. And that comes on the heels of a season-high five receptions for 80 yards against the Tampa Bay Buccaneers last Thursday night. The upside here is somewhat limited, but Ginn should function nicely as a WR3/4 for owners in leagues with 12 or more teams.
Emmanuel Sanders, WR, Pittsburgh Steelers (at New England, owned in 50% of Yahoo! leagues): Tied a season-high with seven receptions Sunday at Oakland which resulted in 88 yards and a touchdown, marking the second time Sanders has found the end zone over his last three starts. Take note that the 27-year-old is averaging a very healthy 8.14 targets per game this season.
Kris Durham, WR, Detroit Lions (Bye, owned in 14% of Yahoo! leagues): Has been targeted 27 times over his last three games, amassing 17 receptions for 178 receiving yards. Durham isn't the type of acquisition that will bring home the bacon on a weekly basis, but he makes for decent depth in leagues with 12 or more teams when you consider the fact that Detroit ranks first in the NFL in passing attempts this season (338).
Drew Davis, WR, Atlanta Falcons (at Carolina, owned in 2% of Yahoo! leagues): The second-year receiver out of Oregon posted a career-high five receptions for 77 yards and a score Sunday at Arizona. Note that Davis' role will be limited once Roddy White gets healthy, but considering how bad the Atlanta receiving unit has caught the injury bug in 2013, this guy is still worth a stash in leagues with more than 12 teams.
Tennessee Titans, D/ST (at St. Louis, owned in 37% of Yahoo! leagues): Great spot for the Titans, who are coming off the bye to face a Rams team that will be operating on a short week following Monday night's loss to Seattle. Note that St. Louis has notched just 24 total points over their last two outings.
Oakland Raiders, D/ST (vs. Philadelphia, owned in 12% of Yahoo! leagues): Play host to a Philadelphia team that has to travel all the way across the country for a non-conference game. In addition, Chip Kelly's high-flying offense has produced exactly ten points over their last two outings. Note that quarterback Michael Vick is out for this one.
Hit me up on Twitter: @JoeFortenbaugh