October 30, 2012 -
Joe Fortenbaugh
Week 9 fantasy waiver wire recommendations
Titus Young & Ryan Broyles, WRs, Detroit Lions: Here's hoping you took our advice on Young and Broyles last week, because both players exceeded expectations in their first outing since Nate Burleson broke his leg and was lost for the season. Young stepped up admirably into the No. 2 role, catching nine passes for 100 yards and two scores on nine targets Sunday against the Seahawks, while Broyles found the end zone for the second straight week as part of a three-catch, 37-yard effort. Moving forward, consider Young a reliable WR3 with WR2 upside, while Broyles will be a situational play from week to week based on his matchup.
Nick Foles, QB, Philadelphia Eagles: While nothing has been made official as of the current moment, it looks like the rookie from Arizona is going to get his shot sometime in the very near future. Foles has had eight weeks to learn the playbook and would be stepping into a lineup that, despite what the statistics say, is still loaded with offensive firepower. However, keep in mind that this is a recommendation for owners who play in leagues with 12 or more teams, as the rookie will still be playing behind a suspect offensive line.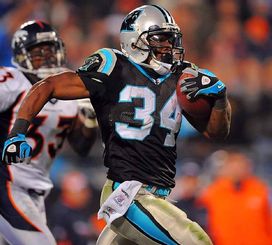 A fresh start in a new city could be just what Williams needs to get his career back on track.
DeAngelo Williams, RB, Carolina Panthers: This one is a roll of the dice, but if Williams is available and you've got some extra roster space, we recommend making a move. The NFL trading deadline has been pushed back to Thursday on account of what #Sandy has done to the east coast and rumors are swirling that Williams is one of the players who could be on the move. Should he land with a team willing to give him 15+ touches per game, this guy could become relevant again.
Ronnie Hillman, RB, Denver Broncos: The rookie from San Diego State amassed 84 yards on 14 touches Sunday night against the Saints and appears to finally be getting more comfortable with the Denver offense. That's a good thing, because the Broncos' upcoming schedule is very running back friendly. Hillman is a recommendation for owners in leagues with 12 or more teams, but be advised that veteran Willis McGahee is still running the show.
Heath Miller, TE, Pittsburgh Steelers: Miller will be hit or miss from week to week depending upon whether or not the Steelers need to keep him on the line to aid with pass protection. But there's no denying the fact that as of the current moment, the eight-year veteran ranks second in fantasy scoring at the tight end position after having found the end zone six times through his first seven games. Big Ben loves looking Miller's way in the red zone.
Cecil Shorts, WR, Jacksonville Jaguars: Shorts has made this list a few times and for good reason, as the two-year veteran has quickly emerged as the go-to guy in Jacksonville at the moment. Over the last two weeks, Shorts has been targeted 22 times while posting an average of 14.5 fantasy points per game (standard scoring). Consider him a fairly reliable WR3 moving forward.
Jonathan Dwyer, RB, Pittsburgh Steelers: While it's come against some shaky defenses, Dwyer has given the Steelers a much-needed backfield presence over the last two games, rushing for 229 yards on 34 carries. While nothing has been made official as of yet, it's possible that head coach Mike Tomlin could stick with the three-year veteran as his starter even when Rashard Mendenhall and Isaac Redman finally get healthy.
Miami Dolphins, D/ST: The Dolphins currently rank 13th in fantasy scoring at the D/ST position thanks in large part to the fact that this unit has held the opposition to 14 or fewer points in four of Miami's last six games. Week 9 sees Joe Philbin's crew travel to Indianapolis to take on a Colts offense that currently ranks 24th in the NFL in scoring (19.4 pts/gm).
Andre Roberts, WR, Arizona Cardinals: This isn't the most trustworthy of offenses, but keep in mind that Roberts is averaging 9.0 targets per game over his last five starts. He'll be inconsistent from week to week, but this guy makes for a suitable bye week replacement as well as a respectable situational start depending upon Arizona's matchup.
Dustin Keller, TE, New York Jets: Since returning from injury in Week 7 against the New England Patriots, Keller has amassed 14 receptions for 160 yards and a touchdown on 18 targets. With the wide receiver position in New York decimated by the loss of Santonio Holmes, quarterback Mark Sanchez has made it clear that he'll be throwing the ball to his tight end early and often. If Keller's on the wire and you need an upgrade at the TE position, this guy makes for a nice fit.
Matt Moore, QB, Miami Dolphins: While rookie quarterback Ryan Tannehill hasn't officially been ruled out for Week 9 just yet, there's a good chance that Moore will be under center Sunday in Indianapolis. This isn't a long-term fix to any of your problems, but if you need a quick fill-in for this Sunday, Moore is capable of getting the job done. He threw for 131 yards and a touchdown with no interceptions in relief duty last Sunday against the Jets in a game that saw Miami come out on top by the score of 30-9.
Tampa Bay Buccaneers, D/ST: They head to Oakland on extra rest this Sunday to take on a Raiders team that currently ranks 22nd in the NFL in scoring (19.9 pts/gm). The Buccaneers have been shredded on defense by quality opposition this season, so don't get too attached to this unit. However, they make for a decent alternative in Week 9, should you need an upgrade based on your current matchups.
Hit me up on Twitter: @JoeFortenbaugh