August 24, 2011 -
Barry Dorey
What biceps injury? Stephen Cooper is going to gut it out
Chargers linebacker Stephen Cooper was supposed to be done for the year after suffering a torn biceps in last Sunday's preseason win at Dallas. The 32-year-old out of Maine was supposed to undergo surgery, miss two to three months and then catch on with a new team in 2012.
The only problem is that nobody gave Cooper the memo.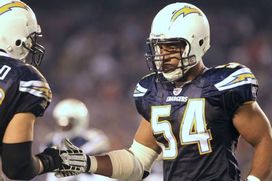 Just rub some dirt on it.
Rather than sit idly by watching his eight-year career with the Chargers come to a close, Cooper has decided that he will postpone the surgery and play through the pain, per Kevin Acee of the San Diego Union-Tribune.
"I told them, 'Let me go out there and do it,' " Cooper told Acee on Tuesday. "I said, 'If you don't feel like I'm doing my job or playing up to expectations, then you make the judgment.' "
Cooper has started 55 games for the Bolts over the last four years, racking up seven interceptions and seven forced fumbles in the process.
Making it through a 16-game campaign with a torn biceps won't be easy, but then again, trying to convince another team to sign you after missing an entire season could be a bit tougher.
Hit me up on Twitter: @JoeFortenbaugh