April 10, 2013 -
Joe Fortenbaugh
What happened here?
Time may be on the side of The Rolling Stones, but that's not the case for professional athletes. The NFL is a "what have you done for me lately?" business. And like all businesses, NFL front offices want to see a return on their investments as quickly as possible.
That's not to say that there isn't a distinction in ROI time frames for differing first round selections. Some guys are expected to come in and contribute immediately, while others are deemed "developmental projects" and given a bit more leeway. But all roads lead down the same path. Get the job done now or we'll find somebody else to fill your spot.
Grading an NFL draft class in the immediate aftermath of the three-day selection process is a relatively pointless exercise. Since not one player drafted has taken a regular season snap for his new team, how can we possibly determine which organizations came out ahead and which ones didn't? The answer is we can't. But we'll go ahead and assign grades the day after the draft concludes anyway, because we all yearn to know who won and who lost in every competition. Even if that competition is a group of guys handing cards to another guy, who hands that card to the commissioner, who reads what's on the card to the viewing audience.
If you really want to grade a draft, forget about 2013 and start looking to the past. Go back at least three years so you have a respectable sample size and then identify the teams that are better off because of the decisions they—or their predecessors—made. As the National Football Post approaches its fifth NFL draft, I took a look back at the top ten selections from the first draft we covered back in 2009.
A quick glance was all it took for the reaffirmation of two beliefs regarding life in the NFL: Scouting isn't an exact science and time is of the essence.
TOP 10 PICKS FROM THE 2009 NFL DRAFT
1. Matthew Stafford, QB, Detroit Lions: After a sluggish start from the gate (appeared in just 13 games over his first two NFL seasons), Stafford has rounded into form over the last two years with 32 consecutive regular season starts that have resulted in 10,005 passing yards and 61 touchdown tosses. At the current moment, nobody would make the case that the former Georgia standout ranks as one of the NFL's top 5 quarterbacks, but Stafford has proven to be a franchise quarterback. And when you're willing to spend a dump truck full of cash on a collegiate signal-caller with the first overall selection, that's preciously what you're hoping to get in return.
2. Jason Smith, OT, St. Louis Rams: Considered to be chock full of talent in the weeks leading up the 2009 draft, the offensive tackle class from four years ago has proven to be the exact opposite. Highly regarded coming out of Baylor, Smith made just 26 of a possible 48 starts with the Rams before he was sent to the Jets in exchange for right tackle Wayne Hunter. Smith's time in St. Louis saw him moved from left tackle to right tackle and then from starter to backup before being asked to take a pay cut. And after all that, he was still deemed expendable and traded to the Jets.
3. Tyson Jackson, DE, Kansas City Chiefs: The first draft pick of the now defunct Scott Pioli era, Jackson has recorded just five sacks in 59 games since leaving LSU for the professional ranks in 2009. And while the 26-year-old may be coming off a career-high three-sack campaign in 2012, Jackson still graded out as just the 30th-best 3-4 defensive end last season, according to Pro Football Focus. Want to know what the rest of the internet thinks of Jackson? Type his name into Google and watch how fast the word "bust" pops up.
4. Aaron Curry, LB, Seattle Seahawks: Ah, yes. Aaron Curry. The guy so many labeled as a "can't miss prospect" coming out of Wake Forest. So what happened? Well, for starters, Curry missed. Big. The linebacker made it to October of his third season with the Seahawks before he was shipped to Oakland in exchange for the astronomical price of a 2012 seventh-round pick and a conditional 2013 fifth-round selection. Curry appeared in just two games with the Raiders last season, amassing one tackle before he was cut from the roster in November.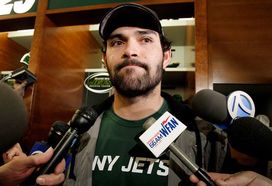 Sanchez has taken a step back over the last two seasons, but he's still produced more than some of the other names on this list.
5. Mark Sanchez, QB, New York Jets: The Jets traded their first round pick (17th overall), second round pick and three players to the Cleveland Browns in 2009 for the right to move up to No. 5 so they could draft Sanchez. The team then handed the USC product a five-year deal worth up to $60 million with $28 million guaranteed. And when the investment looked as if it might not pay off over the long term, New York went ahead and threw common sense to the wind by extending Sanchez's contract for an additional three years at the cost of $40.5 million in new money. The move cost former general manager Mike Tannenbaum his job, has current head coach Rex Ryan on thin ice and resulted in just six wins and a QB rating of 66.9 in 2012.
6. Andre Smith, OT, Cincinnati Bengals: Smith has proven to be one of the more productive acquisitions on this list, but that really doesn't say a whole lot. Drafted sixth-overall with the intention of anchoring the left side of the line for the foreseeable future, the Alabama lineman was quickly determined to be more suited for the right tackle position. Smith started just five games over his first two seasons before notching 30 of a possible 32 starts from 2011-2012. The Bengals opted to place their 2013 franchise tag on defensive end Michael Johnson instead of Smith and at the current moment, the right tackle is still unemployed and looking for a new contract.
7. Darrius Heyward-Bey, WR, Oakland Raiders: Considered worthy of a top-ten selection by nobody except stopwatch-loving former Raiders owner Al Davis, DHB averaged just 35 receptions per season during his four years in Oakland. Was cut from the roster this offseason and signed a one-year deal worth a maximum of $3 million with the Indianapolis Colts at the beginning of April, where he hopes to jumpstart his career as quarterback Andrew Luck's newest weapon.
8. Eugene Monroe, OT, Jacksonville Jaguars: Has made 58 of a possible 64 starts with the Jaguars since joining the team in 2009, but has surrendered an average of 6.8 sacks per season in the process. Still, Monroe is considered to be one of the better players on the Jacksonville roster and is scheduled to hit the free agent market next offseason. Staring the possibility of losing Monroe in the face, recent reports indicate that the Jaguars have so far made no attempt to commence negotiations on a contract extension with their starting left tackle.
9. B.J. Raji, NT, Green Bay Packers: No mistake here as Raji has already earned one trip to the Pro Bowl (2011) and played an integral role in Green Bay's 2011 Super Bowl run. Has appeared in 60 of a possible 64 regular season games for the Packers, notching 10.5 sacks and 112 tackles.
10. Michael Crabtree, WR, San Francisco 49ers: Hasn't produced the four-year numbers many of us thought he would coming out of Tex as Tech, but Crabtree has gotten better each year and is coming off a career season in which he caught 85 passes for 1,105 yards and nine touchdowns. With 49ers quarterback Colin Kaepernick coming into his own, Crabtree could be on the verge of becoming one of the league's top receivers.
Hit me up on Twitter: @JoeFortenbaugh