July 24, 2013 -
Joe Fortenbaugh
What happens after 300 carries?
In the ten years spanning from 2002-2011, there were 77 instances in which an NFL running back amassed 300 or more carries in a season. If we eliminate Ricky Williams' 2003 campaign and Tiki Barber's 2006 effort (both of whom retired the following season), we are left with a sample size of 75. And out of those 75 instances in which a running back recorded 300 or more carries in a season, 55 (73.3%) went on to score fewer fantasy points the following year (complete list located at the end of this article).
That percentage appears extremely daunting for the five players who will enter 2013 coming off a 300+ carry season, but it certainly doesn't spell doom for the fantasy owners who decide to pull the trigger on any of those five names come draft day. To get a better understanding of what that percentage is telling us, we must first establish: A) What constitutes a legitimate regression and B) What the key factors are that contribute to said legitimate regression.
We'll get to all of that in a minute. For the moment, let's take a look at the five running backs who recorded 300 or more carries in 2012:
Arian Foster, Houston Texans (351 attempts): Since taking the league by storm in 2010, no player has amassed more carries (956) than Foster, who led all running backs in rushing attempts last season. Ranked sixth in the NFL in rushing yards in 2012 (1,424), but posted a career-low 4.1 yards per carry average.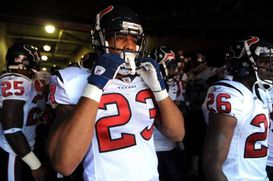 Since 2010, no NFL running back has carried the football more times than Houston's Arian Foster.
Adrian Peterson, Minnesota Vikings (348 attempts): All Day's 2012 MVP campaign showed the world that on the evolutionary ladder, the Minnesota running back falls somewhere between human beings and the X-Men. Fell just nine yards shy of Eric Dickerson's single-season rushing record while carrying the Vikings on his back to a ten-win season and trip to the playoffs.
Alfred Morris, Washington Redskins (335 attempts): Finished second to Peterson in rushing yards last year (1,613) despite his status as a rookie sixth-round selection out of Florida Atlantic. Averaged 4.8 yards per carry in his professional debut en route to fifth-place finish in fantasy scoring at the running back position.
Doug Martin, Tampa Bay Buccaneers (319 attempts): Immediately justified his selection in the first round of the 2012 draft by seizing control of the starting job and never looking back. Martin's contributions in the Tampa passing attack (49-472-1) led to a rookie season that resulted in 1,926 total yards from scrimmage, which ranked third in the league behind Peterson and Detroit's Calvin Johnson.
Marshawn Lynch, Seattle Seahawks (315 attempts): Has become one of the league's premier workhorse ball-carries since his arrival in Seattle three years ago. Averaged a career-high 5.0 yards per attempt last season (fourth in NFL among running backs) on his way to a top-four fantasy finish.
In standard scoring formats, each of those five players completed the 2012 season ranked in the top-5 in fantasy scoring at the running back position. But does that mean we can count on each of them to enjoy a similar level of success in 2013?
Here's what every running back who amassed 300 or more carries over the last ten years was up against the following season:
ELIMINATION
The first item of business we need to establish is what constitutes a regression, as it would be inaccurate to weight Priest Holmes' 2-point regression from 2002 to 2003 the same as Chris Johnson's 116-point regression from 2009 to 2010. For this study we're going to define a true regression as a drop-off of 50 or more fantasy points from one year to the next. 50 fantasy points is the approximate equivalent of 500 rushing yards, eight touchdowns or a combination of the two (ex: 250 rushing yards and four touchdowns). 50 points also signifies the difference between a fifth-place fantasy finish and an 11th-place fantasy finish in 2012 (difference of fifth place and 17th place in 2011, fifth place and 15th place in 2010).
Once again eliminating Ricky Williams and Tiki Barber, we have a total of 75 running backs who amassed 300 or more carries in a season sometime between 2002 and 2011. 55 of those running backs (73.3%) experienced a regression in fantasy points the following season, with 40 (53.3%) of those players suffering a drop-off of at least 50 fantasy points. What those statistics also tell us is that only 20 running backs in our case study (26.6%) came back the following season to post even bigger numbers than the year before.
Take another look at that last paragraph. More than half of the running backs who carried the ball 300 or more times in a season from 2002-2011 returned the following year to record at least 50 fewer fantasy points. That's a big percentage and an even bigger drop in production and it also means that at least two of our five running back candidates entering 2013 will, on average, fall victim to the same trend.
How did it happen?
INJURIES, SUSPENSIONS, ETC.
Ruptured Achilles tendons, blown-out knees, broken feet and bad backs. Nobody said it would be easy to sustain 300+ violent collisions over the course of a brutal 16-game season and then come back the following year to do it at a high level all over again.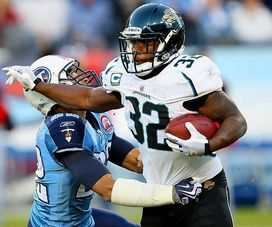 MJD appeared in just six games last season after carrying the ball 343 times in 2011.
To nobody's surprise, injuries are the No. 1 reason why so many 300+ carry running backs fail to sustain consistent production from one year to the next. Of the 55 running backs who experienced a decrease in fantasy scoring following their 300+ carry season, 35 (63.6%) played in fewer games the following year, with 19 (34.5%) missing three or more contests.
Of the 40 running backs who saw their fantasy production drop by 50 or more points following their 300+ carry season, 21 (52.5%) appeared in fewer games the next year while 19 (47.5%) played in at least three less matchups.
This information tells us two things. First, 19 running backs who carried the ball 300+ times from 2002-2011 came back the next season to play in the same amount or more games than the year before and still suffered a regression of 50 or more fantasy points. Second, this information indicates that, on average, we can expect at least two of the five aforementioned running backs entering the 2013 season to miss at least some time due to either an injury, suspension or some other reason (37 of the 75 running backs in this study appeared in fewer games the year after carrying the ball 300+ times).
The candidates: Morris and Martin both appeared in all 16 games during their rookie seasons. Peterson has appeared in 89 of a possible 96 regular season games since entering the league in 2007. Foster missed three games due to injury in 2011. Lynch has appeared in 88 of a possible 96 regular season matchups since entering the league in 2007.
AGE/WEAR & TEAR ON THE BODY
Father Time eventually catches up with all of us, but he appears to have a fondness for NFL running backs, who have arguably the shortest shelf life of any position in all of professional sports.
The 55 running backs who experienced a decrease in production following their 300+ carry season entered the next year with an average age of 27.09. That number raises slightly to 27.3 years of age for those who saw their production regress by 50 or more points following their 300+ carry season.
As for the 20 running backs who scored more fantasy points in the year after their 300+ carry campaign, the average age entering the next season for those players checks in at 26.6 years of age, with nine of those 20 ball-carriers beginning the season at 26 years of age or younger.
The candidates: Peterson turned 28 in March, Lynch turned 27 in April, Foster turns 26 in August, Morris turns 25 in December, Martin turns 25 next January.
NEW TEAM/NEW COMPETITION/DOWNGRADED SUPPORTING CAST
The ultimate team sport, football requires 11 members of the same unit to work in unison in order to move the rock down the field. LeBron James can drop 50 points simply by taking a large percentage of his offense's shots, while Miguel Cabrera needs exactly zero assistance from his teammates in order to go yard. But the same cannot be said about NFL running backs, who are dependent upon both blocking and an offense that can successfully throw the football in order to open up running lanes underneath. Three straight incompletions and you're headed for the sidelines.
While there's simply not enough space here to detail all of the transactions that have had an effect on the 55 running backs who suffered a drop in production following their 300+ carry season, here are a few noteworthy examples: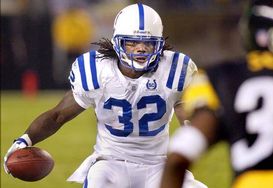 Edgerrin James experienced significant regressions when he left Indy for Arizona and Arizona for Seattle.
1. Four of the five players who changed teams following their 300+ carry season suffered a regression of at least 50 fantasy points the following year. Thomas Jones (2009-2010) signed with Kansas City where he had to compete for touches with Pro Bowler Jamaal Charles. Edgerrin James was 30-years-old when he departed Arizona for Seattle in 2008 and had to deal with the transition from Peyton Manning to Matt Leinart when he signed with Arizona in 2006. Eddie George was 31-years-old, worn down and competing with Julius Jones when he landed in Dallas in 2004. That leaves us with Jamal Lewis, who experienced an uptick in production when he left Baltimore for Cleveland in 2007. Take note that 2007 was the only time in the last ten years that the Browns posted a winning record during the regular season.
2. Tiki Barber suffered an 81-point drop in fantasy production from 2002-2003 despite averaging 4.4 yards per carry, rushing for 1,677 yards and staying healthy for the full 16-game slate. But you'll notice that the team around him performed at a much different level from one year to the next. In 2002, the Giants went 10-6 and averaged 20.0 points per game. In 2003, New York went 4-12, averaging only 15.2 points per game.
3. In 2006, Frank Gore ran for a career-high 1,695 yards en route to the greatest fantasy output (250 points) of his eight NFL campaigns. But 2006 was the only season in which Gore averaged over 19 rushing attempts per game (19.5). San Francisco opted to scale back the workload for the Miami product and Gore went on to average 18 carries or more per game just one time (2010) over the next six seasons.
Personnel, team and scheme changes are just a few of the additional reasons why NFL running backs have had trouble sustaining a high level of production following a 300+ carry season. Fortunately, our five candidates who fit the mold entering 2013 won't have to deal with as many adjustments.
The candidates: All five candidates return to the same team in 2013. Morris will have to contend with opposing defenses that spent the offseason learning how to defend the read-option. Lynch could experience a slight decrease in carries thanks to a more prolific passing attack under second year quarterback Russell Wilson. Martin's offensive line remains largely intact, with former Chicago Bear Gabe Carimi now manning the right tackle position. The effects of 956 carries over the last three seasons will eventually catch up to Foster, who could lose a bigger percentage of rushing attempts this season to backup Ben Tate. Peterson will once again be the focal point for opposing defenses, but that's nothing new.
Adrian Peterson, Arian Foster, Marshawn Lynch, Alfred Morris and Doug Martin are five names that hover at the top of every fantasy prognosticator's rankings entering the 2013 season. But is that due in large part to past performance or future potential? We've seen each of these five running backs slash and gash the opposition on a weekly basis, but recent history has shown us that at least two of these players will suffer a significant regression in fantasy production this season.
Oh, and just one last note: Of the 75 running backs who carried the football 300 or more times from 2002-2011, only two (Willie Parker & Corey Dillon) went on to win the Super Bowl the following season.
Hit me up on Twitter: @JoeFortenbaugh
YPC: Yards per carry
FP: Fantasy points