July 15, 2013 -
Joe Fortenbaugh
What happens next is what matters most
Johnny Manziel turned the college football world on its head last November when the Texas A&M quarterback annihilated the top-ranked and eventual champion Alabama Crimson Tide for 345 total yards and two scores en route to a 29-24 upset win in enemy territory. Manziel used that performance as a springboard to the Heisman Trophy, becoming the first freshman in history to garner the sport's most prestigious individual award. The Aggies finished their inaugural spin in the SEC at 11-2—the school's first double-digit win campaign in 14 years—thanks, in large part, to the man now known as Johnny Football.
Since that time, the 20-year-old signal-caller has been enjoying the fruits of his labor. Manziel has become a celebrity not just within the college football community, but beyond. He dates certifiable 10s, throws out the first pitch at Major League Baseball games and appears on The Late Show with David Letterman. Life has been good to the young Manziel, and it has the potential to get even better.
But those who earn a spot in the public eye soon find out that the public is interested in more than just what got them there. Manziel's every move—both on and off the gridiron—is now subject to scrutiny. People want to know what Johnny Manziel is up to and if Johnny Manziel is up to anything controversial, it's going to make headlines.
Over the weekend, a multitude of reports surfaced regarding Manziel's early departure from the 2013 Manning Passing Academy, where the quarterback was serving as a college coach/counselor. Initial reports stated that Manziel was asked to leave by Archie Manning for showing up late to Saturday's practice session due to a hangover compliments of a Friday night spent on the town. ESPN's Chris Mortensen wrote on Monday that those initial reports were inaccurate and that Manziel left early due to dehydration.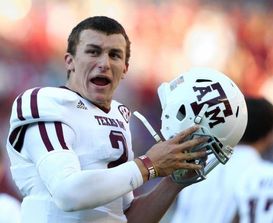 Manziel amassed 5,116 total yards for the 11-2 Aggies last season en route to the Heisman Trophy.
Whichever side of the story one chooses to believe is entirely up to the individual. Some feel that the initial reports are inaccurate and that Manziel is taking heat for no good reason, while others believe that the "dehydration" excuse is nothing more than a cover-up for what really happened. And given Manziel's well-documented penchant for the nightlife scene, it's difficult for some to buy the notion that a highly skilled, well-conditioned college athlete somehow forgot to drink enough water while working outdoors.
If Manziel did, in fact, show up to Saturday's practice session late and hungover, that still doesn't change the fact that he's a 20-year-old college kid, and like several other 20-year-old college kids, he's prone to making bad decisions. Some of us have been there before and some of us are there now.
The problem, however, is that Manziel isn't like most 20-year-old college kids. He's a Heisman Trophy winner and the quarterback of a Texas A&M football team that went 11-2 last season and is currently being bet more frequently in Las Vegas to win this season's National Championship than any other team in the country. Manziel, through his own success, is now held to a higher standard than anyone else in his age group. And as a result, expectations have become greater.
But what matters paramount for the country's most popular college football player is what happens next. Manziel will enter the 2013 season under a significant amount of pressure that will quickly intensify if the Aggies struggle early in the season. If Manziel's numbers slip and Texas A&M has an issue putting notches in the win column, the quarterback's offseason, off-the-field endeavors will quickly become talking point No. 1 as to why the Aggies are failing to meet expectations. As Manziel goes, so go the Aggies. And if Manziel goes cold, the critics will pounce, pointing to the quarterback's 2013 offseason as the primary culprit.
But if Manziel and the Aggies continue where they left off last season, if Texas A&M finds a way to defeat Alabama in the rematch on September 14 in College Station and runs an unblemished record late into their quest for the National Championship, then Johnny Manziel's offseason will be forgotten, chalked up to a college kid doing college kid things. The NFL will continue to evaluate the Texas A&M quarterback as a high-ranking prospect who enjoyed his celebrity status in college much the way several high-ranking prospects have before him. The National Football League isn't comprised of choirboys. Talent evaluators are well aware of the fact that college football players like to hit the town and throw a few back.
What matters most for Johnny Manziel and the Aggies in 2013 is how Manziel builds off of last season's breakout campaign. The country and the NFL are both watching. Manziel will have the opportunity to silence everybody through his actions on Saturday afternoons throughout the fall. Come up big there and people won't be as concerned with what takes place off the field.
Come up short and expect to feel the heat, whether you're 20-years-old or not.
Hit me up on Twitter: @JoeFortenbaugh