May 09, 2013 -
Joe Fortenbaugh
What hides behind the smile
The first thing I noticed was that thousand-watt smile. Its radiance brightened the room in a way that I had never witnessed prior nor encountered since. Two rows of pearly whites stretching from ear to ear accompanying a firm handshake and the greeting, "I'm Titus Young. It's nice to meet you."
It was Monday evening, January 24, 2011 and I, along with former NFP scribes Matt Bowen and Wes Bunting, were in Mobile, Alabama for Senior Bowl week. The air was warm and our stomachs were topped off with some of that famous southern cooking that tends to dominate the conversations among those who travel to this event each winter. I can still smell the barbeque ribs from where I sit now, even though more than two years has passed since that particular visit to southern Alabama.
Monday evening meant that it was Media Night, an event where all of the reporters in town for the game are invited to interview the players from both teams at Battleship Park on the Mobile Bay. It's an informal gathering with a relaxed setting. Find a player, ask him a few questions, shake hands and move on to the next guy.
Bowen, Bunting and I had set up shop at a circular table where we were recording our interviews to use as podcasts later in the week. We had implemented this approach in previous years and had interviewed dozens of talented prospects who came in all shapes and sizes. There were the guys with the arrogant swagger, the goofballs you couldn't help but laugh with and the reserved types who made the interview process resemble a trip to the dentist.
And then there was Boise State wide receiver Titus Young. Confident, entertaining, charming and, most of all, polite. Young was one of the best interviews we ever had in Mobile. He shook hands and made eye contact and his answers came off more as casual conversation than rehearsed rhetoric. He captivated the small audience from the National Football Post. Titus Young was a well-spoken gentleman who was going places. We were all convinced.
Too bad it was just an act.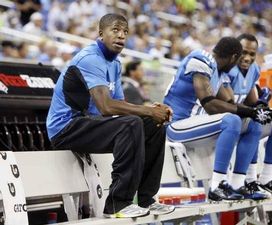 After only 26 games, it looks like Titus Young is finished in the National Football League.
More than two years has passed since that Monday evening in Mobile. I'm still writing and interviewing, but Young is no longer playing football. The second round selection out of Boise State—who recorded 2,256 receiving yards and 19 touchdowns over his final two seasons with the Broncos—appeared in just 26 games with the Detroit Lions before he was sent packing. Young became a full-blown nuisance in Detroit and was deemed expendable after just two years with the organization. St. Louis later claimed the troubled wide receiver off waivers, but the franchise quickly decided that they had made a mistake and released Young after just ten days.
Only 23-years-old, Young was posing for pictures this past Sunday, but his thousand-watt smile that had lit up the room in Mobile was nowhere to be found. That's because Young was posing for mug shots—two, to be precise—after the former professional football player was arrested twice in a 15-hour span for suspicion of driving under the influence and burglary.
At the moment, it appears as if Titus Young's NFL career is over. The once-promising prospect will be spending a portion of his immediate future in a courtroom rather than a football field. Instead of studying a playbook, Young will be working on his criminal defense.
It's interesting to reflect upon that evening in Mobile and think about how Titus Young had us all duped. I spoke with Bowen about that night via email on Wednesday and he agreed. "He played the role perfectly down in Mobile," wrote Bowen. "Big smile, great personality. I bought it."
So did I. And so did the Detroit Lions, which once again serves to highlight what an inexact science the scouting process truly is. Scouting isn't bridge construction, it's a game of Battleship. Teams are making educated guesses based on the information presented before them. Some of those guesses hit big while others fizzle like a Roman candle on the Fourth of July.
They say you never get a second chance to make a good first impression. That's true. But we do have an opportunity to change the opinion others have of us based on that first impression. Titus Young and his thousand-watt smile were made for first impressions. But sadly, Young wasn't built to maintain that impression through what came next.
Because even though first impressions are important, what truly matters is everything that comes after.
Hit me up on Twitter: @JoeFortenbaugh