May 23, 2013 -
Joe Fortenbaugh
What's next?
The San Francisco 49ers's quest for a return trip to the Super Bowl hit a significant snag in the road on Wednesday, as wide receiver Michael Crabtree underwent surgery for a torn Achilles tendon sustained during organized team activities on Tuesday. Initial reports indicate that Crabtree will be out of action for the next six months, meaning the wide receiver is expected to miss at least the first ten games of the 2013 season.
This isn't the last time the 49ers will have to deal with the injury bug in 2013, but it's the first and it also happens to hit the organization in one of its most productive roster spots. A first-round pick in 2009, Crabtree is coming off the most impressive and statistically productive season of his four-year career.
San Francisco's attention now shifts to the wide receiver position and the options before them in regards to replacing the production lost due to Crabtree's injury. The team can stand pat, look to the diminished free agent pool or pick up the phone and try to swing a trade.
Let's take an in-depth look at the situation.
MICHAEL CRABTREE IN 2012 (16 games)
At this point in the year it will be virtually impossible for the 49ers to find a replacement capable of recreating Crabtree's 2012 career campaign (85-1,105-9). Here's what the four-year veteran meant to San Francisco's offense last season:
127 targets=29.12% of San Francisco's total pass attempts
85 receptions=29.41% of San Francisco's total pass completions
9 touchdowns=39.13% of San Francisco's total passing touchdowns
1,105 yards=31.11% of San Francisco's total passing yardage
1,105 yards=18.28% of San Francisco's total offensive yardage
CURRENTLY ON THE ROSTER
While it was certainly less imperative of a transaction at the time, the trade for Anquan Boldin now appears to be one of the 2013 offseason's most integral moves. But outside of the aging former Raven, the Niners currently possess a depth chart at the wide receiver position filled with inexperience and uncertainty.
Anquan Boldin: Acquired from the Baltimore Ravens in March in exchange for a 2013 sixth-round draft selection. Turns 33-years-old in October, hasn't topped 90 receptions in a season since 2005 (102) and last eclipsed 1,000 receiving yards in 2009 (1,024). Amassed 122 receptions for 1,808 yards and seven scores in last 29 starts with the Ravens.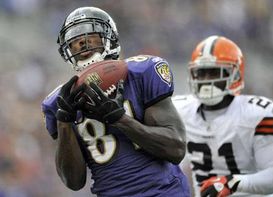 Anquan Boldin has now become the 49ers' top receiving threat.
A.J. Jenkins: Declared his rookie season to be "very humbling" after appearing in just three games. Caught zero passes despite being selected during the first round (30th overall) of the 2012 draft out of Illinois. Ideally, Jenkins would be the guy who steps up and helps to fill the void created by Crabtree's injury, but the 23-year-old would need to take a tremendous step forward in a short amount time for that to become a reality.
Mario Manningham: Tore the anterior cruciate and medial collateral ligaments in his left knee during San Francisco's 42-13 blowout loss at Seattle in Week 16. Will be less than nine months removed from reconstructive knee surgery when the season opens on September 8. Recorded 42 receptions for 449 yards and one score in 12 games with the 49ers before the injury, falling well short of his career-high stat line of 60-944-9, which came with the New York Giants in 2010.
Quinton Patton: Rookie fourth-round pick (No. 128 overall) out of Louisiana Tech who caught 104 passes for 1,392 yards and 13 touchdowns with the Bulldogs in 2012. Was likely considered a developmental project until Crabtree's injury, which will now open the door for more reps with quarterback Colin Kaepernick.
Kyle Williams: Has caught only 35 passes in 29 games over three years with the 49ers. Used primarily on special teams.
AVAILABLE FREE AGENTS
It's slim pickings out there on the open market at the moment. But should the 49ers decide to pick up the phone, here are five players who could receive a call.
1. Brandon Lloyd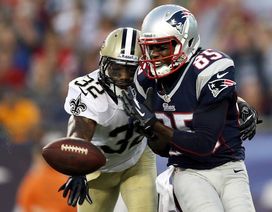 Lloyd is currently the best receiver available on the market, but he comes with baggage.
Pros: Has caught 70 or more passes in each of the past three seasons, including a career 2010 campaign with the Denver Broncos that resulted in 1,448 receiving yards and 11 touchdowns. Played in San Francisco from 2003-2005.
Cons: Turns 32-years-old on July 5 and has seen his production drop off in each year since that breakout season in 2010. Failed to amass 1,000 receiving yards and recorded only four touchdowns despite playing 16 games with Tom Brady in New England last season. Character concerns.
2. Randy Moss
Pros: Headed for Canton. Currently ranks second all-time in receiving touchdowns (156) and third in receiving yards (15,292). Familiar with the San Francisco offense after playing with the team in 2012 (28-434-3).
Cons: Turned 36-years-old on February 13 and is well past his prime. Caught a career-low 28 passes with the 49ers in 2012 despite being healthy for all 16 games. Doesn't have enough left in the tank to come close to recreating Crabtree's production.
3. Laurent Robinson
Pros: Is 28-years-old and opened a lot of eyes in 2011 after catching 54 passes for 858 yards and 11 scores with the Dallas Cowboys.
Cons: Suffered multiple concussions with the Jacksonville Jaguars last season (24-252-0) and was released from the roster. Possible one-hit wonder. Injuries are a major concern.
4. Steve Breaston
Pros: Won't turn 30-years-old until August 20. Has appeared in 86 career games and recorded 60 or more receptions in a season twice (2008, 2011). Cheap.
Cons: Not a true No. 1 receiver. Caught just seven passes for 74 yards in ten games with the Kansas City Chiefs last season. Lacks the big-play abilities possessed by Crabtree.
5. Braylon Edwards
Pros: He's available.
Cons: Turned 30-years-old on February 21. Diva. Has completely fallen off since his 2007 season in Cleveland which resulted in 80 receptions for 1,289 yards, 16 touchdowns and a spot in the Pro Bowl. Amassed only 15 receptions for 181 yards in nine games with the 49ers in 2011. Has played for four teams (Cleveland, NY Jets, San Francisco, Seattle) over the last four years.
Also available: Brandon Stokley, Devery Henderson, Austin Collie, Jabar Gaffney, Donte Stallworth, Early Doucet, Derek Hagan, Titus Young, Ramses Barden, Chaz Schilens, Devin Aromashodu
TRADE BAIT
At the current moment, the 49ers are in possession of ten selections for the 2014 draft, including what could ev entually amount to four third-round picks. In addition, the team reportedly had $2.15 million of 2013 cap space available as of late April.
Nate Washington, Tennessee Titans: Has two years left on a six-year, $26.8 million contract that was signed in 2009. Possesses explosive deep speed and produced a career-year in 2011, catching 74 passes for 1,023 yards and seven touchdowns. Kenny Britt is expected to be 100% healthy by Week 1 and the Tennessee depth chart at the wide receiver position also boasts 2012 first-round pick Kendall Wright, 2013 second-round pick Justin Hunter and veterans Kevin Walter and Damian Williams. With Tennessee in rebuilding mode, the front office may be willing to swing a deal for future draft picks.
Hit me up on Twitter: @JoeFortenbaugh