March 08, 2012 -
Joe Fortenbaugh
What's Pete Carroll got up his sleeve?
When you think action, images of Times Square and the Las Vegas strip are quick to permeate your imagination. Bright lights, thousands of people scurrying about like ants invading a summer picnic and tourists willing to shell out big-time bucks stand as just three of the telling characteristics that help to define an overtly active American locale.
2,900 miles northwest of Times Square lies a metropolitan destination about as synonymous with action in the minds of many who have never been there as Omaha is with white sandy beaches. But don't be surprised if this sparkling Pacific Northwest city finds a way to come up aces and take down a monster pot in the near future, because much like the weather in Seattle, something appears to be brewing in the Seahawks front office.
Three of the top storylines in the NFL at the current moment in regards to free agency and the draft involve the potential landing spots for marquee free agents Peyton Manning and Mario Williams as well as much-sought-after rookie quarterback Robert Griffin III.
And the one characteristic that all three of these players appear to share happens to be a legitimate interest from the Seattle Seahawks.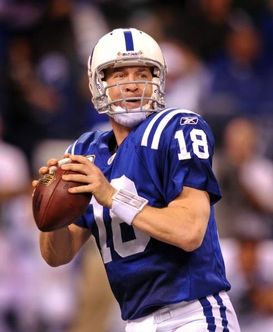 ICONIt's no surprise the Seahawks are interested in Manning. But is spending big money the answer for Seattle?
It's no surprise to read that the Seahawks are in the market for an upgrade at the quarterback position. Seattle is an unimpressive 14-18 during the regular season since head coach Pete Carroll left Southern California for another shot at the pros. For a guy who spent nine years coaching some of the best quarterbacks in the country at the collegiate level, Carroll has to know by now that he's not going to win on a consistent basis with Charlie Whitehurst or Tarvaris Jackson under center.
Better suited and more productive in a 4-3 defense like the one run in Seattle, Mario Williams also makes a lot of sense for the Seahawks. Seattle has recorded just 70 total sacks since Carroll took charge in 2010 (19th in NFL) and the team is expected to lose defensive end Red Bryant to free agency once the market opens up on March 13.
So what's the plan? Or more specifically, who is the primary target?
According to a tweet from Rich Cimini of ESPN New York, the Seahawks "will come out, checkbook blazing" for Peyton Manning. And why not? The former Colt is already on the market and should Seattle come up short in their attempts to land the four-time NFL MVP, the organization can always turn their attention to Williams beginning on March 13.
But what happens if Seattle fails to land Manning and then can't persuade Williams to take up residence in the Pacific Northwest? Will the team then look towards draft day and a blockbuster trade with (gasp!) division-rival St. Louis for the No. 2 pick and the opportunity to draft RG3? The Rams are reportedly looking for three first-round picks in exchange for the highly-coveted second-overall selection, which could prove too costly for a team like the Seahawks currently scheduled to pick at No. 12.
Which brings us back to our original question. What's the plan for the Seahawks?
Is Seattle simply planning to spend a boatload of cash (or draft picks) on whoever says yes first, or are their other factors at play here?
Because after back-to-back 7-9 seasons to begin his tenure in Seattle, Pete Carroll is going to find himself on the hot seat next January if this team doesn't start heading north in the win column soon. Acquiring Manning would no doubt buy the head coach some more time, but don't think for one second that Seahawks owner Paul Allen hasn't noticed a certain divisional-rival from San Francisco that went from 6-10 to 13-3 and a spot in the NFC Championship game one year after hiring a hot college coaching prospect of their own.
Perhaps the Seahawks should try something completely different this offseason. Rather than throwing around money like the team did to acquire free agents Sidney Rice and Tarvaris Jackson last year, or give up draft picks and cash like they did for Charlie Whitehurst in 2010, why not aim smaller and look to develop a young quarterback like Texas A&M standout Ryan Tannehill? While he may not fall all the way to No. 12 on draft day, the Seahawks would have a much easier time moving up for Tannehill than they would for RG3.
In any event, Seattle's definitely got something cooking. The question, however, is whether or not the time spent in the kitchen produces something worth eating.
Hit me up on Twitter: @JoeFortenbaugh