January 05, 2012 -
Joe Fortenbaugh
What's Plan B?
It's been three years.
Three years since the New York Jets traded up 12 spots in the 2009 NFL draft to use the fifth overall selection on a quarterback out of Southern California named Mark Sanchez.
With a brash and confident new head coach in former Baltimore Ravens defensive coordinator Rex Ryan, a suddenly formidable defense led by free agent acquisition Bart Scott and the promising young Sanchez, the Jets were poised to become an intimidating and unrelenting force in the AFC.
Three years later and on the heels of a disappointing 8-8 season, that same head coach and quarterback now find themselves in the crosshairs of a growing storm that has put both their futures in jeopardy.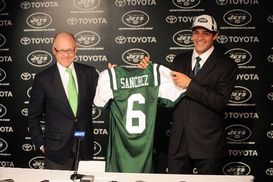 Three years ago the Jets thought they landed their quarterback of the future. Do they still feel the same way?
The intriguing thing about the mounting criticism in the Big Apple is that the Jets have gone 28-20 and fought their way into two AFC Championship games with Sanchez as their starting quarterback.
The problem, however, is that the team did it on the backs of their stalwart defense and when they needed their franchise quarterback to take the next step in his third NFL season, he failed to do so.
Sanchez apologists will be quick to point to offensive coordinator Brian Schottenheimer as the culprit for the offense's lack of creativity and consistency. This argument has been making the rounds on twitter for a good portion of the season and rightfully so. Most offensive coordinators would come under fire if their unit averaged a pitiful 4.8 yards per play (29th in NFL) in a season that was deemed "Super Bowl or bust."
But Schottenheimer isn't standing in the pocket throwing passes. Mark Sanchez is. And he finished the 2011 season ranked 27th in the league in completion percentage (56.7%), behind guys like Colt McCoy, Rex Grossman, Matt Moore and rookie Andy Dalton. In fact, 2011 was the third straight season in which Sanchez failed to complete more than 57% of his passes.

From the time Sanchez entered the league until the conclusion of this past season, 38 NFL quarterbacks have posted a higher completion percentage. Sam Bradford is one of those signal-callers, as are Chad Henne and Matt Cassel.
It's time to start asking what $28 million guaranteed and an above average wide receiving unit that features a Super Bowl MVP gets you these days.
Most would agree that it's not 18 interceptions (fifth-most in NFL) and a passer rating of 78.2 (23rd).
Only Giants quarterback Eli Manning has thrown more interceptions (55) than Sanchez (51) over the last three years. The difference, however, is that Manning has already won a Super Bowl and has his team hosting a playoff game this weekend in the same stadium that Sanchez was expected to be hosting a playoff game of his own in 2011.
That's not to say life's been all bad with Sanchez under center for the New York Jets. He did set career-highs in 2011 with 26 touchdown passes and a QB rating of 78.2. Who knows? With a new offensive coordinator, maybe the former Trojan standout will finally emerge as the quarterback the Jets thought he would be when they paid such a hefty price for his services back in 2009.
But you can't help but wonder if Pete Carroll—Sanchez's head coach at USC—was right when he very publicly and very adamantly made it clear that he thought a 22-year-old with only 16 collegiate starts under his belt was making a mistake by turning pro.
Only time will tell, but one thing is very certain: Come Week 1 next season, Sanchez better be ready to take that elusive next step and lead this football team to the Super Bowl.
Otherwise, his time in New York will likely be up.
Hit me up on Twitter: @JoeFortenbaugh