March 26, 2012 -
Joe Fortenbaugh
What's the market for Asante Samuel?
2011 was a historic season for the forward pass.
NFL offenses continued to put the ball in the air at an unprecedented rate and the record books have taken notice. Just take a look at the league's single-season passing record, as four of the top six spots are now occupied by quarterbacks who threw for 4,900 or more yards in 2011.
And as we all know, for every action, there is an equal and opposite reaction.
As NFL offenses continue to lean more and more on their aerial attacks, defenses are forced to counter by adding elite pass rushers and cornerbacks in an attempt to neutralize the opposition. It's why Brandon Carr just got $50 million from the Cowboys and Eric Wright landed $37.5 million from the Buccaneers. It's also why teams are sizing up former LSU standout Morris Claiborne, who could become the second Tiger cornerback to become a top-five pick in the last two years.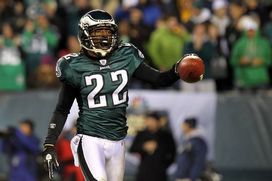 For the second consecutive offseason, the Eagles are looking to trade cornerback Asante Samuel.
And it's the same reason why 31-year-old Asante Samuel is going to draw some interest from teams looking to bolster the back end of their secondary.
Jeff McLane of the Philadelphia Inquirer reported on Sunday that the Eagles are looking to trade the disgruntled Samuel before April's draft, as the team is already loaded at the cornerback position with Nnamdi Asomugha and Dominique Rodgers-Cromartie.
But complications could arise in an attempt to ship Samuel out of town. For starters, the nine-year veteran is scheduled to make $9.5 million in 2012, which a trade partner would be required to pick up barring a restructuring on Samuel's behalf. In addition, the Philly front office can be a tough group to negotiate with. They came out on top in the Donovan McNabb and Kevin Kolb trades and have shown the willingness to walk away from the table if an offer doesn't live up to their desires.
The upside to any team interested in Samuel's services is that the asking price will likely be less than the two second-round picks the Birds were reportedly looking for last offseason when they tried to move him. And with another season under his belt that happened to be the first of the last four years in which Samuel didn't make it to the Pro Bowl, you've got another solid reason why the price tag will have to come down.
So which teams have the ammunition and the need to pull the trigger on a deal to land Samuel? I'm glad you asked…
Tampa Bay Buccaneers: Ronde Barber is coming back for a 16th season, but will turn 37-years-old in April and could function better as the Buccaneers' No. 3 cornerback. With Samuel lining up opposite of free agent acquisition Eric Wright, the Bucs would be well on their way to improving a defense that ranked 21st against the pass last season and dead last in points allowed (30.9 pts/gm). Tampa may be trying to get younger, but in a division that features Drew Brees, Cam Newton and the Roddy White-Julio Jones receiving duo, you can never have too many solid corners. Should the Bucs show an interest but come up short, that may tip us off that the team is gunning for LSU cornerback Morris Claiborne with the fifth overall pick instead of Alabama running back Trent Richardson.
Detroit Lions: After winning ten games in 2011 and qualifying for the playoffs for the first time in God knows how long, the Lions aren't that far away from a serious run at the Super Bowl. The cornerback position is high on the organizations' priority list and the Lions were rumored to be interested in trading for Samuel last offseason. However, salary cap concerns will be the biggest obstacle for Detroit to overcome if they want to make a deal.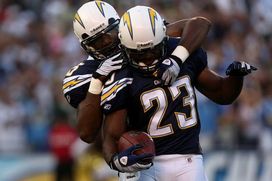 After ten NFL seasons, Jammer showed signs of slowing down in 2011.
San Diego Chargers: Quentin Jammer turns 33-years-old in June and intercepted zero passes last season, which was the first time the ten-year veteran failed to record an INT since his rookie campaign in 2002. In addition, the Chargers surrendered 29 touchdown passes in 2011 (fifth-most in NFL) and could use some playmaking help in their secondary now that Peyton Manning is on the schedule twice a year.
Carolina Panthers: Just like the Buccaneers, the Panthers have four games a year against Drew Brees and the Roddy White-Julio Jones receiving duo. Chris Gamble can be effective, but the other cornerback position is currently manned by Captain Munnerlyn, who failed to record an interception in 14 starts last year. In addition, Carolina ranked 24th against the pass in 2011 while giving up 28 touchdown passes (seventh-most in NFL).
Tennessee Titans: They just lost veteran Cortland Finnegan to free agency and currently have Jason McCourty (24-years-old) and Alterraun Verner (23) listed as their starting cornerbacks. As a starter in Tennessee, trading for Samuel would give the Titans more depth and—more importantly—veteran leadership for their young secondary.
Cleveland Browns: They're on the list because general manager Tom Heckert used to work in the Philadelphia front office and has done a lot of business with the Eagles since taking the job in Cleveland. But the Browns are trying to get younger and a 31-year-old Samuel will likely be past his prime by the time Cleveland is ready to start winning games.
Hit me up on Twitter: @JoeFortenbaugh