April 02, 2013 -
Joe Fortenbaugh
Where's the upside?
While it pales in comparison to the problems that have plagued the Miami Dolphins since Dan Marino's departure from the NFL in 2000, the Arizona Cardinals are well versed in the struggles that come with replacing a Hall of Fame quarterback.
Since Kurt Warner hung up his gloves in 2010, the Cardinals have employed seven signal-callers who have taken at least one regular season snap from center in the 48 games following Warner's retirement. Arizona has gone 18-30 (.375) during that stretch while ranking 24th or worse in scoring and 19th or worse in total offense in each of the three campaigns of the post-Warner era. In terms of scoring alone, Arizona has managed to average a grand total of just 17.7 points per game over the last three seasons. Only the Cleveland Browns (16.5), Kansas City Chiefs (16.4) and St. Louis Rams (16.3) have scored fewer points during that time span.
33-year-old quarterback Carson Palmer is no stranger to a stagnant offense with allergic reactions to red zone efficiency. The nine-year veteran has played a hand in scoring offenses that have ranked 22nd or worse in the NFL in four of the past five seasons. Palmer himself just reached the end of a two-year stint with the Oakland Raiders that saw the veteran quarterback go 8-16 as a starter with 33 turnovers and a pedestrian passer rating of 85.6.
With Kevin Kolb and John Skelton no longer on the roster, the Arizona Cardinals once again entered the market in search of a new quarterback. Unhappy in the Bay Area and ready to commence the next chapter of his career, Carson Palmer was looking for a new NFL city to call home. According to various reports, the Raiders and Cardinals reached an agreement on Tuesday that will send Palmer from Oakland to Arizona in exchange for a conditional seventh-round pick in 2014. Jason La Canfora of CBS Sports reports that Palmer's deal with the Cardinals is a two-year pact worth $16 million with $10 million guaranteed. The veteran quarterback can also earn an additional $4 million via incentives.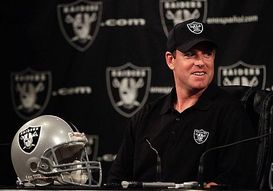 Palmer's two-year stint in Oakland produced just eight wins in 24 starts.
The firing of head coach Ken Whisenhunt and subsequent hiring of former Indianapolis Colts offensive coordinator Bruce Arians to fill the void signifies a new era in Arizona Cardinals football. Arians sent Kolb and Skelton packing and, despite holding the seventh overall selection in this month's draft, appears more enamored with Palmer than he does with potential rookie targets Geno Smith and Matt Barkley.
But if Arians doesn't plan on using Palmer's remaining gas to mentor a rookie quarterback who could use the help during the developmental process, how much upside does this move really possess?
Transitioning from the inconsistent receiving unit in Oakland to the trio of Pro Bowler Larry Fitzgerald, up-and-comer Michael Floyd and three-year veteran Andre Roberts could serve as the catalyst for Palmer's resurgence, but that doesn't necessarily guarantee an uptick in either offensive production or scoring. The Cardinals' biggest problem in the post-Warner era has been protection. Since 2010, no team in the league has surrendered more sacks than Arizona (162). For a 33-year-old quarterback never highly regarded for his mobility in the pocket, this could be a big problem.
Compounding the issue is the fact that Arizona plays in one of the most defensively aggressive divisions in football. The St. Louis Rams—who went from two wins to seven in head coach Jeff Fisher's first year with the team—ranked second in the NFL in sacks last season (52), while Super Bowl contenders San Francisco and Seattle are coming off 2012 seasons that saw both organizations rank in the top-4 in total defense. With the Niners and Seahawks armed to the teeth for a championship run and the Rams continuing to improve under Fisher's guidance, there's a good chance that Arizona enters September as the favorite to finish dead last in the NFC West. Vegas oddsmakers currently have the Cardinals priced at 100/1 to win next year's Super Bowl, ahead of only the Oakland Raiders (200/1) and Jacksonville Jaguars (200/1).
I don't disagree with the assessment that Palmer will provide an upgrade to Arizona's quarterback predicament. But I do question the long-term viability that such a move would bring to the desert. Between a serious deficiency in the pass protection department and the lack of a consistent rushing attack, there's only so much an immobile 33-year-old quarterback can do with a guy like Larry Fitzgerald on the outside.
As a short-term stopgap, trading for Carson Palmer makes some sense for the Cardinals. But I don't see how this move will do enough to get Arizona back to the playoffs.
Hit me up on Twitter: @JoeFortenbaugh