June 01, 2012 -
Joe Fortenbaugh
Which way for Cincinnati?
LAS VEGAS--After a 9-7 campaign that resulted in a trip to the postseason under the guidance of rookie quarterback Andy Dalton, you would think that the Cincinnati Bengals would be garnering a bit more hype in the months leading up to the 2012 season. After all, many in the industry are predicting a big step forward for the Carolina Panthers—another team that exceeded expectations in 2011 with a rookie signal-caller under center.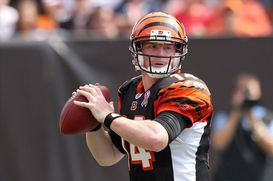 ICONDalton threw for 3,398 yards during his rookie season.
But that doesn't appear to be the case. With perennial AFC powerhouses Pittsburgh and Baltimore taking up residence in the same division, it's safe to assume that most preseason predictions won't have the Bengals claiming the AFC North. It's just easier to take the Steelers or Ravens, who have combined to win the division in eight of the last ten years.
So why the lack of love for the Bengals? Dalton and fellow rookie breakout star A.J. Green enter 2012 having gained invaluable experience last season and the incoming draft class was given an "A"—one of only four awarded—by the experts over at NFL.com. Shouldn't the expectations for Cincinnati be a bit higher?
Let's start in Las Vegas and abroad, where the recently posted NFL season win totals give the impression that the Bengals will be nothing more than a .500 team in 2012:
MGM: 8.5
LVH: 8.0
Cantor: 7.5
5dimes: 7.5
BetOnline: 8
Lucky's: 8
Throw in the fact that Sportsbook.ag has the Bengals listed at 40/1 to win the Super Bowl (odds that have 16 teams posted ahead of Cincinnati) and you get the distinct impression that oddsmakers across the globe think the Bengals could actually be headed for a step in the wrong direction.
A look at the schedule demonstrates that the Bengals could be in for a more challenging regular season run this year. Last season, Cincinnati went 9-7 against competition that combined to post a 121-135 record (.472) in 2010. This season, the Bengals' schedule features 16 games against teams that went a combined 128-128 (.500) in 2011. Not a drastic increase, but one that is certainly worth noting. Especially when you take into account that Cincinnati's crossover games in 2012 come against the NFC East and AFC West instead of the NFC West and AFC South like they did last year.
Breaking the regular season schedule down further, Cantor Gaming's lines for Weeks 1-16 have the Bengals posted as a favorite six times, as a dog seven times and as a pick twice.
Week 1: +7 at Baltimore
Week 2: -7 vs. Cleveland
Week 3: +1.5 at Washington
Week 4: -2.5 at Jacksonville
Week 5: -2.5 vs. Miami
Week 6: -2 at Cleveland
Week 7: +1.5 vs. Pittsburgh
Week 8: BYE
Week 9: pick vs. Denver
Week 10: pick vs. New York Giants
Week 11: +2.5 at Kansas City
Week 12: -4.5 vs. Oakland
Week 13: +5.5 at San Diego
Week 14: -1 vs. Dallas
Week 15: +7 at Philadelphia
Week 16: +6 at Pittsburgh
Week 17: vs. Baltimore (no line posted)
Perhaps the lack of faith in Cincinnati has to do with the Marvin Lewis effect. In nine seasons as the Bengals head coach, Lewis has guided the team to just three winning seasons (2005, 2009, 2011), all of which resulted in trips to the playoffs.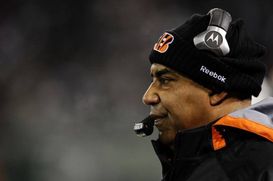 Will 2012 be the first time that Marvin Lewis produces back-to-back winning seasons?
However, following the team's playoff runs in 2005 and 2009, the Bengals came back the next year to post regular season marks of 4-12 and 8-8, missing out on the postseason both times. The Cincinnati head coach just can't seem to maintain a consistent level of success, as every big step forward is immediately met with a step in the opposite direction.
The team's Week 1 showdown at Baltimore will be a challenge (only four wins in last 15 road games vs. the Ravens), but it's conceivable that the Bengals could rip off five straight victories beginning with Cleveland in Week 2, putting Cincinnati at a comfortable 5-1 before their October 21 date with the Steelers.
But the backend of the schedule gets brutal in a hurry and a three-game stretch featuring road dates at Philadelphia and Pittsburgh as well as a Week 17 matchup against the Ravens could very well be what keeps this team from a return trip to the postseason.
2012 offers a lot of promise for the Bengals, but just like with every other team's schedule in the NFL, it also offers a variety of pitfalls. Can Marvin Lewis successfully navigate through the second half of the season and get this team back to the playoffs?
Vegas may say no, but it's been wrong before.
Hit me up on Twitter: @JoeFortenbaugh