February 13, 2013 -
Joe Fortenbaugh
Who will be our next elite quarterback?
It's a loaded question that disguises itself in many forms. Eli's version came in 2011 when the Super Bowl XLII MVP was asked if he thought he belonged in the same class as Tom Brady. Joe Flacco's version came the following year when the Baltimore quarterback was asked where he thought he ranked among NFL quarterbacks. But no matter the shape in which the question presents itself, it's always asking the same thing.
Are you an elite quarterback?
It's a loaded question because we all presume to know the answer before the inquiry even takes place. No. It's why nobody would ask Tom Brady, Peyton Manning, Drew Brees or Aaron Rodgers whether or not they are elite. We're all already in agreement that they are.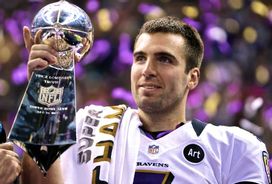 We laughed when Joe Flacco said he was an elite quarterback. Well, guess who's laughing now?
But we ask Eli Manning and Joe Flacco because we think we win with whatever response they offer. Answer in the affirmative and everybody will laugh while pointing to your shortcomings. Respond in the negative and your confidence and swagger will be called into question, along with whether or not you possess the "it" factor that we'll be hearing so much about over the next few months.
Eli and Flacco both said yes. We laughed. And then both quarterbacks went out and won the Super Bowl. It's almost as if there was a new level of motivation that presented itself when both players were questioned regarding their place among the fraternity of professional quarterbacks.
We no longer doubt Eli Manning and Joe Flacco. But there are several quarterbacks in the NFL who we do question. We wonder whether or not they have what it takes to win the Big One. Whether or not their game has another gear we haven't already witnessed.
By our count, there are six quarterbacks who could or should face the elite question in the near future. So we've gone ahead and assigned odds as to which guy will face it first.
Quarterback: Matthew Stafford, Detroit Lions
Years pro: 4
Record as starter: 17-28 (.377)
Odds: 30-1
I'll say that within the next two years Stafford will become a prime candidate for this question, especially if Detroit can conjure up the magic that resulted in a postseason berth back in 2011. But with just 45 starts under his belt through four professional seasons—coupled with Detroit's disastrous 4-12 campaign in 2012—it's simply too soon for the media to put the Lions quarterback between the crosshairs. Stafford isn't viewed as the problem in Detroit, he's perceived as one of the team's lone bright spots. That wasn't always the case for Manning and Flacco.
Quarterback: Philip Rivers, San Diego Chargers
Years pro: 9
Record as starter: 70-42 (.625)
Odds: 25-1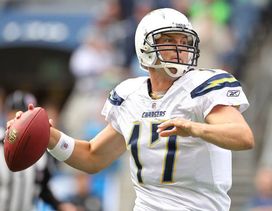 The Chargers sent Drew Brees packing in favor of Rivers. So far, it hasn't worked out.
This question would have been perfect for Rivers following the 2010 season when the San Diego signal-caller had just thrown for a career-high 4,710 yards and had lead his team into the postseason in five of the previous seven years. But the window to ask has passed. Rivers appears to be on the downside of his career after missing the playoffs in each of the past three seasons while committing almost as many turnovers (47) since 2011 as he's thrown touchdown passes (53). Things could always change under new head coach Mike McCoy, but if a quarterback fails to prove elite during his first ten professional seasons, what's the point of asking after that?
Quarterback: Jay Cutler, Chicago Bears
Years pro: 7
Record as starter: 51-42 (.548)
Odds: 9-1
Did you know that Cutler's led a team to the playoffs just one time during his seven-year career? That's not elite. And that's certainly not what the Chicago faithful were expecting when their current starting quarterback landed in town prior to the start of the 2009 season. Still, offensive line issues and a lack of firepower at the wide receiver position prior to Brandon Marshall's arrival provide viable reasons as to why Cutler has been unable to guide the Bears to a February win. But with Marshall on the outside, Alshon Jeffery entering his second season and Chicago seemingly committed to upgrading the offensive line over the next few months, the onus shifts back to Cutler in 2013, making August the perfect time to ask if he's elite.
Quarterback: Matt Schaub, Houston Texans
Years pro: 9
Record as starter: 44-38 (.536)
Odds: 6-1
Throw out the three years Schaub spent on the bench in Atlanta and you've got a quarterback who has six seasons under his belt as an NFL starter. That's advanced math right there. Arithmetic lessons aside, reporters and bloggers alike have every right to ask Schaub whether or not he's an elite quarterback. The 32-year-old has just one playoff win on his resume to go along with a contract signed prior to the 2012 season that could pay him as much as $62 million. We know the Texans can run the ball, play defense and win during the regular season. We've seen it. But can Houston break through in the playoffs? For that to happen, Schaub needs to elevate his game just like Manning did during the 2008 and 2011 playoffs and Flacco did this past postseason.
Quarterback: Tony Romo, Dallas Cowboys
Years pro: 9
Record as starter: 55-38 (.591)
Odds: 3-1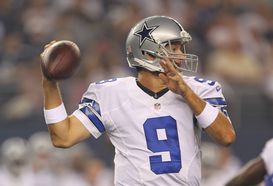 US PRESSWIRERomo? Elite? Not until he wins the Big One.
Romo fits the bill for a variety of reasons. He's been a starter for seven years but despite the solid regular season statistics, he's consistently viewed as the primary suspect for why Dallas goes silent come January. He's also in the market for a new contract, just like Joe Flacco was entering 2012. But the main reason why asking Romo if he's elite would work so well is because of our response. We laughed when Eli said he was elite and laughed harder when Flacco said the same. Romo answering in the affirmative would be pure gold, especially if he went out and won the whole damn thing six months later.
Quarterback: Matt Ryan, Atlanta Falcons
Years pro: 5
Record as starter: 56-22 (.717)
Odds: 2-1
As great a candidate as Tony Romo is for the question, Matt Ryan is our odds-on favorite to be asked whether or not he's elite entering the 2013 campaign. Five seasons, four trips to the playoffs, two Pro Bowl appearances. And let's not forget that 2012 was the best statistical season of the Atlanta quarterback's career. But a series of postseason shortcomings has Ryan on the outside looking in at the top tier of NFL signal-caller talent. Maybe 2013 will be the year he finally breaks through. Maybe all he needs is that extra motivation to prove everybody wrong.
Hit me up on Twitter: @JoeFortenbaugh