May 12, 2011 -
Joe Fortenbaugh
Who would YOU pick?
I recently returned from a five-day binge of golfing, drinking and gambling in Myrtle Beach with a group of "friends" I have known for more than 20 years. I use the term "friends" loosely because most of our vacation was spent arguing and shouting over the most inconsequential of topics ranging from what strip club we should visit after dinner (Masters) to whether or not one-foot putts should be gimmies (they were).
Amazingly, this is how the group has functioned together since junior high and somehow we are all still friends…although trying to explain this adolescent and boorish behavior to outsiders like girlfriends becomes a daunting challenge that rarely concludes with favorable results.
However, amidst the chaos and carnage that are my golf game and liver, I stumbled across an interesting debate with the rest of the Myrtle Beach crew that I believe makes for an intriguing discussion here at the National Football Post.
If you were tasked with building an NFL roster from the ground up, where would you start?
Since the obvious answer for most of us would be "quarterback," we are going to assume that you're already in possession of a franchise signal-caller.
So in your opinion, what comes next?
Let's take a look at your options…
Left Tackle: One of the first front office moves you have to make after acquiring a franchise quarterback is to invest in his protection. Just ask the Detroit Lions, who have watched former No. 1 overall pick Matthew Stafford start just 13 of 32 possible games due to a variety of injuries (see video below) suffered as a result of suspect line play.
However, take note that the 2011 champs (Green Bay) gave up 38 sacks last season (11th in NFL) and the 2009 victors (Pittsburgh) surrendered 49 sacks (fourth in NFL) en route to hoisting the Vince Lombardi trophy. So is it really necessary to address the offensive tackle position immediately after landing a franchise quarterback?
Running Back: Having a workhorse back like Minnesota's Adrian Peterson (1,198 carries since 2007, first in NFL) would make life a lot easier for your new quarterback, but this is too steep a price to pay. Tom Brady, Peyton Manning, Drew Brees and Aaron Rodgers don't have Pro Bowl running backs backing them up, so wouldn't it make sense to follow their blueprint?
Just make sure you put together an effective rushing attack. Brees and the Saints won the Super Bowl in 2010 with the NFL's sixth-ranked rushing offense (131.6 yds/gm) but got bounced out of this past year's playoffs by the Seahawks when their running game ranked 28th in the league (94.9 yds/gm). Why else do you think New Orleans traded back into the first round to land former Heisman Trophy winner Mark Ingram?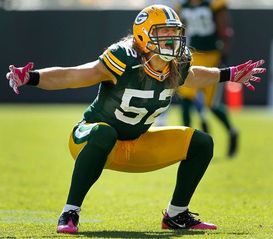 Matthews was a big reason why the Packers won the Super Bowl this past season.
Defensive End/Outside Linebacker: This is my personal choice. You can't win championships if you can't get to the quarterback, as evidenced by the fact that seven of the last nine Super Bowl Champions have ranked sixth or higher in the NFL in sacks.
Still not sold that this is the way to go? Six defensive ends were selected in the first round of last month's draft, which is tied with defensive tackles for the most at any position. Throw in outside linebacker Von Miller and you've now got seven pass rushers taken in the first 24 picks. There's a reason these guys are targeted early.
Bonus Stat: The two teams that qualified for February's Super Bowl (Pittsburgh & Green Bay) finished the regular season ranked first and second, respectively, in the NFL in sacks.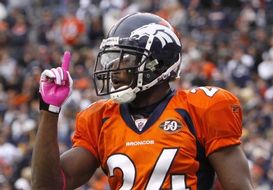 Bailey is headed for Canton, but has never played for a Vince Lombardi trophy.
Cornerback: A shutdown corner like the Jets' Darrelle Revis is a formidable investment that will pay dividends every time your team goes up against the Andre Johnsons and Larry Fitzgeralds of the world. But outside of Green Bay's Charles Woodson, who was the last lockdown specialist to appear in a Super Bowl? Asante Samuel?
Nnamdi Asomugha, Champ Bailey and Revis have a combined zero minutes of championship game experience. Granted, it's not their fault their teams have failed to make it to Super Bowl Sunday, but the fact remains that as talented as these three players are, they can only do so much to help their organizations win.
So now the decision rests in YOUR hands. You've got a franchise quarterback and a fat bank account with permission from your owner to go wild.
Which position will it be?
Hit me up on Twitter: @JoeFortenbaugh