March 05, 2012 -
Joe Fortenbaugh
Why is a bounty program even necessary?
The cat is officially out of the bag.
Despite a four-week passage of time since the last meaningful game, the National Football League has dominated the headlines over the last three days after word surfaced Friday that the league was investigating a bounty program that has been operating in New Orleans over the last three seasons.
Current and former players, media members and fans alike have taken to radio stations and television channels across the country over the last 72 hours to voice their opinions and concerns on the matter. Some say that it's part of the game but was taken too far in New Orleans, while others shudder at the thought of one player intentionally and maliciously trying to injure another.
The bottom line is that much like the Major League Baseball steroid scandal that rocked American sports at the turn of the millennium, bounties were a clandestine, yet widely implemented tactic used for the purpose of gaining an edge over the competition. Winning, after all, is what matters most.
But don't kid yourselves into thinking that the Saints were the only team in the NFL employing such questionable tactics. They're just the first team to get caught.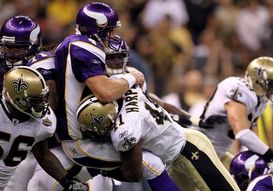 Vikings quarterback Brett Favre had a bullseye on his back during the 2010 NFC Championship game.
Forget about the fact that making a conscious attempt to knock an opposing player out of a game sets a horrendous example for our youth. One of my biggest issues with bounty programs is the fact that, apparently, six and seven-figure paychecks simply aren't enough to motivate professional football players to put forth their best effort every time they step onto the field.
Matt Bowen wrote an excellent piece for the Chicago Tribune on Friday in which he details his playing days in Washington under then-defensive coordinator and bounty program administrator Gregg Williams. In the article, Bowen offers up an in-depth look at how the Redskins' bounty program operated during his tenure with the team.
"Williams is an excellent motivator," writes Bowen. "You do what he wants: play tough, push the envelope and carry a swagger that every opponent sees on tape. When you lined up against us, you knew we were coming after you. It was our gig, our plan, our way to motivate, to extra-motivate."
And therein, from my perspective, lies the problem.
Highly lucrative, legitimate payroll checks are passed out every Tuesday to players during the NFL season. Some of those pieces of paper carry seven-figure sums while others still amount to more than the average American takes home on a yearly basis.
I don't care if you're a franchise quarterback or a special teams contributor. You're being well-compensated to play the game. When did that become too insufficient of a motivator to do your job to the best of your abilities each and every day?
I remember playing football back in high school and watching our linebackers drool during film sessions at the prospect of knocking the snot out of opposing quarterbacks and running backs. They weren't being paid to play or paid to play extra-hard for that week's game.
They simply wanted to hit somebody because they loved the game. Because they wanted to win. Because it was fun for them.
Somewhere along the line, some professional athletes lose that competitive fire. They show up to work, do what they need to do and collect their checks. It's disappointing to think that Saints linebacker Jonathan Vilma needed to throw $10,000 on the table in the week leading up to the 2010 NFC Championship game in order to motivate the New Orleans defense to take out then-Vikings quarterback Brett Favre.
After all, a win that Sunday would put the Saints on a plane to Miami and give the franchise a chance to win their first Super Bowl.
Sadly, that just wasn't enough motivation to get the job done.
Hit me up on Twitter: @JoeFortenbaugh