April 18, 2013 -
Joe Fortenbaugh
Wideouts Patterson, Austin bomb the Wonderlic
It hasn't been a great week for the top wide receivers of the 2013 draft class. On Tuesday, a report surfaced from ESPN's Adam Schefter that California wideout Keenan Allen was red-flagged for a drug test at February's Combine in Indianapolis. On Thursday, West Virginia's Tavon Austin and Tennessee's Cordarrelle Patterson made news for bombing the Wonderlic intelligence test, a 50-question multiple-choice exam administered every year at the Combine.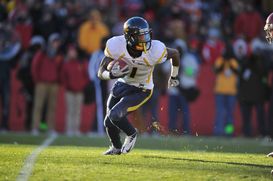 US PRESSWIREWe highly doubt a poor performance on the Wonderlic will hurt Tavon Austin's draft stock.
Per Bob McGinn of the Milwaukee Journal-Sentinel, the 6-3, 205-pound Patterson scored an 11 out of a possible 50 points, while Austin registered a seven.
Conspiracy theories have already begun popping up around the internet alleging that one or more wide receiver-hungry teams could be leaking this information in an attempt to drive down the stock prices of Allen, Patterson and Austin. Maybe that's true, maybe it isn't.
But talent will almost always prevail in the face of character concerns. The NFL isn't made up of clergymen and scientists. It's made up of football players. And while it wouldn't hurt a player's cause to post a 40 out of 50 on the Wonderlic, scoring as low as a seven won't create any serious consequences for a player who has proven he can do just that: Play.
Hit me up on Twitter: @JoeFortenbaugh