February 13, 2012 -
Joe Fortenbaugh
Will anyone bite?
He's 35-years-old, will be close to two years removed from his last professional snap and has an attitude problem that has flared up as often as Jessica Simpson's microwave at 2:00am.
Does this sound like a guy who can make a football team better?
Randy Moss—the straight cash homey with the wild afro and end zone hijinks many of us have come to know and love over the last decade—announced via a USTREAM chat on Monday morning that he wants to play football again.
"Your boy be back for the upcoming season," Moss declared not long after taking a moment to show the lucky viewers in attendance a bag of his hair.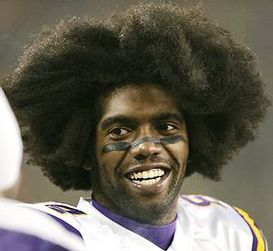 The afro may be gone, but what about the attitude problem?
Twitter promptly went haywire with the news of a Moss return as speculation got underway regarding where one of the NFL's most dangerous deep threats could be playing his football in 2012.
That is, if anybody wants him.
The last we saw of Moss he was dogging it up and down the field in Tennessee—his third team that season—en route to the worst statistical campaign of his 13-year-career (28-393-5).
Moss was shipped out of New England in 2010 after just four games, igniting a Patriots' run that resulted in 11 wins over their next 12 contests. Think that locker room wasn't glad to bid farewell to the afro and the attitude?
Next up was a stint with the Vikings and a partnership with quarterback Brett Favre that lasted four games and consisted of just 13 receptions before the wideout was sent packing. Moss closed out the 2010 season in Tennessee, where he started just four of eight games and caught only six passes for 80 yards.
There's no denying what Moss was capable of achieving in his prime. But this isn't the same guy who caught an NFL-record 23 touchdown passes playing with Tom Brady in 2007. The key for evaluators will be separating Randy Moss the name and Randy Moss the current athlete.
Can he still run? At the age of 35, is Moss still capable of creating separation and winning the jump ball battles down the field that made him so dangerous during his first stint with the Vikings?
More importantly, however, is the question of whether or not the attitude problems are still present in a 6'4" frame that won't be as difficult to defend as it was ten years ago.
There are sure to be at least a few organizations willing to kick the tires on Moss to see if he's capable of bringing anything to their respective offenses. But a big payday and a spot in the starting lineup are almost certainly out of the question. It's unlikely that a team with a young quarterback would want to take the risk of having their signal-caller's confidence shattered by an over-the-hill wideout who starts causing problems the moment he isn't receiving an abundance of targets.
Or maybe, just maybe, Randy Moss has changed. Is it possible to think that the guy who once mockingly mooned Packers fans has finally grown up and is willing to put the team before himself?
Because it's a shame to think what might have been had this potential attitude adjustment taken place just a few years ago.
Hit me up on Twitter: @JoeFortenbaugh