December 23, 2011 -
Joe Fortenbaugh
Will Marshawn Lynch find the end zone against the 49ers?
Something's got to give Saturday in Seattle.
You'd be hard-pressed to find a hotter running back in the NFL at the current moment than Marshawn Lynch. The five-year veteran has found the end zone in nine of his last ten games and currently has 11 touchdowns on his resume heading into Saturday.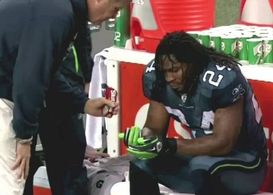 If the 49ers have anything to say about it, Marshawn Lynch won't be eating any Skittles on Saturday.
Meanwhile, the San Francisco 49ers rank first against the run this season (71.5 yds/gm) and have not allowed a single rushing touchdown through 13 games.
With the unstoppable force scheduled to meet the immovable object Saturday at 4:15pm eastern, I spoke with Dave Mason from BetOnline.com this past week about setting odds on whether or not Lynch will be the first guy to find pay dirt against the Niners in 2011.
PROP BET
Will Marshawn Lynch score a rushing touchdown against the 49ers on Saturday?
Yes: EVEN
No: -130
That's where the line currently stands, after opening Yes: +135, No: -165 on Thursday.
If San Francisco was able to keep Ray Rice out of the end zone on Thanksgiving when they were pressed up against the 1-yard line, I say they put an end to Lynch's current hot streak on Saturday.
What say you?
Hit me up on Twitter: @JoeFortenbaugh