October 17, 2010 -
Joe Fortenbaugh
Will Reid still go back to Michael Vick?
PHILADELPHIA—Eagles head coach Andy Reid made it clear that Michael Vick would be the starting quarterback in Philadelphia when he got healthy.
Just don't tell that to current starter Kevin Kolb, who is in the process of saddling the Eagles with their 36th quarterback controversy of the season.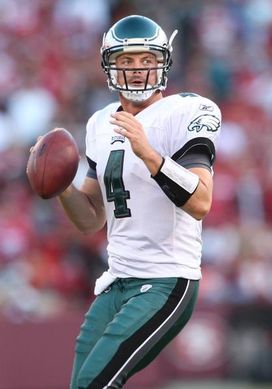 ICONThis is not the same Kevin Kolb we saw in Week 1 against the Packers.
Kolb spent the majority of his Sunday afternoon making mincemeat out of an Atlanta Falcons (4-2) football team that entered Week 6 ranked tenth in the NFL in total defense (310.0 yds/gm) and second in scoring defense (14.0 pts/gm).
Final Score: Eagles 31, Falcons 17
Kolb: 23/29 (79.3%), 326 yards, 3 TDs, 1 INT, 11.2 YPA, 133.6 QB Rating
This is where it starts to get interesting. If you remember back to Week 1 against the Green Bay Packers, Kolb lost his starting job roughly 20 minutes into the game when he suffered a concussion after taking a wicked hit from linebacker Clay Matthews.
Michael Vick stepped in, played well and never looked back. Vick dazzled us with his legs and wowed us with his arm while racking up wins against the Lions and Jaguars.
Then came a Week 4 divisional showdown with the Washington Redskins (and former Philly quarterback Donovan McNabb) where Vick suffered a rib cartilage injury that forced him to the sidelines for Weeks 5 and 6.
Despite being dogged by fans and benched by his head coach, Kolb stepped up to the plate and delivered a win last week at San Francisco (21/31, 253, 1 TD, 1 INT) and followed it up with an outstanding Week 6 performance against an Atlanta football team that had only lost one game entering Sunday.
So what happens next? Does Reid tell Kolb, "Thanks Kevin, but Mike's our guy," and send Kolb back to the bench?
Or does he turn the keys to the offense back over to the guy who has delivered two wins in the past two weeks and looked very consistent and effective in the process?
Because if I'm not mistaken, Reid chose Vick because he gave the Eagles the best chance to win.
And without Michael Vick, the Eagles have ripped off two straight wins.
Hit me up on Twitter: @JoeFortenbaugh