July 26, 2011 -
Barry Dorey
Will Steve Smith return to the Giants?
After a 2009 campaign that featured 107 receptions for 1,220 yards, Giants wide receiver Steve Smith was sitting pretty entering the final year of his contract.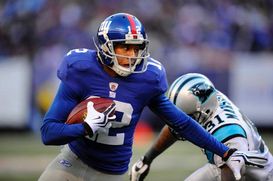 Steve Smith could be back with Big Blue in 2011.
But after suffering a pectoral injury followed by a season-ending articular cartilage (knee) injury in 2010, Smith finds himself a free agent drawing little to no hype on the open market.
Which is why it might make sense for the four-year veteran to sign a one-year deal with the G-Men and then take his chances on the market in 2012, something suggested by Ralph Vacchiano of the New York Daily News Tuesday morning.
Per Vacchiano, sources close to Smith say he's "expecting and willing" to sign a one-year deal to return to New York this season. If he does, Smith will likely be in a heated battle with three-year veteran Mario Manningham for the No. 2 spot on the depth chart.
Coming off his second-consecutive 4,000-yard season, I'm sure quarterback Eli Manning would be happy to have Smith back in the saddle opposite touchdown machine Hakeem Nicks.
Will Smith bounce back from last year's knee injury? Discuss it here in the NFP Forums!
Hit me up on Twitter: @JoeFortenbaugh