February 26, 2013 -
Joe Fortenbaugh
Will the Falcons make a run at Steven Jackson?
For the first time in his nine-year NFL career, running back Steven Jackson will have the opportunity to test the free agent market.
Per a report from Jim Thomas of the St. Louis Post-Dispatch, Jackson will void the final year of a contract that is scheduled to pay him $7 million in 2013—an amount that would likely force the Rams into releasing one of the franchise's most popular players, had Jackson opted not to void the deal.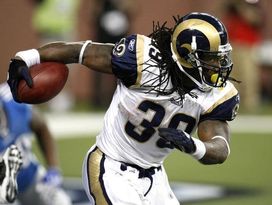 After 131 career regular season games with St. Louis, it looks like Steven Jackson is moving on.
In addition to the report, Thomas goes on to name the Atlanta Falcons as one of Jackson's potential suitors once the market opens up on March 13. Recent reports have stated that the Falcons plan to release 31-year-old Michael Turner in the near future, which opens up the door for a new addition to the depth chart in Atlanta.
A team like the Falcons—who has been knocking on the door for the past few years—makes a lot of sense as Jackson's next destination, as it's unlikely a young football team in rebuilding mode would be interested in signing a 29-year-old running back with 2,395 career carries under his belt. But it's also likely that Jackson—who has amassed 1,350+ total yards in each of the last five seasons—is going to draw interest from more than one football team.
The Tennessee Titans could get involved after stating publicly that the team is interested in getting running back Chris Johnson some help. And after head coach Mike Munchak survived the chopping block this past January, the coaching staff is likely looking to make a quick turnaround any way they can.
In addition, the San Diego Chargers have stated that the team is interested in acquiring another running back to help injury-prone Ryan Mathews. But there's no word on whether the Bolts plan to use the draft or open market to make such an acquisition.
Hit me up on Twitter: @JoeFortenbaugh