December 15, 2010 -
Joe Fortenbaugh
Will these 10 fantasy studs bounce back?
Having written about fantasy football as a profession for the past three years, I've been taking a different approach to NFL Sundays than I did prior to the creation of the National Football Post.
It's not that I enjoy fantasy football less than when I was younger—far from it. It's just that with so many leagues to manage and so much time dedicated to the subject, I've learned that when a Dwayne Bowe touchdown means great things in one league, it often spells disaster in another.
Over the last 36 months I've woken up on Sundays and Mondays with a "kill 'em all, let God sort 'em out" philosophy. I know that I've got no control over what happens on the gridiron each weekend, so why spend my day agonizing over Brandon Jacobs receiving more of the backfield workload than Ahmad Bradshaw?
But this past weekend was different. On Monday night I reverted back to the old, fantasy idealistic Joe Fortenbaugh and spent the evening on the edge of my couch (with certain intervals spent lying on the floor and punching the couch cushions) trying to will one of my teams to victory.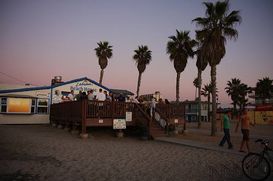 Ditching class to hit up Lahaina Beach House: A Fortenbaugh specialty.
The South Mission Beach Fantasy League was created a few years ago during my law school days in San Diego. I use the term "law school" loosely because I spent more time that I should have ditching class to pound Coronas at Lahaina's in Pacific Beach or The Pennant in South Mission. I've never brought home a championship and now that I think about it, had never even played for the title.
But after running through the regular season like Mexican water through an American tourist's digestive system, I came off last weekend's first-round bye with an 11-1 record under my belt.
"This is the finally the year," I'd been quietly telling myself.
That is, until Darren McFadden decided to go buck-wild on a crappier-than-usual Jacksonville Jaguars defense Sunday afternoon for a grand total of 41.5 fantasy points. Add Run DMC's outburst to Peyton Manning's Thursday night performance and the San Francisco D/ST's fantasy beat-down of the Seattle Seahawks and I was reliving a nightmare.
You see, I'd been down this road before. The year was 2007 and a shorthaired, overweight Joe Fortenbaugh rode Tom Brady's 50-touchdown campaign to a 10-3 regular season record and a first-round bye in the infamous Spicy Chicken Combo Fantasy League here in Allentown, Pennsylvania.
The dream was short-lived, however, as my squad came off the bye week to watch Brady post his worst performance of the season in a monsoon at the Meadowlands.
It was the only game of the season in which Brady didn't throw a touchdown pass.
And it cost me a spot in the finals.
After this past Sunday's nightmare was complete, my 11-1 demolition crew was somehow trailing by just 8.5 points and facing Adrian Peterson with only Ahmad Bradshaw and Neil Rackers left to play.
And then Monday night started as expected. Bradshaw came up an inch short on a first quarter touchdown run, forcing head coach Tom Coughlin to send Brandon Jacobs onto the field to clean up the mess.
Opportunity missed.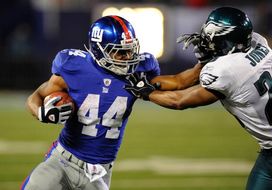 ICONEven prior to Monday night's performance, Bradshaw had become one of my favorite fantasy players.
Minutes later, Rackers came up just a few feet short of converting a 50+ yard field goal attempt that would have given my squad five much-needed points.
Opportunity missed.
But then something strange happened. For what I truly believe was one of the first moments this has ever happened to me in all my years of playing fantasy football, God smiled down upon a still-overweight Joe Fortenbaugh. Maybe it's because my birthday is Wednesday or maybe it's because he felt I had come too far to lose now, but something—or someone—was on my side.
Peterson was shockingly held to a season-low 26 yards of offense, while Bradshaw ripped off 20.5 fantasy points which were later supplemented by Rackers' eight fantasy points.
Final score: Fortenbaugh 124, Broken-hearted opponent 106.
I know that many of you were probably on the wrong end of one of the strangest fantasy weekends in recent memory in Week 14, but this little story just goes to show that every now and again, good things do happen.
And since I've now used up all of my fantasy goodwill for one lifetime, I'm sure you will be treated to a delightful little essay next week regarding my newfound hate for fantasy football because I got "screwed over" in the South Mission Beach Fantasy Championship game.
CLICK HERE TO ENTER THE WEEK 15 NFP/FANDUEL SALARY CAP CHALLENGE!
Will these ten players rebound in Week 15?
Dwayne Bowe, WR, Kansas City Chiefs
Week 14: (at San Diego) 1 reception, 3 yards, 0 TDs (7 targets)
Week 15: at St. Louis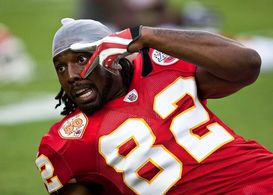 Bowe will need a healthy Matt Cassel if he wants to get back on track.
Analysis: The leading scorer at the wide receiver position in 2010 has been MIA from the stat sheets over the past two weeks, as Bowe has recorded just one reception for three yards with no touchdowns over his last two games. Credit solid cornerback play from Champ Bailey in Week 13 and the absence of quarterback Matt Cassel in Week 14 for the slump. Bowe has a semi-favorable matchup this Sunday against a St. Louis Rams team that ranks 21st in the NFL against the pass (228.2 yds/gm) and is surrendering an average of 22.3 fantasy points per week to opposing wide receivers (12th most in NFL).
Prediction: This one depends on the health of Cassel. If the high-priced quarterback returns to the starting lineup, start Bowe with confidence. If Cassel is forced to sit out another week, you may want to look for another option.
Adrian Peterson, RB, Minnesota Vikings
Week 14: (vs. NY Giants) 14 carries, 26 yards, 0 TDs
Week 15: vs. Chicago (Monday night)
Analysis: With quarterback Brett Favre on the sidelines as a spectator for the first time in 19 years, the Minnesota offense took a big step back. The Vikings totaled just 164 yards in a 21-3 loss to the New York Giants on Monday night, as Peterson was bottled up by the Big Blue defense for most of the evening. Prior to Monday night's snooze fest, A.P. had found the end zone in six of his previous eight games. However, he's about to run into a Chicago Bears team that ranks second in the NFL in run defense (87.9 yds/gm) and is giving up just 15.4 fantasy points per week to opposing running backs (eighth fewest in NFL).
Prediction: The matchup is a concern, but keep in mind that Peterson has scored 11 rushing touchdowns in seven career games against Chicago. It's not an ideal situation entering a crucial playoff week, but we don't see any way owners can afford to leave this guy on the bench.
Aaron Rodgers, QB, Green Bay Packers
Week 14: (at Detroit) 7/11, 46 yards, 0 TDs, 1 INT
Week 15: at New England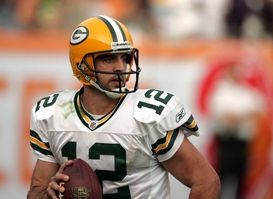 ICONDoes anyone really believe that Rodgers won't play Sunday night?
Analysis: I understand the frustrations regarding the raw deal fantasy owners got with Rodgers in Week 14, but had the Pro Bowl quarterback not suffered a concussion during the second quarter of Sunday's game at Detroit, he likely would have posted a half-decent fantasy stat line. Nevertheless, the Green Bay signal-caller will have to pass a series of tests before he's cleared to play in Sunday night's showdown at New England. The Patriots currently rank 31st in the NFL in pass defense and are surrendering an average of 20.5 fantasy points per game to opposing quarterbacks (seventh most in NFL).
Prediction: With the Packers' playoff hopes currently fading by the minute, there's no way Rodgers misses this game. A Sunday night battle in Massachusetts will likely feature inclement weather, but that's nothing new for Rodgers or the Pack. If he's good to go, get him in the starting lineup.
Miles Austin, WR, Dallas Cowboys
Week 14: (vs. Philadelphia) 2 receptions, 22 yards, 0 TDs (5 targets)
Week 15: vs. Washington
<strong>Analysis: The Cowboys top receiving threat has been in a bit of a slump as of late. Over his past three games, Austin has caught just nine passes for 94 yards with zero touchdowns on 18 targets. He's become a serious risk to fantasy owners now that we've entered the most crucial time of the season, but be advised that Austin is heading into a very favorable Week 15 matchup against a Washington Redskins team that ranks 29th in the league in pass defense (260.5 yds/gm) and is giving up an average of 24.1 fantasy points per week to opposing wide receivers (seventh most in NFL).
Prediction: The Redskins have spent the better part of the 2010 season getting torched through the air, so we feel that Austin owners should give the Pro Bowl wideout one last chance before throwing in the towel. Yes, he's been a bit of a disappointment this season, but you spent a high draft pick on him back in August for a reason. As far as matchups are concerned, it doesn't get much better than this.
Cedric Benson, RB, Cincinnati Bengals
Week 14: (at Pittsburgh) 8 carries, 19 yards, 0 TDs
Week 15: vs. Cleveland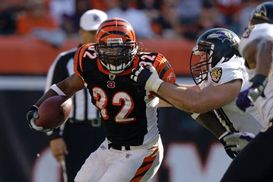 ICONBenson appears to be on his last legs.
Analysis: Benson's age appears to be catching up with him as the soon-to-be 28-year-old has failed to rush for more than 50 yards in four of his last five games. In addition, after amassing 20 or more carries in five of his first seven outings, Benson has been fed the rock 19 or fewer times in five of his last six contests. The upside here is that the Bengals host a Cleveland Browns defense this Sunday that ranks 23rd in the NFL against the run (124.7 yds/gm), but is surrendering an average of only 17.3 fantasy points per week to opposing running backs (13th fewest in NFL).
Prediction: In his first game against the Browns earlier this season, Benson carried the ball 15 times for 60 yards with zero touchdowns. This decision is all about options. If you've got a deep stable of running backs at your disposal, leave Benson on the bench. However, if you play in a deeper fantasy league and are working with limited options, Benson could serve as a decent Week 15 RB2/flex.
Kyle Orton, QB, Denver Broncos
Week 14: (at Arizona) 19/41, 166 yards, 0 TDs, 3 INTs
Week 15: at Oakland
Analysis: As a football team, the Denver Broncos are softer than security at a Phish concert. How else would you explain the 43-13 ass-kicking they suffered last Sunday at Arizona? For 2010, Orton currently ranks seventh in fantasy scoring at the quarterback position, but you have to be concerned about the possibility that this team has quit on the season. It won't be easy Sunday in Oakland against a motivated Raiders team that ranks seventh in the NFL in pass defense (202.5 yds/gm).
Prediction: Outside of their previously mentioned lack of toughness, the big concern here is that rookie quarterback Tim Tebow could be in line for some playing time over the final three weeks of the season. Be advised that Orton hasn't throw a touchdown pass or accumulated more than 166 passing yards in either of his last two games. You may want to play it safe and look elsewhere. This squad has no motivation whatsoever.
Greg Jennings, WR, Green Bay Packers
Week 14: (at Detroit) 4 receptions, 52 yards, 0 TDs (8 targets)
Week 15: at New England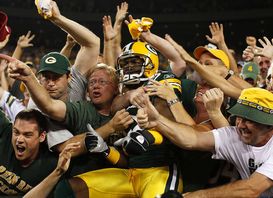 Just like with Dwayne Bowe, Jennings will need his quarterback healthy if he wants to produce.
Analysis: Entering last Sunday's showdown with the Lions, Jennings had found the end zone eight times in his last seven games. Unfortunately for fantasy owners in Week 14, the Packers' top receiving threat looked out of sync as Jennings wasn't able to haul in a touchdown pass from Matt Flynn and somehow managed to turn a big-time first half gain into an Aaron Rodgers interception. The 27-year old wideout will have a chance to right the ship Sunday in New England against a Patriots defense that is giving up an average of 23.7 fantasy points per week to opposing wide receivers (eighth most in NFL).
Prediction: If the weather holds up, Jennings should be a relatively solid fantasy play for Week 15. However, owners are advised to drop his stock if Rodgers is unable to play due to a concussion suffered in Week 14. There's some risk here, but this guy has been too damn good over the last eight weeks to leave on the bench.
Jamaal Charles, RB, Kansas City Chiefs
Week 14: (at San Diego) 12 touches, 49 total yards, 0 TDs
Week 15: at St. Louis
Analysis: Prior to Sunday's little mishap, Slim Charles (can anybody guess where that nickname came from?) had posted 100 or more total yards in ten of his previous 12 starts, so the good news is that Week 14 appears to be an anomaly. The newly minted running back heads to St. Louis this Sunday to take on an upstart Rams team that ranks 12th in the NFL in run defense (105.7 yds/gm) and is surrendering just 16.7 fantasy points per week to opposing running backs (11th fewest in NFL). This one won't be as easy as some owners may believe.
Prediction: The beautiful thing about Charles is that he can make plays in both phases of the offense. However, the key to Week 15 will be the health of quarterback Matt Cassel. St. Louis is fighting for a playoff spot and will no doubt be prepared for a fight this Sunday, so it's imperative that Cassel be in the starting lineup over Brodie Croyle if the Chiefs want to score points and maintain their lead in the AFC West. Start Charles with confidence.
Mike Williams, WR, Tampa Bay Buccaneers
Week 14: (at Washington) 1 reception, 15 yards, 0 TDs (5 targets)
Week 15: vs. Detroit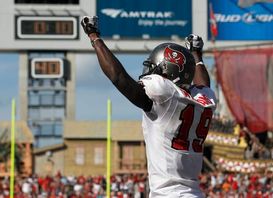 ICONCan Williams rally to close out his rookie season in style?
Analysis: Williams currently ranks in the top-20 in scoring among fantasy wide receivers, but Sunday's one-catch performance left owners who had relied on the rookie from Syracuse for the last several weeks high and dry. Credit a knee injury and unfavorable weather conditions for the substandard performance. The upside here is that Williams will have an opportunity to bounce back big in Week 15 against a Detroit Lions team that is surrendering an average of 21.2 fantasy points per game this season to opposing wide receivers (tied for 15th most in NFL).
Prediction: The Lions currently rank 13th in the NFL in pass defense (220.2 yds/gm), so don't expect this to be a walk in the park for Williams. However, Tampa Bay's No. 1 receiving threat ranks 14th in the NFL in targets this season (105) and has found the end zone in four of his last seven games. Consider the rookie a reliable WR2/3 for Week 15.
Chris Cooley, TE, Washington Redskins
Week 14: (vs. Tampa Bay) 2 receptions, 22 yards, 0 TDs (4 targets)
Week 15: at Dallas
Analysis: Despite a healthy dose of weekly targets (7.8 per game), Cooley hasn't scored a touchdown since October 3 and has failed to top 65 receiving yards in seven of his last eight games. Due to an abundance of injuries at the tight end position, many owners have been forced to stick with Cooley through better or worse (although it's mostly just been worse). Week 15 poses a daunting test against a Dallas Cowboys defense that is giving up just 6.0 fantasy points per week to opposing tight ends this season (ninth fewest in NFL).
Prediction: Cooley has been held out of the end zone in each of his last four games against the Cowboys and with the numbers he's been posting as of late, starting the veteran tight end on Sunday would be a fairly big risk for fantasy owners. If another option with more upside is available, we advise you to leave Cooley on the bench.
Hit me up on Twitter: @JoeFortenbaugh
Win cash today playing fantasy football with the NFP and FanDuel.