January 30, 2012 -
Joe Fortenbaugh
With free agency looming, Welker wants to return to New England
INDIANAPOLIS—In his first three years in the NFL, wide receiver Wes Welker played 47 games with the San Diego Chargers and Miami Dolphins that led to 96 receptions and one touchdown.
Things have changed a bit since the former Texas Tech standout landed in New England.
In his five seasons since joining the Patriots in 2007, no player in the NFL has caught more passes than Welker (554, 80 more than second place). So it should come as no surprise that the four time All-Pro wideout—who is scheduled to hit the free agent market in March—wants to come back to the team that helped turn him into one of the league's most consistently dangerous weapons.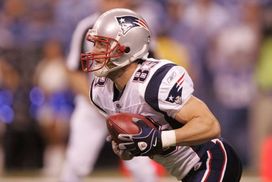 ICONSince joining the Patriots in 2007, Welker has been targeted 752 times.
"I plan on being back," Welker told the media Sunday after the Patriots arrived in Indianapolis. "I am not really too worried about that right now. I am fully concentrated on this game and what we have to do, but I plan on being back."
According to Mike Reiss of ESPN Boston, Welker is in the final season of a five-year, $18 million contract that paid him just over $2 million in 2011—an absolute steal for a guy who caught an astounding 122 passes for 1,569 yards and nine touchdowns this season.
Welker turns 31 in May and is coming off the most prolific campaign of his eight-year career. The Patriots have done a nice job turning tight ends Rob Gronkowski and Aaron Hernandez into matchup nightmares for opposing defenses, but we don't see how the organization could do anything but shell out top dollar for Tom Brady's most reliable long-term target.
Especially when you consider that Welker accounted for 62% (122 of 196) of the receptions hauled in by Patriots wide receivers in 2011.
We'd imagine Brady wouldn't be too happy about watching that type of production walk out the door.
Hit me up on Twitter: @JoeFortenbaugh