November 16, 2010 -
Joe Fortenbaugh
Without playing, odds on Rivers to win MVP drastically improve
Credit the Denver Broncos' 49-29 butt-kicking of the Kansas City Chiefs for what you're about to read.
Entering Week 10, the odds on Chargers quarterback Philip Rivers winning the 2010 MVP award were listed as +2500. That means a $100 bet would pay out $2500.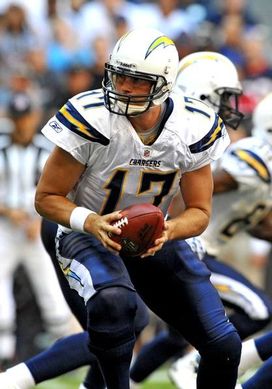 ICONRivers is on pace to throw for an NFL-record 5,234 passing yards this season.
Without playing another game (the Chargers were on the bye this past weekend), the odds on Rivers to take home this year's Most Valuable Player trophy moved to +600 over at Sportsbook.com. That's a pretty drastic shift for a guy who spent the past weekend doing anything but playing professional football.
As far as statistics are concerned, Rivers has done everything necessary to put himself in position to win the NFL's most prestigious individual honor. The seven-year veteran leads the NFL in passing yards (2,944), yards per attempt average (8.9), is tied for first in touchdown passes (19) and currently ranks third in passer rating (102.9).
But many experts have argued that you can't give the MVP to a guy that doesn't win football games. At 4-5, the Chargers have clearly been a disappointment this season. But a trip to the playoffs could be enough to put Rivers over the top in this year's MVP race.
And that's where the Broncos' Week 10 win over Kansas City comes into play. Despite a 4-5 record, San Diego will enter their Week 11 showdown with Denver just one game out of first place, as the Chiefs fell to 5-4 with Sunday's loss.
Rivers still has home games left against the Oakland Raiders (Week 13) and Chiefs (Week 14), not to mention dates with the Bengals, Broncos (twice) and 49ers.
And if the Pro Bowl quarterback can figure out a way to average 305.8 passing yards per game over his final seven contests (currently averaging 327.1 yards per game), he'll break Hall of Famer Dan Marino's record for passing yards in a season (5,084 in 1984).
Current odds to win the 2010 NFL MVP Award
Aaron Rodgers: +300
Adrian Peterson: +1200
Alex Smith: +30000
Brett Favre: +20000
Chris Johnson: +1500
Drew Brees: +3000
Eli Manning: +400
Felix Jones: +30000
Joe Flacco: +10000
Mark Sanchez: +1500
Matt Ryan: +10000
Matt Schaub: +10000
Michael Turner: +10000
Peyton Manning: +200
Philip Rivers: +600
Randy Moss: +50000
Ray Rice: +10000
Tom Brady: +1000
Field (Any Other Player): +120
Hit me up on Twitter: @JoeFortenbaugh