March 02, 2012 -
Joe Fortenbaugh
Worth the risk?
The problem with the lucrative and incentive-laden free agent NFL contracts that we'll see inked beginning on March 13th is determining which players understand the meaning behind the dotted line they'll be signing and which players don't.
This may seem like a generic statement on its face, but there is a fundamental difference in how different players view their new deals. Some consider it a reward for past performance while others interpret the contract for what it actually is—an agreement to be compensated for work yet to be completed.
Take the following two examples: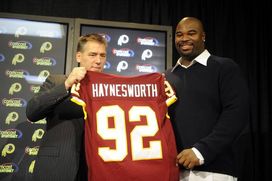 Celebrating the worst deal in NFL history.
Albert Haynesworth: After racking up a career-high 8.5 sacks during his 2008 campaign with the Tennessee Titans, Haynesworth went on to sign a seven-year, $100 million deal with the Washington Redskins the following offseason. Since that dreadful day, Haynesworth has played for three teams and amassed only 6.5 sacks in three years.
Julius Peppers: Eight seasons and five Pro Bowl appearances with the Carolina Panthers opened the door for Peppers to cash in to the tune of a six-year, $91.5 million contract with the Chicago Bears in 2010. In his two Windy City seasons since leaving Carolina, Peppers has started all 32 regular season games, recorded 19 sacks and earned two more trips to Hawaii for the Pro Bowl.
The difference in the above examples is that Haynesworth viewed his new contract with the Redskins as a reward for what he had accomplished the previous season in Tennessee, while Peppers continued to produce at a high level, thus justifying the Bears' immense investment in his talent.
In less than two weeks, general managers and front office personnel around the league will be tasked with identifying the Julius Peppers' of the world while avoiding the Albert Haynesworth's who could sink their salary cap ship. Running back Peyton Hillis and wide receiver Marques Colston are two names that have created a lot of buzz in recent weeks heading into the 2012 free agent period.
The key for parties interested in acquiring these two players' services will be to determine whether or not the financial payout will come close to equaling their future production.
Lets take a look…
Target: Peyton Hillis, RB, Cleveland Browns
Age: 26 years old
Years of service: 4
Best season: (2010) 1,177 yards (4.4 YPC), 11 TDs, 61 receptions, 477 yards, 2 TDs
Upside: Powerful runner with the ability to convert in short yardage situations, only 512 career carries under his belt, can catch the ball out of the backfield.
Downside: Injuries, character and questions about whether or not he actually wants to play football.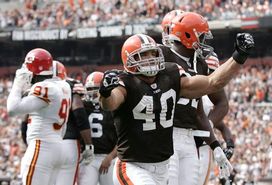 The red flags surrounding Hillis could make him available at heavily discounted price.
Analysis: Hillis appeared in just ten games last season due to a "hamstring" injury that many speculated could be his way of telling the Browns that he was unhappy with his current contract situation. Throw in Thursday's report that the former Denver Bronco considered retiring last season in order to pursue a career with the C.I.A. and you've got a running back who is going to face some tough questions during his upcoming NFL interviews. However, when Hillis is on his game, he's one of the toughest backs in the league to bring down. Just ask the stingy Baltimore Ravens run defense, who has surrendered 4.8 yards per carry as well as two 100+-yard performances in just four games against the 26-year-old bruiser.
Potential landing spots: Cincinnati, Pittsburgh, San Diego, Tennessee, Washington
Is he worth it: If you're in need of some backfield power and are convinced Hillis is fully committed to playing football, why not? Think about it: This guy has done so much damage to his negotiating position over the last year that the market is going to be void of any team willing to shell out top dollar. In fact, somebody may even be able to lock Hillis up to a one-year "prove it" contract with minimal guaranteed money, assuming there is little demand for his services after last season's debacle.
Target: Marques Colston, WR, New Orleans Saints
Age: 28 years old (turns 29 on June 5)
Years of service: 6
Best season: (2007) 143 targets, 98 receptions, 1,202 yards (12.3 YPR), 11 TDs
Upside:</strong> A big target (6-4, 225 lbs) who can get down the field and make plays in the red zone, Colston will bring postseason experience and a Super Bowl ring to his next destination.
Downside: Injuries and the fact that his success may be the byproduct of a great system and ultra-talented supporting cast, not to mention the fact that he catches passes from the most accurate quarterback in NFL history.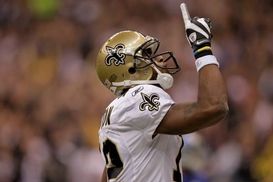 ICONWithout Drew Brees and Sean Payton, will Marques Colston continue to produce at a high level?
Analysis: While he's battled a few injuries over his six-year career, there's no denying the numbers that Colston has produced since being drafted by the Saints in 2006. He's racked up 80 or more receptions in three of his last five seasons and has found the end zone seven or more times in five of six professional campaigns. Signing Colston means acquiring an experienced and legitimate No. 1 wideout who will instantly improve your team's success in the red zone. However, you have to wonder how effective the 28-year-old will be if he lands on a roster with a lackluster supporting cast.
Potential landing spots: Buffalo, Carolina, Chicago, Minnesota, New England, San Francisco, St. Louis, Tampa Bay, Washington
Is he worth it: In my humble opinion, no. With red flags surrounding fellow free agent wideout Vincent Jackson, Colston could be in line for the biggest payday of any wide receiver scheduled to switch teams. But how much of his success in New Orleans can be attributed to him and how much should be attributed to head coach Sean Payton's system, quarterback Drew Brees' accuracy and the plethora of weapons that surround Colston each and every Sunday? With opposing defenses paying more attention to his whereabouts, Colston could struggle to produce the numbers that would justify his big-time upcoming payday.
Hit me up on Twitter: @JoeFortenbaugh