April 04, 2013 -
Joe Fortenbaugh
Worthy of redemption?
The sum of a successful NFL quarterback is comprised of two parts: The mental and the physical. A failure to possess the necessary characteristics that constitute each of these two integral subsets will result in exactly that…failure.
The physical element is what we see on the field each and every Sunday. Size, speed, mobility, arm strength. These traits are relatively easy to identify via the scouting process. But the mental aspect is much harder to deduce. Leadership, maturity, preparation, dedication. These characteristics aren't always readily apparent to the naked eye, so one must poke and prod, ask and interrogate, research and investigate. Upon completion of this arduous undertaking, it's still possible to be duped by the subject in question.
A successful NFL quarterback need not exhibit perfect marks in each of these two subsets in order to excel, but he must get very close. Drew Brees is considered short by professional football's standards, but the Saints quarterback makes up for his mild physical shortcoming (pun intended!) with pinpoint accuracy and an uncanny work ethic. Tom Brady was thought to be weak and slow when he entered the 2000 draft. It's why the Michigan product fell all the way to the sixth round. But standing 6-4 with a strong arm, the New England signal-caller's ability to dissect and destroy opposing defenses coupled with alpha leadership qualities has more than made up for his unimpressive 40-yard dash time.
31 games. That's precisely how long it took the Oakland Raiders to figure out that former No. 1 overall pick JaMarcus Russell was not a successful NFL quarterback. At an imposing 6-6, 260 pounds and with a right arm capable of knocking a North Korean nuclear missile out of midair, a lacking in the physical is not what engendered Russell's demise. Rather, Russell's quick departure from the NFL was a result of the quarterback's inability to display any of the mental characteristics required for success at the position. Russell was lazy, unprepared and lacked motivation. He didn't lead—by example or otherwise.
So after three horrific seasons that consisted of a 7-18 record as a starter with 16 touchdowns, 18 interceptions and a passer rating of 67.8, Russell was labeled a bust and sent on his way. Oakland's decision to end the experiment was met with implicit agreement from the rest of the league, as no team was willing to give the former LSU standout a second chance. The first pick of the 2007 NFL draft was finished, consigned to the scrap heap of physically gifted specimens who never understood what it meant to be a professional.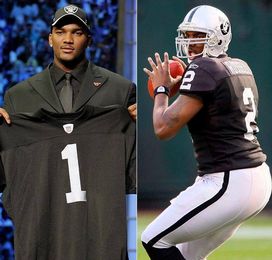 Russell busted out of the league after only three years and 25 starts.
But that doesn't mean Russell's story is finished. In fact, it may be getting its second wind.
Mike Freeman of CBS Sports talked to an NFC scout recently who has been keeping a close eye on Russell's attempt to get back into the National Football League. "I've been following his comeback story pretty closely," the scout told Freeman. "I think a lot of teams are. Good chance he gets a second shot."
It's completely understandable if you find this hard to imagine. Russell flamed out in such spectacular fashion that most of us probably thought we wouldn't hear from him again until the guy inevitably filed for bankruptcy. After all, if Russell was incapable of staying awake for team meetings and film sessions, how was he going to successfully manage all of that money?
Money. That's the big indicator here and that's exactly what will tell us if JaMarcus Russell has what it takes to make good on a second chance. Money is what this entire comeback attempt boils down to.
Russell may be able to drop enough weight, run fast enough and throw a football far enough to display the same physical skill set that got him drafted first overall by the Raiders in 2007. Remember, it's not all that difficult to identify the physical tools necessary to succeed at the quarterback position in the NFL. But what any interested party needs to figure out immediately is what this comeback is all about.
Does JaMarcus Russell want to play football, or does JaMarcus Russell want (or need) to make money?
If it's the former, then Russell would have no problem signing a one-year deal at the league minimum with no guaranteed money. After all, he's asking an NFL franchise to take a risk on him, so it's only fair that he share in that risk as well. If Russell has finally figured out what it takes to be a successful NFL quarterback, if he's matured and rededicated himself to the game, if he's ready to hit the film room with a new zest for the sport, then this comeback attempt isn't about money. It's about redemption. And if that's the case, the former first overall selection of the 2007 draft may be well on his way to achieving the mental requirements necessary for success at the quarterback position in the NFL.
But if it's the latter—if this comeback attempt is about money and nothing else—NFL teams should hightail it out of Dodge faster than Russell fizzled out of pro football.
It's difficult to trust a person who is motivated by money. Such a person is often willing to say or do anything to achieve what they are after. This type of person isn't worried about the future as much as they are worried about the present. They're concerned with getting that money now and then dealing with everything else later. That's not the makeup of a person looking for redemption. That's the sign of somebody who is looking to exploit one situation to resolve another.
And that's the key to determining whether or not JaMarcus Russell is worthy of another shot at the NFL. If it's redemption that Russell is after, then maybe, just maybe he's ready to take the next step in his development as an NFL quarterback. If Russell is willing to earn it in the gym and prove it in the film room, then a short stint as a backup could lead to another chance as a starter.
But if Russell's comeback attempt is about nothing more than finding a new NFL franchise willing to give him a paycheck, then there's no reason to believe that what happened in Oakland won't happen again someplace else. Russell didn't fail the first time around because he lacked the physical tools required for success. He flopped because he didn't have what it took upstairs to evolve to the game at the professional level. NFL front offices following this comeback story need to figure out the motivation driving the quarterback.
Answer that question and you'll know whether or not JaMarcus Russell is finally ready.
Hit me up on Twitter: @JoeFortenbaugh