February 25, 2013 -
Joe Fortenbaugh
Would you roll the dice on Jarvis Jones?
Just like the Par-5, 543-yard 18th at Pebble Beach, the NFL draft is all about weighing risk against reward. Pebble's signature closing hole presents golfers with a critical decision from the tee box: How much of this mammoth dogleg left—which is flanked by the Pacific Ocean on the left—can I carry without finding the drink? You have to account for wind speed, average driving distance and how you've been playing up until that point. Nobody wants to conclude a $495 round with a double-bogey seven in front of America's power players who are sipping cocktails on the nearby veranda.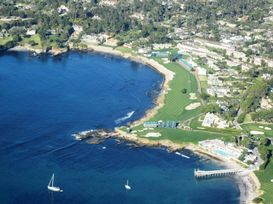 For $495, you too can bogey the 18th hole at Pebble Beach, just like Joe Fortenbaugh did back in 2004.
The approach to selecting collegiate football players for the purpose of improving a professional franchise's roster is undertaken in much the same manner. Front office personnel and scouting departments have to assess a player's physical makeup, intelligence, mindset and injury history. It's all about weighing risk against reward. No player is viewed as perfect within this imperfect science. Drew Brees was too short, they said. All he's done since is win a Super Bowl. JaMarcus Russell was viewed as one of the most impressive physical specimens to ever play the quarterback position. He lasted three years in the NFL.
Perhaps no player in the 2013 draft class personifies this risk/reward dichotomy like Georgia Bulldogs outside linebacker Jarvis Jones. For those unfamiliar with Jones' story, the 6-3, 241-pound defender began his collegiate career at Southern California in 2009, where he made eight starts as a true freshman before suffering an injury known as spinal stenosis. New head coach Lane Kiffin and the Trojan staff balked at clearing Jones for contact, so the linebacker packed up his game and accepted a scholarship from Mark Richt at Georgia.
Two years, 26 games, 28 sacks and two consecutive nominations as a first-team All American later, Jones enters the NFL draft as one of this crop's elite defenders. He's got all the physical tools required to excel in the NFL. Three-time Super Bowl Champion Ken Norton Jr., who coached Jones at USC, told ESPN The Magazine, "Jarvis has it all. It's not even fair."
But Jones' resume and Norton's ringing endorsement only go so far. On Saturday, Mike Florio of Pro Football Talk reported that Jones' medical condition is raising red flags around the NFL. "Per a league source, Jones' neck has prompted multiple teams to shy away from considering him, especially in round one," wrote Florio. "While some team surely will be willing to roll the dice on one of the top defensive players in the draft pool, multiple teams already have decided to avoid him."
Jones' condition presents a big risk for NFL front offices. One big hit and his professional career could come to a screeching halt. But isn't that the case for every player who chooses to suit up on Sundays? One big hit can end anybody's career.
If I'm sitting in the big seat come late April, need an outside linebacker and have a highly trained medical staff who has given Jones the green light, I'm pulling the trigger and bringing this guy to town. I have no background in scouting and no advanced training within the discipline, but even a half-wit like me can tell from watching over the last two years that this guy can flat-out play.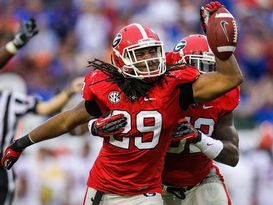 Jones was named first team All-American in both years he played for the Bulldogs.
And that's the key. While dissecting tape of Jones and looking for any potential flaws, you have to take note of the most obvious fact that is unfolding before your eyes: Jones is playing. And he's playing well.
This is an expensive gamble, but that's not to say it hasn't been done before. Jim Schwartz and the Detroit Lions rolled the dice on California running back Jahvid Best, who had a lengthy history of concussion issues. Best didn't play a single down in 2012 and could be finished in the National Football League.
But the Tampa Bay Buccaneers took a shot on a young defensive tackle named Warren Sapp back in 1995, who scared the hell out of teams due to a positive test for marijuana and concerns over his maturity. Sapp played for 13 years and was just inducted into the Hall of Fame.
In life, we choose to forget the bogeys, hoping only to improve on our mistakes before the next round arrives. No matter how much we prepare, no matter how much elbow grease we apply, the bogeys will happen. But we always remember the birdies. It's the reason some of us are willing to cut as much of the corner as possible at Pebble Beach's legendary 18th.
Because nobody ever won the Super Bowl shooting par.
Hit me up on Twitter: @JoeFortenbaugh