July 28, 2011 -
Barry Dorey
Yes they Canzi: Chiefs, Stanzi reach agreement
One of the top quarterbacks to come out of the University of Iowa is now under contract and ready to begin his professional career.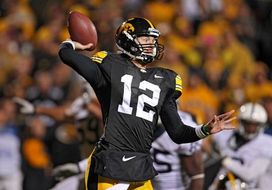 ICONStanzi completed 64.1% of his passes in 2010.
The Kansas City Chiefs reached an agreement with fifth-round pick Ricky Stanzi on a four-year contract worth $2.2 million on Thursday, according to a source familiar with the negotiations.
The 23-year-old quarterback from Mentor, Ohio, set a school record for passing efficiency last season with a rating of 157.63. In four years at Iowa, Stanzi went 26-9 as a starting quarterback and threw 56 touchdown passes in 39 career appearances.
He's currently listed as the No. 2 quarterback on the Kansas City depth chart behind Matt Cassel and in front of Tyler Palko.
Hit me up on Twitter: @JoeFortenbaugh