August 05, 2014 -
Joe Fortenbaugh
Your 2014 football betting playbook
Every few months I find myself explaining to friends or some random dude with an inquisitive nature why I'm wearing a Buffalo Bills tee shirt. Being as though I'm not a fan of the team, people who know me wonder why I'd throw on the blue and red like a die-hard who grew up in western New York when, in fact, I grew up an hour north of Philadelphia. The explanation generally solicits more bewilderment than the original question.
The Buffalo Bills tee shirt came to be by way of tradition. Every season I make season win total bets and every season one bet is bigger than the rest. The biggest wager of the group warrants the purchase of a team tee shirt, which is worn throughout the season for good luck.
The Buffalo tee shirt was purchased prior to the start of the 2010 season when all the research in the world pointed to a lousy campaign for the Bills and, thus, warranted some significant action on the under. The bet was made and the tee shirt was subsequently purchased.
As for the wager, the Bills lost their first eight games of the season en route to a 4-12 record and walk-in-the-park winning bet. I still smile when I think back to all the people who couldn't figure out why I was cheering like a lunatic against the Bills while wearing a Bills tee shirt.
If you're a Bills fan, I'm sorry you had to suffer through those opening few paragraphs, but I needed a segue into today's topic, which just so happens to be our 2014 NFL and college football season win total and futures picks. Season win total offerings are exactly what they sound like. A sports book posts a number on how many games a team will win during the season and you have the option to bet "over" or "under" that number. Futures bets are wagers to win the championship. But there's an additional element to these plays that some people fail to realize.
In a perfect world, the team you bet to win the championship would win the championship. Wham, bam, thank you, ma'am. But there's more than one way to make money on these wagers. What you want to do is find a team with a strong chance of making the playoffs that is offered at a reasonable price. Should said team qualify for the postseason, you can then begin to bet against them in order to guarantee yourself a profit.
For example, if you bet $100 on the Carolina Panthers to win the Super Bowl at 40/1, you'd win $4,000 if Cam Newton and company ran the table and hoisted the Vince Lombardi Trophy in February. But you could also protect your investment if/when Carolina reached the playoffs by wagering, say, $400 against the Panthers in their first postseason game. If Carolina loses, you're up $300 ($400 win minus $100 futures bet). If the Panthers win and advance, you'd stand to earn $3,560 if they went on to win the Super Bowl ($4,000 win minus $400 losing bet minus $40 juice on losing bet). This approach is known as "hedging" and it's a common practice here in Las Vegas.
Now that we've discussed the sacred art of hedging, let's take a look at our top season win total and future plays for the 2014 NFL and college football seasons and try to identify which tee shirt I'll be purchasing this August.
NFL SEASON WIN TOTALS
Play 1: OVER 9.5 (-190) and/or OVER 10.0 (-130) wins for the New Orleans Saints
2013 Record: 11-5
2013 Pythagorean Wins: 10.8
2014 NFP Preseason Power Rank: 1
Why: This line has been skyrocketing over the last month and for good reason. Let's start with the defense, where DC Rob Ryan took a unit that ranked dead last in total yardage (440.1 yds/gm) and 31st in points surrendered (28.4 pts/gm) in 2012 and transformed it into a squad that ranked fourth in both categories last season. That's quite an impressive turnaround that should continue to yield positive results in 2014 thanks to a full year in the system as well as the addition of Pro Bowl safety Jairus Byrd and healthy return of outside linebacker Victor Butler. Offensively, second-year wideout Kenny Stills (32-641-5) will step into the role vacated by Lance Moore while rookie pass-catcher Brandin Cooks adds another big-play element to an already explosive offense.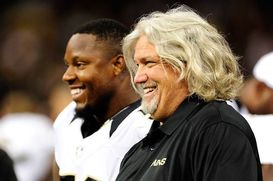 Rob Ryan's got the Saints playing some quality defense.
At CG Technology sports books in Las Vegas, the Saints are currently listed as the favorite for 11 of their 15 games played prior to Week 17. As for the schedule, marquee showdowns against Green Bay, San Francisco, Cincinnati and Baltimore all take place at home following a Week 6 bye that comes after a reasonable five-game stretch to open the season at Atlanta, at Cleveland, vs. Minnesota, at Dallas and vs. Tampa Bay. Note that since 2011, New Orleans is 21-4 straight-up and 20-4-1 against the spread when playing at home.
This is going to be a very emotional football team in 2014 playing with a chip the size of Rob Ryan on its shoulder. You'll hear more about that in the future, but for now, all you need to know is that this is our top play for the 2014 NFL season.
Play 2: UNDER 8.0 (-220) wins for the Dallas Cowboys
2013 Record: 8-8
2013 Pythagorean Wins: 8.15
2014 NFP Preseason Power Rank: T23
Why: 2014 is the year the wheels come off the bus in Little D. Mike linebacker Sean Lee, the best player on a defense that surrendered 27.0 points (26th in NFL) and 415.3 total yards (32nd in NFL) per game last year, was lost for the season with a torn ACL suffered during OTAs on May 27. Additionally, the Cowboys lost their top sack artist from last season in DT Jason Hatcher to division-rival Washington and parted ways with longtime pass-rusher DeMarcus Ware in an effort to cut down on cost thanks to years of poor salary cap management. Defensively, this unit will once again struggle in its attempts to get off the field.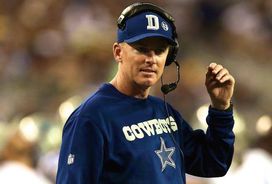 Will head coach Jason Garrett survive the 2014 season?
But wait! The offense ranked fifth in scoring last season (27.4 pts/gm)! Yup, there's no denying that fact. The only problem is that quarterback Tony Romo turned 34-years-old in April, completed just 63.9 percent of his passes last season (lowest since 2009) and is coming off a December back surgery that, for some strange reason, few believe will hinder his play this season. Dallas fans better hope it doesn't, as capable backup Kyle Orton was replaced with Cleveland castoff Brandon Weeden.
CG Technology sports books have installed the Cowboys as favorites in eight of their first 15 games on a schedule that features road trips to Seattle, Chicago and Philadelphia, as well as daunting home showdowns with San Francisco, New Orleans and Indianapolis. It's also worth mentioning that this franchise hasn't won more than eight games in a season since 2009.
Play 3: OVER 8.5 (-130) wins for the Chicago Bears
2013 Record: 8-8
2013 Pythagorean Wins: 7.32
2014 NFP Preseason Power Rank: T9
Why: There's definitely some risk here due to the fact that quarterback Jay Cutler hasn't played a full 16-game season since 2009. But the Bears have become a hot futures play in Vegas over the last few weeks (now as low as 16/1 to win the Super Bowl) and for good reason. Offensively, this unit underwent an impressive transformation in the transition from former head coach Lovie Smith to current HC Marc Trestman. Behind Cutler, dual-threat running back Matt Forte and the dynamic 1-2 receiving punch of Brandon Marshall and Alshon Jeffery, Chicago scored 4.4 more points and recorded 71.2 more yards per game in 2013 than they did in 2012.
Cashing this Bears ticket depends largely on quarterback Jay Cutler's ability to stay healthy.
Unfortunately, the Bears defense failed to hold up their end of the bargain while getting torched for an unacceptable 394.6 yards per game last season (30th in NFL). But there's reason to believe this unit will be improved in 2014, as the defensive line parted ways with Julius Peppers and brought in veteran sack specialists Jared Allen and Lamarr Houston via free agency. Although 33-years-old, cornerback Charles Tillman is healthy after playing in just eight games last season and the Bears went out and got him and CB Tim Jennings some additional help during the first round of May's draft with the selection of Virginia Tech's Kyle Fuller. The Chicago defense won't be a lockdown unit this season, but they'll improve on last season's numbers.
CG Technology sports books have the Bears listed as underdogs in just six of their first 15 games of the season and, as mentioned above, some significant money has already come in supporting this team to win next February's Super Bowl. Backing the Bears over 8.5 wins is a shot we're willing to take, but not for the same amount as our two other plays.
NFL FUTURES
New Orleans Saints (14/1): For all the reasons we mentioned above.
Philadelphia Eagles (25/1): They protect the football (19 turnovers last year, t-fourth-fewest in NFL), have a full year of experience playing in Chip Kelly's system and got a taste of the playoffs last season in a wild card round home defeat to the New Orleans Saints. The NFC East isn't the same tough-as-nails division we remember from the turn of the century.
Indianapolis Colts (18/1): The Houston Texans will be better than most expect in 2014, but this is still the Colts' division to lose. Indianapolis ranked third in turnover differential last season (+13) and quarterback Andrew Luck now has three playoff games of experience under his belt.
Baltimore Ravens (35/1): Two years removed from a Super Bowl win in which we all saw up close and personal that quarterback Joe Flacco has the chops to seal the deal in the postseason. Tight end Dennis Pitta returns healthy and veteran receiver Steve Smith provides a big boost to the receiving unit. Managed an 8-8 record last year despite a -5 turnover differential, brutal schedule and Super Bowl hangover.
COLLEGE FOOTBALL SEASON WIN TOTALS
Note: These wagers DO NOT include conference championship and bowl games.
Play 1: OVER 5.5 (-170) wins for the North Carolina State Wolfpack
2013 Record: 3-9
Why: In head coach Dave Doeren's first season at the helm of the Wolfpack, N.C. State lost their final eight games of the year and went winless in conference play for the first time since 1959. But things are going to turn around in Raleigh this season thanks to a major upgrade at the quarterback position in the form of former Florida Gator Jacoby Brissett. During the time that Brissett was learning the offense last year while sitting out due to NCAA transfer rules, the Wolfpack put five different quarterbacks under center. Now that the most important position on the field has been stabilized, N.C. State can get to work rebuilding the program.
A total of 12 starters (6 on offense, 6 on defense) are back from 2013, but more importantly, the Wolfpack have an out-of-conference schedule this season that features winnable home games against Georgia Southern, Old Dominion and Presbyterian, as well as a September 13 road contest against a South Florida team that went 2-10 in 2013 while getting outscored by an average of 14.8 points per game. An unblemished resume through the first four weeks of the season would put N.C. State in need of just two more wins to cash this ticket, which could come via an October 11 home date vs. Boston College and/or road contests at Syracuse (November 1) and Wake Forest (November 15).
Play 2: OVER 9.5 (-155) wins for the Baylor Bears
2013 Record: 11-2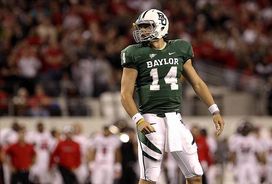 Petty threw for 4,200 yards and 32 touchdowns last season.
Why: Coming off their first conference title in 33 years, Baylor looks to take advantage of the new college football playoff format this season with a top-4 finish that could put the school in position to win the National Championship. But in order to play for the game's ultimate prize, the Bears will have to navigate a schedule that features a daunting road showdown at Oklahoma on November 8. Thankfully for us, we only need to grind out ten victories from the team's 12-game schedule.
The question marks surround the fact that just eight starters—including only one offensive lineman—return to Waco in 2014. The upside is that the key skill position players, led by quarterback and Big 12 Offensive Player of the Year Bryce Petty, are back and looking to improve on last season's absurd 52.4 points per game average. Petty melted down in the big spots last year (at Oklahoma State, vs. Central Florida), but those experiences should serve to make him a stronger and more focused signal-caller in 2014.
This is a play based on two ingredients: The return of Petty and a soft schedule against—with the exception of Oklahoma—a down Big 12 conference.
*Numbers in parenthesis indicate last season's record
8/31: vs. SMU (5-7)
9/6: vs. Northwestern State (6-6)
9/13: at Buffalo (8-5)
9/27: at Iowa State (3-9)
10/4: at Texas (8-5)
10/11: vs. TCU (4-8)
10/18: at West Virginia (4-8)
11/1: vs. Kansas (3-9)
11/8: at Oklahoma (11-2)
11/22: vs. Oklahoma State (10-3)
11/29: vs. Texas Tech, in Arlington (8-5)
12/6: vs. Kansas State (8-5)
NCAA FUTURES
Oregon Ducks (7/1): Two-time All-Pac-12 Conference quarterback Marcus Mariota returns, along with seven other starters from 2013, to an offense that averaged 45.5 points per game last season. Five starters are back on defense and the Stanford game takes place in Eugene this year, giving the Ducks a comfort edge against the school that has derailed their championship hopes in each of the last two seasons. High expectations along with an impressive pedigree could land this team in the final four even with a loss on their resume.
UCLA Bruins (14/1): The Bruins boast one of the top signal-callers in the country in Brett Hundley, but the primary reason for this play is that we want insurance in the event UCLA upsets Oregon in Los Angeles on October 11. If the Ducks win and remain unbeaten, our 7/1 futures ticket looks like a good price. Should the Bruins shock the world, our 14/1 UCLA ticket will have beaten the market to the punch.
Baylor Bears (30/1): For all the reasons we mentioned above.
Hit me up on Twitter: @JoeFortenbaugh