May 08, 2014 -
Joe Fortenbaugh
Your 2014 playbook for betting the NFL draft
Of all the wagering opportunities presented to the betting public during a given year, the NFL draft is without question the most beatable of propositions. Professional football's annual selection show doesn't require the manpower or intuition necessary to succeed at, say, trying to beat the point spread. All you need is a list of where each team is picking, an introductory-level education on organizational needs and a basic comprehension of the top talent set to discard the amateur label. From there, it's just a matter of monitoring the news cycle. Once in a blue moon where a bettor will have more insight than a bookmaker, the NFL draft puts both sides of the counter on the same playing field.
Below is a list of our favorite propositions for the 2014 NFL draft. Take note that there is a very good chance more plays will be added on twitter throughout the day. If you're interested in those recommendations, CLICK HERE.
Johnny Manziel draft position: 5.5
Over: -135
Under: -105
The pick: OVER (-135)
Where to play it: 5dimes.eu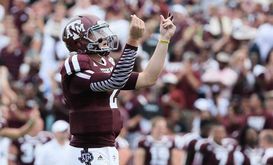 Sorry, Johnny. But we don't see it happening in the top-5.
Reason: I bet the over on this proposition Wednesday evening at a price of +130, so clearly the market has caught up to that way of thinking. To lose this wager, 2012 Heisman Trophy winner Johnny Manziel would have to hear his name called during the first five picks of the first round. I'm eliminating Cleveland (No. 4) and Oakland (No. 5) from the equation, as FOX Sports' Jay Glazer reported Tuesday evening that neither team would be targeting Manziel with their first selection. And if you know Glazer, you know his word is as good as gold. SI's Peter King reported Monday that Jacksonville (No. 3) is looking to play it safe, so the pick there is most likely WR Sammy Watkins, LB Khalil Mack or an offensive tackle (Greg Robinson, Jake Matthews). Houston (No. 1) will take Jadeveon Clowney or Mack and St. Louis (No. 2) is after Robinson, Watkins or Matthews. Sorry, Johnny. You may have to wait in the Radio City Music Hall green room a little longer than anticipated.
Which player will be drafted first: Aaron Donald vs. Ha Ha Clinton-Dix
Aaron Donald: -280
Ha Ha Clinton-Dix: +200
The pick: Donald (-280)
Where to play it: 5dimes.eu
Reason: A steep price to lay, but this one is too good to pass up. Alabama's Clinton-Dix will more than likely be the first safety off the board on Thursday night, but it's unlikely that event transpires inside of the top-10 selections. Donald, on the other hand, has been skyrocketing up draft boards in recent weeks and is now viewed by some as a potential top-5 target (Oakland?). While the Pittsburgh defensive tackle may still find himself without a professional team following the completion of the first five selections, we don't see him lasting much longer after that.
Which player will be drafted first: Brandin Cooks vs. Marqise Lee vs. Cody Latimer
Brandin Cooks: -150
Marqise Lee: +175
Cody Latimer: +325
The pick: Cooks (-150)
Where to play it: BetOnline.com
Reason: Oregon State's Cooks is the only lock of these three players for the first round, with Lee most likely to hear his named called Thursday night and Latimer a coin flip to be drafted within the first 32 selections. NFL personnel men have been raving about Cooks, from his skill set to his work ethic to his character. In addition, don't be surprised if a team drafting in the mid-20s (Philadelphia, Kansas City) makes a move up the board to acquire Cooks' services. I'm guessing Cooks is gone by pick No. 18, at which point the stage will be set for USC's Lee to become the next receiver taken. Note that less than 24 hours ago, this same prop offered Cooks at +105.
Which player will be drafted first: Jake Matthews vs. Taylor Lewan
Matthews: -240
Lewan: +190
The pick: Matthews (-240)
Where to play it: BetOnline.com
Reason: Another expensive price tag, another low-risk proposition. Auburn's Greg Robinson is viewed by many as the best left tackle in this year's draft class, with Matthews the consensus No. 2 and Lewan at No. 3. And while Lewan could very well hear his name called within the first ten selections, Matthews is projected by many to be off the board within the first five spots, with Atlanta at No. 6 serving as the worst case scenario for the Texas A&M standout. This price can only go so high before the books decided to yank this prop altogether.
Hit me up on Twitter: @JoeFortenbaugh