September 26, 2011 -
Joe Fortenbaugh
Your Detroit Lions are now 10-1 to win the Super Bowl
The Green Bay Packers.
The New England Patriots.
The Detroit Lions?
Drink it in folks, because it's a new era in Detroit.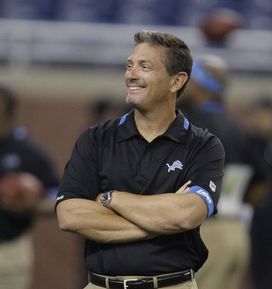 ICONJim Schwartz has every reason to smile. His Lions are 3-0 for the first time since 1980.
After Sunday's scintillating 26-23 come-from-behind win over the Minnesota Vikings, the Las Vegas Hilton has now posted the 3-0 Detroit Lions at 10-1 to win the Super Bowl, per a tweet from Chad Millman of ESPN.
That's a far cry from where the Hilton opened Jim Schwartz's crew last January, when the Lions entered the market at 50-1.
And the Hilton isn't the only book making adjustments. Offshore shop Sportsbook.ag currently has Detroit listed at 8-1, with only the Packers (4.5-1) and Patriots (4.5-1) coming in lower.
Things are certainly cooking in Motown, where this explosive Lions unit is off to the franchise's first 3-0 start since 1980. Detroit currently ranks fifth in the NFL in passing offense (321.7 yds/gm) and fourth in scoring (33.7 pts/gm).
And in case anyone was curious, the "Dream Team" in Philadelphia is now 16-1 at both the Hilton and Sportsbook.ag. Expect that number to move with the report that quarterback Michael Vick is expected to miss the next 3-4 weeks with a broken hand.
Hit me up on Twitter: @JoeFortenbaugh
CLICK HERE to check out the NFP's Sportsbook Sniper.