July 25, 2011 -
Barry Dorey
Your NFL team will open up training camp on…
With the lockout set to come to a much-awaited close on Monday, it's time to look ahead to the start of training camp.
Per a tweet from NFL Network Research Manager Matt Pomeroy, here are the dates each NFL team will open up camp:
WEDNESDAY: Denver, Arizona, Dallas, San Diego, Philadelphia, Jacksonville, New England, Oakland, Baltimore and Seattle.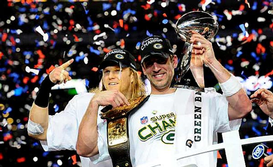 Aaron Rodgers and the defending champs open camp on Friday.
THURSDAY: San Francisco, Cincinnati, Tampa Bay, Kansas City, Miami, Atlanta, Detroit, Washington, New Orleans and Pittsburgh.
FRIDAY: Chicago, Buffalo, Cleveland, Indianapolis, New York Giants, Green Bay, Carolina, St. Louis, Tennessee and Minnesota.
SATURDAY: New York Jets and Houston.
For those of you staring at your computers wondering why the Jets and Texans are starting later then everybody else, a new rule has been put in place stating teams cannot open up training camp more than 15 days prior to their first preseason game.
Let the fun begin.
UPDATE (1:11pm eastern): According to the NFL Network, all training camps will open on Friday.
UPDATE 2: The NFL Network was wrong. The original camp dates listed above are correct.
Hit me up on Twitter: @JoeFortenbaugh