February 03, 2012 -
Joe Fortenbaugh
Your Super Bowl betting bonanza
$87 million was legally wagered on last year's Super Bowl in the state of Nevada.
Add in the cash that gets down offshore, internationally and with your local Italian friends up the block and that number skyrockets to make Super Bowl Sunday the most heavily bet game of the year.
The interesting thing about the NFL's ultimate showdown is that the game itself offers very little value. This isn't a Tuesday night college buckets game between Akron and Toldeo. Bookmakers around the globe pay extra special attention to the numbers they set for the Super Bowl, making it all the more difficult to gain an edge if you're going to the window thirty minutes before kickoff.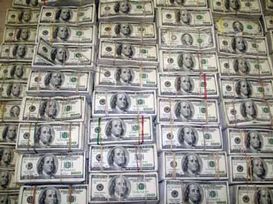 The Big Game means Big Money.
As we wrote on Wednesday, the sharps took a position on the Giants +4 and +3.5 when the opening numbers came out, according to Wynn sportsbook director Johnny Avello. Since that time however, the action has continued to come in on New York.
"So far Vegas sportsbooks are rooting for the Patriots and while that can still change by kickoff, the action has clearly been one-sided especially on the moneyline for the Giants to win the game outright," Director of Race & Sports for Station Casinos Chuck Esposito told me on Thursday. "Looking at the point spread, it has only been a factor six times in the Super Bowl. The last three times these two teams have met, someone has scored to change the outcome in the last 1:30 of the game."
Esposito won't be the only bookmaker in town rooting for New England come Sunday evening.
"I anticipate we'll be Patriots fans throughout Caesars Entertainment as we approach kickoff, although it only takes a few large bets from casino customers to change our position," Caesars Senior Race & Sports Analyst Todd Fuhrman told me Thursday. "Right now it's much more likely the line will come down to NE -2.5 than it would even sniff the full 3 again."
The same can be said about the prevailing thought process on the ground in Indianapolis this week, as I have yet to find a member of the media willing to side with New England—against the spread OR straight up. The Giants have covered the number in five straight games and after their impressive upset of the defending champion Green Bay Packers, New York has clearly emerged as a public darling.
However, while there hasn't been a whole lot of movement on the side for Sunday's Super Bowl, there was some interesting action taking place on the total just a couple days ago, as the over/under went from 55 and 55.5 down to 54, indicating that some cash has come in under the assumption that this matchup won't be as high scoring as many anticipate.
NEW YORK GIANTS (12-7, 7-3 road) at NEW ENGLAND PATRIOTS (15-3, 9-1 home)
Time: Sunday, 6:30pm ET
Opening line: New England -3.5/55.5
Current line: New England -3 (even)/54 at LVH, New England -2.5 (-115)/54 at BetOnline.com
Betting trends: 58% backing the New York Giants, 52% backing the UNDER
New York Giants: 11-7-1 against the spread, OVER is 9-9-1
New England Patriots: 10-8 against the spread, OVER is 12-6
Fortenbaugh's Playoff Record
Straight up: 7-3
ATS: 5-5
Over/Under: 6-4
Super Bowl Prediction: I can't remember the last time so many people were in a rush to bet against Tom Brady and Bill Belichick. The Giants are a scorching-hot football team, but it's a big red flag to me to see so many members of the public and media picking Big Blue to win this showdown. Brady's only got a few years left and knows damn well this could be his last shot to bring home number four. New England claims the Vince Lombardi Trophy in a 24-20 win over the Giants.
MAD PROPS
Brace yourselves for 1,500+ words of mind-blowing Super Bowl proposition bet analysis. If you come out the other side of this thing alive, feel free to hit us up in the comments section with what you like for Sunday.
Prop: Will the first kickoff result in a touchback?
Pick: YES (-120)
Experts: Vegas-Runner (Pregame.com) & Teddy Covers (Covers.com)
Twitter: @VegasRunner & @Teddy_Covers
Vegas-Runner: "76% of all kickoffs in Lucas Oil Stadium have resulted in touchbacks. We know from data that the New York Giants prefer to receive the opening kickoff, while the Patriots like to defer. I expect that trend to continue in this game regardless of who wins the coin toss. That means the stronger-legged Stephen Gostkowski should be teeing off to begin the game and he's shown the ability to boot the ball deep even in bad weather. This time, he gets to do so in a dome. No player wants to make a costly mistake at the very start of the game, so don't expect to see anyone try to make a big play early on by running the ball out if it's deep in the end zone, which this ball will be."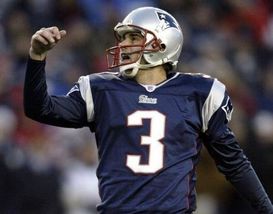 Only in the world of prop betting could Stephen Gostkowski emerge as a hero five seconds into the game.
Teddy Covers: "This bet is still worth making at -200 or better and it's an interesting handicap. The Patriots have a strong tendency to defer when they win the opening coin toss while the Giants prevailing tendency is to get the ball first when they win the toss. As a result, chances are pretty good that it's going to be Stephen Gostkowski with the opening kickoff instead of Lawrence Tynes. Gostkowski is a touchback-type kicker with a big leg and the adrenaline will most assuredly be flowing for that opening kick. The Giants don't attempt many kickoff returns from deep in their own end zone and without a strong return game, they are quite comfortable taking the ball at the 20-yard line. Put it all together and we're getting a 3:1 favorite while laying 2:1 or less to do it."
Prop: New York Giants total points in the third quarter
Pick: UNDER
Expert: Marc Lawrence, Playbook.com
Twitter: @MarcLawrence and @Sportscapper
Lawrence: "New York scored an average of just 3.79 points per game in the third quarter this season while the Patriots allowed just 20 total points in third quarter over their last ten games of season."
Prop: Team to score first (Giants -110, Patriots +100)
Pick: GIANTS (-110)
Expert: BeyondTheBets.com
Twitter: @SharpFootballAnalysis.com
Twitter: @SharpFootball
Sharp: "This is a play borne from a quote I read from former Patriots linebacker Tedy Bruschi last week. He mentioned how the defense gets really gassed in a hot dome in the second half of a Super Bowl. There is a huge halftime show and the game has more frequent, longer commercial breaks. So I went back and looked at dome Super Bowls. Since 1977, 12 of 14 have seen more points scored in the second half, including all three Patriots Super Bowls from 2001-2007.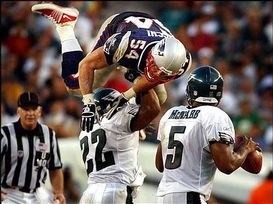 Thanks for the info, Tedy.
New England has been scoring early as of late, but in eight of New York's last 12 games, more points came in the second half.
The other thing going for us here is that the Giants and Patriots rank back-to-back in fewer points scored in the first half, with only 45% of their total point production coming in the first two quarters, which means 55% of their scoring is coming in the second half.
Finally, in the last three meetings between New York and New England, 16 points per game have been scored in the first half and 34 points per game have come in the second half. We also have the potential for overtime to help us, in a game my computer predicts should be very close."
Prop: Total field goals made by Giants kicker Lawrence Tynes
Pick: OVER (1.5)
Expert: Marco D'Angelo, Pregame.com
Twitter: @MarcoInVegas
D'Angelo: "Tynes has converted six of eight postseason attempts and that was kicking at MetLife Stadium, Lambeau Field, and a rain-soaked Candlestick Park. He will be kicking indoors for the Super Bowl and the Patriots defense has been playing better lately with their "bend but don't break" style helping them to win two postseason games. I see a few more field goal attempts from the Giants and playing indoors will increase Tynes' range."
BONUS PROP from Marco D'Angelo and Warren Sharp
Prop: Total number of kickoff returns
Pick: UNDER (6.5)
D'Angelo: "Both teams average three kickoff returns per game and this showdown is taking place inside a dome, which should lead to more touchbacks."
Prop: Total receiving yards for Giants wideout Mario Manningham
Pick: OVER (44.5, -115)
Expert: WagerMinds.com
Twitter: @WagerMinds
WagerMinds: "Manningham played in only nine regular season games this year without injury. But when he played, he produced. In the nine contests where Manningham was fully healthy, the New York wideout only went under the 44.5-yard mark once. With Hakeem Nicks and Victor Cruz now shining as the stars of the offense, look for more coverage on Manningham from Julian Edelman. In the AFC Championship game, Baltimore wide receiver Lee Evans (the No. 3 wideout) posted a season-high 69 yards?against Edelman.
The public perception of Manningham is rather low at the current moment as his last two games featured just 31 and 17 receiving yards, respectively. However, Manningham's last two playoff games were played on grass, a substance not necessarily favorable to the former Michigan standout. This year (in games without injury) Manningham averaged 36.4 yards per game on grass vs. 60 yards per game on turf. Even if he has been underperforming yardage-wise, Manningham has been an integral part of the Giants' 2011 playoff push, catching a touchdown in each playoff game."
Prop: Total receptions by Patriots wideout Deion Branch
Pick: OVER (3)
Expert: Marco D'Angelo, Pregame.com
Twitter: @MarcoInVegas
D'Angelo:
"In 15 games during the regular season, Branch hauled in 51 receptions (3.4 per game), but in this showdown he's a veteran that quarterback Tom Brady can go to and count on. Also keep in mind that tight end Rob Gronkowski won't be at 100% for the Super Bowl due to an ankle injury and wide reciever Wes Welker will see a healthy dose of the New York defense's attention. I see value in this prop."
A PROP BET YOU SHOULDN'T MAKE
Prop: Will the opening coin toss land on heads or tails?
Pick: STAY AWAY!
Expert: Payne, PayneInsider.com
Twitter: @PayneInsider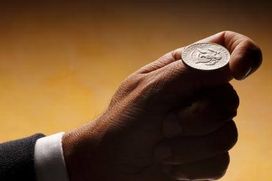 No thanks.
Payne: "Fun and smart rarely find themselves in the same sentence when talking sports betting. Apparently, betting which side a coin lands on constitutes entertainment. Having a complete stranger determine my fate in seconds with a flick of the thumb doesn't come off as "fun" to me. One sportsbook I speak with regularly says the coin toss is their most heavily bet prop each and every Super Bowl. The problem is the price point at -105 for both heads and tails. This might be the only wager in the history of sports betting where you are GUARANTEED to lose money. It's a 50/50 proposition and for the 50 times you win, you're paid $1, while the 50 times you lose result in a $1.05 loss. Losing money isn't fun."
THOUGHTS FROM THE OTHER SIDE OF THE COUNTER
Expert: Todd Fuhrman
Position: Senior Race & Sports Analyst, Caesars Entertainment
Website: ToddsTake.com
Twitter: @ToddFuhrman
Fuhrman: "I think prop bets can offer value, however, you have to play the game out in your head before making a bet. This year if you believe that Patriots tight end Rob Gronkowski's ankle injury is serious, take a look at Aaron Hernandez props since the Patriots season-long reliance on the tight end position wont change against the Giants."
Expert: Johnny Avello
Position: Director of Race & Sports Operations, Wynn & Encore Hotels & Casinos
Avello: "The one proposition bet that has been getting a great deal of action is the "Which team will run the first play from the line of scrimmage" prop, with customers betting the Giants pretty strong. Why you say? Because Patriots head coach Bill Belichick has made the decision to play defense on the last 28 coin flips he has won. That's because the last time the Patriots opted to receive after winning the toss—which was against the Kansas City Chiefs a few years ago—Tom Brady blew his knee out early in the game. So if this trend holds up, New England has only a 1 in 4 chance to have the ball first because if the Giants win the flip, there is only a 1 in 2 chance they choose to defer."
Hit me up on Twitter: @JoeFortenbaugh