November 26, 2014 -
Joe Fortenbaugh
Your turkey day betting primer
Happy Thanksgiving, everybody! Most of you are already aware of the fact that I am utterly opposed to Thursday night football, but I've got no reservations whatsoever about throwing together a three-game slate of divisional matchups once a year for Turkey Day. In 33 years of life on planet Earth, this is without question the best Thanksgiving lineup I've ever encountered.
For those of you who have been looking for our weekly college football betting primer, that will go live at the National Football Post on Thursday afternoon. For now, here's a rundown of what direction I'm leaning for Thanksgiving. Be advised that I don't love any of these plays, but if you're going to give me a day off with nothing but turkey, pinot noir and football to fill my time, you can rest assured that I'll be firing early and often.
Have a terrific holiday and thanks for reading.
Chicago Bears (5-6, 3-3 road) at Detroit Lions (7-4, 4-1 home)
When: Thursday, 12:30pm ET
Open: Detroit -7/46.5
Current: Detroit -7/47
Betting percentages: 66% on Detroit, 66% on the OVER
Weather: Indoors
Chicago in 2014: 5-6 ATS, 6-5 to the OVER
Detroit in 2014: 5-6 ATS, 9-2 to the UNDER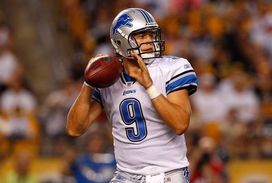 Stafford and the Lions will bust out of their slump Thursday against Chicago.
Analysis: The Lions return to Ford Field following a disastrous two-game road trip that saw the team get outscored by a combined margin of 48-15 by the Arizona Cardinals and New England Patriots, respectively. But you need to forget about all of that for a moment, as Detroit is 7-1 ATS over its last eight meetings with Chicago and 4-0 ATS over its last four home dates with the Bears. Quarterback Matthew Stafford and company should bust out of their current slump on Thursday against a Chicago club that currently ranks 28th in the NFL in pass defense (260.5 yds/gm) and is 10-21-1 ATS over its last 32 games overall. The Bears had lost five of six games before lackluster wins over bottom-feeders Minnesota (21-13) and Tampa Bay (21-13) stopped the bleeding, but that doesn't change the fact that this squad is averaging 2.2 turnovers per game over its last five outings. Note that Chicago is 2-10 ATS over its last 12 games against NFC North opposition and 1-5-1 ATS over its last seven Thursday games.
Pick(s): Our top play here is a 6-point teaser with the Lions (-1) and the Seahawks (+7.5). We're also siding with Detroit (-7) and the UNDER (47)
Philadelphia Eagles (8-3, 2-3 road) at Dallas Cowboys (8-3, 3-3 home)
When: Thursday, 4:30pm ET
Open: Dallas -3/54
Current: Dallas -3 (-120)/55
Betting percentages: 56% on Dallas, 82% on the OVER
Weather: Indoors
Philadelphia in 2014: 7-4 ATS, 8-3 to the OVER
Dallas in 2014: 6-5 ATS, 6-4-1 to the OVER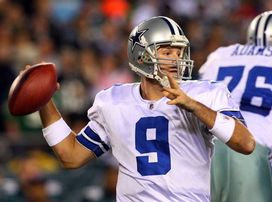 Romo should have his way with the Philadelphia secondary.
Analysis: The Philadelphia secondary is absolute garbage and will no doubt serve as the team's Achilles heel when they lose in Dallas on Thursday. Andrew Luck threw for three touchdowns against this unit, Kirk Cousins ran up 427 passing yards and three scores as well, Carson Palmer let loose for 329 yards and two scores and Aaron Rodgers barely broke a sweat racking up 367 yards and three scores in a 53-20 blowout win. With both teams currently sitting at 8-3, this rivalry has all the makings of a season split, with each team defending its home turf. For as much success as Philadelphia has had at Lincoln Financial Field under Chip Kelly, the team is just 2-5 ATS over its last seven road games. In addition, the Eagles are 3-8 ATS over their last 11 games against the Cowboys. Tony Romo should have a field day against this defense.
Pick(s): Dallas (-3) and the OVER (55)
Seattle Seahawks (7-4, 2-3 road) at San Francisco 49ers (7-4, 3-2 home)
When: Thursday, 8:30pm ET
Open: San Francisco -2/41
Current: San Francisco -1.5/40
Betting percentages: 56% on Seattle, 54% on the OVER
Weather: 60 degrees, 0% chance of precipitation, 3 mph winds out of the WNW
Seattle in 2014: 5-6 ATS, 7-4 to the OVER
San Francisco in 2014: 6-5 ATS, 7-4 to the UNDER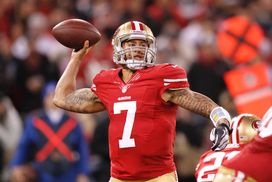 US PRESSWIREKap and the 49ers have been turning the ball over at an alarming rate.
Analysis: The Seahawks may be 1-4 ATS over their last five road games, but this club is also 5-0 ATS over its last five dates with the San Francisco 49ers. The angle here is that while both teams have been struggling to move the ball as of late, the 49ers have committed nine turnovers of their last six outings while Seattle has been turnover-free in three of its last four contests. In addition, San Francisco is just 2-5 ATS over its last seven home games and 1-4 ATS over its last five games after allowing less than 15 points in the previous matchup. Between two offenses that have really bogged down over the last month, we'll side with the Super Bowl-winning quarterback who knows how to protect the football.
Pick(s): As mentioned above, a 6-point teaser that features the Lions (-1) and Seahawks (+7.5), as well as Seattle (+1.5) and the UNDER (40)
Hit me up on Twitter: @JoeFortenbaugh