December 08, 2010 -
Joe Fortenbaugh
You've made the playoffs, so what's next?
You spent the month of August ignoring your family in order to prepare for that all-important fantasy draft.
You neglected your work responsibilities over the last 13 weeks because you wanted to build the perfect roster that would destroy anything in its path during the playoffs.
But now that you've reached the playoffs, what's next?
No need to panic because the NFP is here to help. Follow these seven rules as you get ready to make that glorious run to a fantasy championship.
Maintain your focus and you'll be sipping cheap champagne in no time.
SIDE NOTE: CLICK HERE TO ENTER THE WEEK 14 NFP/FANDUEL SALARY CAP CHALLENGE!
1. Study the upcoming schedule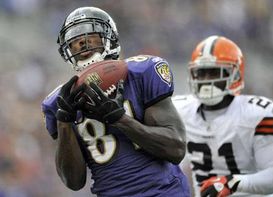 Boldin blew up last week against the Steelers, but will he do the same against the Saints?
Show me a lethargic and unprepared owner and I'll show you a team that is ripe for a fall. Yes, taking the playoffs one game at a time is essential, but owners should also be looking ahead for potential pitfalls in the upcoming schedule. Ravens wide receiver Anquan Boldin looks like a solid fantasy play in Week 14 at Houston, but what about his Week 15 matchup against a New Orleans Saints defense that is giving up fewer fantasy points to opposing wideouts than any other team in the NFL? You'll want to know what you're working with heading into each week so you can properly attack the waiver wire.
I put together a chart you can access at the bottom of this article that details who each of the 32 NFL teams will be playing from here on out. Study up.
2. Dump the dead weight
After examining the upcoming schedule, take a look at your roster(s) and identify the players that A) have poor matchups and B) have rarely cracked your starting lineup. Once you've targeted the players that will be of no use to you moving forward, send them packing. There's no sense in using precious roster space on a backup tight end or third-string quarterback that will never crack the starting lineup. However, don't drop any players that will violate No. 3…
3. Play defense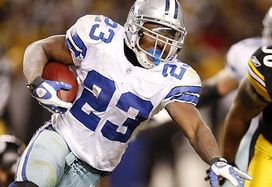 Blocking your opponents is just as important as improving your own starting lineup.
Now that you've cleared out the dead weight, take a look at how you can strengthen your roster. This applies not only to the players that will make your team stronger, but the players that can help out one of your competitors as well. For example, you may have no use for Dallas running back Tashard Choice over the next few weeks, but what if one of the other playoff-bound teams in your league is in desperate need of a running back? Since you've now freed up some crucial roster space, feel free to pick up a guy like Choice in an effort to block a league rival who could get stronger by adding the Cowboys running back to his or her roster. Offense wins games, but defense wins championships.
4. Take Kickers and Defenses very seriously
Fantasy kickers are like the great Rodney Dangerfield…they get no respect. Unless of course you lose your fantasy semi-final matchup by one point because the Miami Dolphins got shutout and Dan Carpenter posted zero points. Don't get lethargic and assume you've got the kicker position under control. Take a look at the upcoming schedule and determine which kickers and D/STs have the most favorable matchups over the upcoming weeks. Cardinals kicker Jay Feely may be struggling this season due to a pathetic Arizona offense, but three of his next four games (Carolina, Dallas, San Francisco) come against teams that rank in the top-eight in fantasy points allowed to opposing kickers this season.
The same thing goes for the D/ST position. Last season in the NFP Fantasy Expert's League I went through the playoffs playing a different D/ST every week depending on the most favorable matchup. In the championship game against Jamey Eisenberg of CBSSports.com, I picked up the Arizona D/ST because of a favorable Week 16 matchup against a St. Louis Rams team that was led by quarterback Keith Null. The Cardinals defense held the Rams to 238 total yards and 10 points while forcing four turnovers.
That little fantasy explosion gave me a two-point win and a championship, which just goes to show the importance of taking every position very seriously.
5. When in doubt, go with the horses that got you there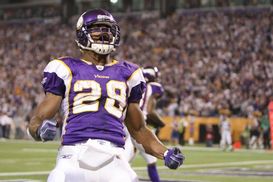 ICONWould you really bench All Day if his matchup looked unfriendly?
The great thing about NFP fantasy readers is that you guys are dead serious about your Starts and Sits—and who could blame you? Nobody wants to make a bad roster move that results in a costly loss.
But here's the thing: DON'T GET CAUGHT OVERTHINKING you weekly matchups. Yes, Vikings running back Adrian Peterson has a very difficult Week 15 showdown against a Chicago Bears team that ranks second in the NFL against the run (84.9 yds/gm). But does that mean you're going to leave your first-round draft pick on the bench in one of the most crucial weeks of the season? Remember, the Baltimore Ravens rank sixth in the NFL against the run, but Cleveland's Peyton Hillis torched Ray Lewis and company for 144 yards and a touchdown back in Week 3.
The bottom line is that when in doubt, you should ride the horses that got you to this point in the season. The last thing you want to do is spend the next eight months thinking about how you went with Joe Flacco in Week 16 (at Cleveland) instead of Aaron Rodgers (vs. New York Giants) because you were worried the Giants would shut down fantasy's highest-scoring quarterback.
6. Monitor the weather
Here are two examples of why monitoring the weather is so important at this time of the season: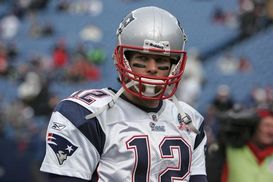 ICONBad weather killed Brady owners back in 2007.
A. December 16, 2007, New England Patriots at New York Jets: Patriots quarterback Tom Brady entered this Week 15 showdown against the Jets with a 13-0 record and 45 touchdown passes under his belt. Unfortunately for fantasy owners, this matchup featured heavy rains and a sloppy field that had a serious effect on New England's record-setting offense. When all was said and done, Brady had thrown for just 140 yards (season low) and zero touchdowns with one interception, killing fantasy owners that had watched the Pro Bowl quarterback throw three or more TD passes in 11 of his previous 13 games.
B. December 28, 2008, New England Patriots at Buffalo Bills: An unknown backup quarterback named Matt Cassel was thrust into action after starting signal-caller Tom Brady was lost for the year in Week 1 due to a knee injury. Cassel stepped up big-time for fantasy owners and entered this Week 17 showdown having thrown three or more touchdown passes in four of his previous six games. However, heavy winds practically knocked down the goal posts prior to kickoff and forced both teams to take a more conservative approach to their offensive game plan. The Patriots ended up winning 13-0, as Cassel completed just six of eight passes for 78 yards with no touchdowns.
The lesson to take away from these two examples is simple: Go to www.WeatherChannel.com on Sunday morning and check out what your starting lineup will be facing. Games that feature rain and snow are one thing, but high winds are the real fantasy killer.
There's absolutely no reason to lose a fantasy playoff game because you were too lazy to check the weather report on Sunday morning prior to kickoff.
7. Have fun
Make no mistake about it: Winning money and obtaining a championship trophy that you can stick in the face of your fellow league members for eight months is the ultimate prize when it comes to fantasy football. But don't let yourself fall into a deep depression at 2:00pm on a Sunday afternoon in December because Andre Johnson didn't put up 26 fantasy points.
You put in the manpower back in August to prepare for your fantasy drafts and you've spent the last 13 weeks neglecting your duties at work to make sure you picked up the best of the best that were sitting on the waiver wire. Sit back, slam a beer (if you're of age) and enjoy the ride.
Because as much as it sucks to lose a fantasy playoff game, that feeling's nothing compared to the dullness of watching baseball for five months.
Hit me up on Twitter: @JoeFortenbaugh
Win cash today playing fantasy football with the NFP and FanDuel.