October 31, 2014 -
Erik Oehler
Too good to pass up
With 30 players drafted in the 1960s, scouts in the National Football League became well versed on the route to Grambling, La., home of the Grambling State University. In the fall of 1968, wide receiver Charlie Joiner [drafted in the fourth round by the Houston Oilers and voted into the NFL Hall of Fame after a 18-year career] and quarterback James Harris were putting on quite a show.
"We had seven or eight scouts at every game," said Douglas Porter, who was the offensive coordinator from 1966-74. He was the head coach at Howard [1974-78 and Fort Valley State [1979-1996] before returning to live in Grambling. "With the players we had: running back Essex Johnson [1968, sixth round by Cincinnati], defensive back Delles Howell [1970, fourth round New Orleans] and receiver Frank Lewis [1971, first round Pittsburgh] there were always guys here. Jackie Graves [who became director of player personnel with the Eagles], Joe Perry [49ers], Emlen Tunnell [Giants], Bill Nunn [Steelers] and Elbert Dubenion [Bills] were some of the regulars. They'd come in on Wednesday and stay through Saturday."
Still, there was no indication if Harris would be drafted.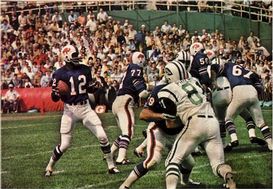 Harris drops back to pass with the Buffalo Bills.
"The scouts were very discreet," said Porter. "We thought there might be an opportunity with the Rams because of Tank Younger, but we really had no idea. He was planning on getting into coaching after college. In our mind, there was no doubt that Harris could be a starting quarterback in the NFL. With his arm, size and overall understanding of the game, we knew he'd be able to adapt to any offense. We had a great quarterback with Mike Howell [1964], but he didn't have the size and the Browns [1965-72] made him a defensive back."
The Howell brothers [Lane, Mike and Delles] grew up across from Harris on Atkinson St. in the Bryant's Addition neighborhood and attended Carroll High School in Monroe, La. All three went to Grambling and played in the NFL. "Coach Rob [Eddie Robinson] felt he would be our first quarterback to make it into the NFL when he brought him in," said Porter. "I had a chance to see Harris against Coleman High School [of Greenville, Miss.] and you could tell he was a special player. They beat Coleman which was quarterbacked by George Scott [who played first base for the Boston Red Sox and Milwaukee Brewers] and the top team in Mississippi. We always tried to get as much information on any techniques we could use from all the scouts who came through. Coach Rob was always adding new things on offense and defense. We learned a lot from Dub Jones." Jones was quarterback Otto Graham's primary receiver when the Browns won titles in 1950, '54 and '55 and their offensive coordinator from 1963-68. Jones lived in neighboring Ruston, La., his son Bert Jones was a quarterback for the Baltimore Colts in 1973-81.
Two scouts responsible for Harris getting drafted were Bill Groman and Elbert Dubenion. Growing up in Tiffin, Oh., Groman lived at home while attending Heidelberg University, riding his bike one mile to campus. Setting a number of records in football and track, Groman was signed as a free agent by the Houston Oilers [1960]. Catching 72 passes and 12 touchdowns from George Blanda as a rookie [he was tied for second in the AFL with Don Maynard], he followed up his second year with 50 and 17 touchdowns. The Oilers beat the Los Angeles Chargers 24-16 for the title in 1960. They beat the Chargers 10-3 for the championship in 1961 [the Chargers moved to San Diego in '61]. The Oilers lost in 1962 to the Dallas Texans 20-17 in double overtime. Groman's last two years were with the Bills 1964 and '65 championships; they beat San Diego 20-7 and 23-0. His roommate was quarterback Jack Kemp.
Dubenion, who grew up in Griffin, Ga., attended Bluffton University in Bluffton, Oh. Drafted in 1959 in the 14th round by the Browns, a leg injury prevented him from attending training camp. Picked up by the Bills as a free agent, Dubenion [1960-68] is ninth on their all-time receiving list with 294 receptions, and 35 touchdowns. Nicknamed 'Golden Wheels', in 1964 he was All-Pro catching 42 passes for 10 touchdowns and a 27-yard average. Dubenion became an area scout in 1969.
Groman, who spent 36 years scouting for the Bills, Blesto, Oilers and Falcons, was absolutely certain about Harris' NFL makeup. "There was no question about James Harris," said Groman, who was the Oilers director of player personal in 1977 and '78. "We both gave him high grades and said he should be drafted in the top three rounds. If he was white and from a big school that's where he would've been drafted. He was like a black Joe Namath, but bigger [at 6-4]. Harris had size, was strong, threw the ball very well, was able to take a hit and get away from the grasp of the defender. He was a leader and you could see what he was doing would translate well at the pro level. Harris and Charlie Joiner had a special chemistry, they complimented each other; they understood the offense and knew how to play the game. I traveled to games working [only] on the weekends then. I had the Texas, Louisiana and Oklahoma area. I'd watch tape with coach Robinson; he offered me a job coaching the wide receivers. Going to Grambling or Jackson State [In 1968 Jackson State had 11 players drafted and five signed as free agents under coach Rod Paige, who later became the United States Secretary of Education under President George W. Bush] back then was like going to Alabama or USC today. You'd have eight- ten-twelve guys to watch who had the ability to play in the NFL.
"When we gave our report to the general manager Harvey Johnson a couple weeks before the draft, he asked, 'Can he play tight end?' I said, 'He's not a tight end, he's a quarterback!' We kept pushing for him and it's a good thing [area scout] Elbert Dobinion was there to back me up. I think he just got tired of us talking about Harris and finally pulled the trigger."
Seth Schwartz is a freelance writer in Chicago. He can be reached at seth.schwartz@sbcglobal.net