September 20, 2013 -
Ken Crippen
Where are they now: Ace Parker
Born Clarence McKay Parker in 1912 to Ernest and Mabel Parker in Portsmouth, Virginia, Clarence attended Woodrow Wilson High School, excelling in five sports: football, baseball, basketball, track and soccer.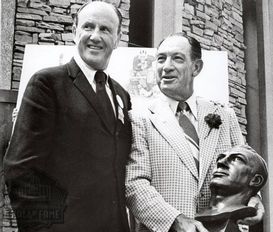 Pro Football Hall of FameParker with his presenter Jack White, GM of the 49ers, during his Enshrinement in 1972.
After graduation, he was set to attend Virginia Tech until a former Duke alumnus requested that Parker visit the campus in Durham. Parker agreed and went to see Duke football coach Wallace Wade. According to Parker's friend Buddy Lex, "Ace went down to Wade's office and Wade said, 'I understand you are going to Virginia Tech.' Clarence says, 'Yes, sir.' Wade said, 'I think you made a wise decision. I don't think you could make our ball club here.'" That was all the strong-willed Parker needed to hear. He changed his mind and went to Duke to prove that he could make the team. He did more than that, making second-team All-American in 1935 and consensus first team All-American in 1936, when he also placed sixth in the Heisman Trophy voting.
Asked how Parker got the nickname "Ace," Buddy Lex responded, "A Norfolk newspaper had a sports reporter named Bill Cox. Ace, when he was playing for Duke University, [Cox] wrote a column and it said, 'When you need ten yards, six yards or 20 yards, Clarence Parker is like an ace in the hole. He can get those yards for you.' From then on, he was known as 'Ace' Parker. That was about 1935."
Parker was drafted by the NFL's Brooklyn Dodgers in 1937, but chose to play baseball for the Philadelphia Athletics instead, hitting a home run in his first at-bat. After one year of baseball, Parker requested and was granted permission to play for the Dodgers. For the 1937 and 1938 seasons, Parker was playing professional baseball and football. After the 1938 season, he decided to focus strictly on football. He led the team in passing in 1937 and led the league in 1938. Comparing those accomplishments to his baseball records -- a .179 batting average, 20 runs and 25 RBIs -- the choice was clear that football was his sport.
In 1940, Ace broke his leg sliding into second base during a summer baseball game. As a result, he needed to wear a bulky brace on his leg, which went from his ankle to his knee. That was also the year that legendary Pitt coach Jock Sutherland joined the Dodgers. Under Sutherland, Parker had one of his best years as a pro, amassing 817 passing yards, 10 touchdowns, 306 rushing yards, and leading the league in points after touchdowns. Parker won NFL Most Valuable Player honors that year.
In 1942, Parker left pro sports to join the Navy. He served two years at the Norfolk Naval Base, attaining the rank of chief petty officer. While in the Navy, he played baseball and managed the base's team.
After serving in the military, Parker returned to the pro gridiron to play for the 1945 Boston Yanks. He finished his career playing for the 1946 New York Yankees of the upstart All-America Football Conference, reuniting with former Dodger owner Dan Topping.
After retiring from pro football, Parker was an assistant football coach at Duke University from 1948 through 1966. He was also Duke's head baseball coach from 1953 through 1966. From 1949 through 1952, Parker was also a player-manager with the semi-pro Durham Bulls. He won Piedmont Manager of the Year honors in 1949 and 1951 and had a record of 303-266 with the Bulls.
Parker went on to scout for the San Francisco 49ers and Arizona Cardinals over the next 30 years.
Parker was inducted into the College Football Hall of Fame in 1955, the North Carolina Sports Hall of Fame in 1963, the Virginia Sports Hall of Fame in 1972, the Pro Football Hall of Fame in 1972, the Duke University Sports Hall of Fame in 1975 and the Hampton Roads Sports Hall of Fame in 2008.
Parker passed away on November 6th, 2013 at the age of 101.
Ken Crippen is the executive director of the Professional Football Researchers Association. He has researched and written about pro football history for over two decades. He won the Pro Football Writers of America's Dick Connor Writing Award for Feature Writing and was named the Ralph Hay Award winner by the Professional Football Researchers Association for lifetime achievement on pro football history. He can be reached on twitter @KenCrippen.