September 10, 2013 -
Ken Crippen
Where are they now: Eddie Meador
Defensive back Eddie Meador received little fanfare while attending small-college Arkansas Tech, but made an impact when he hit the National Football League. A seventh-round draft pick in the 1959 NFL draft, Meador went on to earn Defensive Rookie of the Year honors for the Los Angeles Rams, was voted Defensive Back of the Year for the team seven times, was selected to eight Pro Bowls, and was named to the NFL's All-1960s team.
Over his twelve-year career with the Rams, he intercepted 46 passes, recovered 18 opponents' fumbles and blocked 10 kicks; all are still team records.
According to the late Merlin Olsen, a long-time teammate, Olsen said Meador "was one of the finest defensive backs I have ever seen. Outstanding in coverage and a fierce tackler, he had a remarkable nose for the football that allowed him to come up with big plays again and again during his career."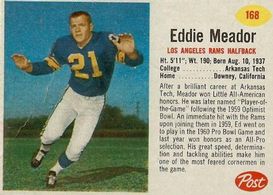 Post Football CardsMeador was drafted in the 7th Round of the 1959 NFL draft, as the 80th pick overall
Meador's football career started simple enough. "I started [playing football] in seventh or eighth grade in Ovalo, Texas. I only played one year of high school football. We moved from Texas to Arkansas between my sophomore and junior year. I was ineligible to play my junior year. In training camp before the season started, I had a hip injury that put me out for the year. I didn't get to play and only played my senior year." He graduated from Russellville High School in Arkansas as an all-state football player.
With only one year of high school football under his belt and his smaller stature (5'11"), his college career almost failed to materialize. He was rejected by legendary University of Alabama coach Paul 'Bear' Bryant as being too small to play college football. Tulsa had the same opinion. However, Arkansas Tech gave him a chance and offered Meador a scholarship. He was all-conference three times at Arkansas Tech and was little All-American his senior year. He was also named Arkansas Amateur Athlete of the Year in 1958.
However, according to Meador, "I hadn't thought about playing professional football." He continued, "I went through ROTC in college and had a commission in the army. I had planned on making the military my career. Then I got drafted by the Rams and thought, 'Shoot. I might as well try it.'"
After being drafted by the Rams, Meador still considered making the military his career. "I had the opportunity to take a six-month career. So I did my basic training and officer training school at Fort Benning, Georgia during my first off-season with the Rams. That is how it worked out. The six months was up when my second season started."
Meador played on the same defense as the famous Fearsome Foursome. He had fond memories of his teammates. According to Meador, Deacon Jones "was exceptional. He was not as fast as most of us backs, but he was just an extreme, great defensive end." Merlin Olsen "was a very intelligent football player. He and Deacon were a terror." He continued, "Rosey [Grier] was an excellent ball-player. It was too bad he tore up his achilles tendon and cut his career short. He plugged up the center of the line." Meador said, "Lamar Lundy was I guess a lot like Deacon Jones, just not as fearsome as Deacon was, but he was a great ball player. He was tall enough…big enough. The quarterbacks had trouble getting the ball over him." Finally, on Roger Brown: "The Rams traded for him from Detroit [when Grier tore his achilles tendon]. He was an excellent ball player, as well. He was a lot like Rosey: big, tough man in the middle."
The Rams struggled during the first part of Meador's career. It was not until George Allen took over before the Rams saw success. According to Meador, "[Allen] made us believe that we could win. He was 150% coach. He was a super coach." The Rams had a winning record the remainder of Meador's career, including two playoff appearances (1967 and 1969). Unfortunately, both resulted in a loss for the Rams.
Meador also played special teams. "I was a punt returner and kick returner in college," recalled Meador. In referring to whether he liked playing special teams, Meador hesitantly said, "Yeah. It was kinda scary in the pros." He continued, "Actually, I didn't play that much in the pros, except I was a safety on the kickoff team and a holder for the extra points and field goals. In my next to last year, or last year, we were having trouble with fumbles on punt returns. George Allen put me in there for a little while. That was a little scary."
He became active in the NFL Players Association (NFLPA) and was elected president. "I was elected by the NFLPA, and Jack Kemp at that time was the president of the American League Association. When [the leagues] merged in 1969, the Players Associations got together and elected John Mackey as president of the NFL Players Association. I was president-elect for about a month."
Meador retired from football after the 1970 season and went into the real estate business. "I moved from L.A. to Dallas. I was in the real estate business, in the Century 21 offices. One time, I had four of them in Dallas and about 85 agents working for me."
However, it did not last. "The next thing I know, I am in the hospital. It was a little bit more mental work than football. I was about 48 years old. I thought, 'I am too young for something like this.'"
Then he found his passion. "My wife was a jewelry buyer for a jewelry store in Dallas back in the early days. After I sold my offices, we didn't really know what we were going to do. We began to mess around with jewelry. We went to the World Trade Center and to shows to sell it. Then one person said, 'Why don't you go to horse shows to sell your jewelry?' I said, 'I should go to a horse show to sell it?' We went to several horse shows and decided that we needed good equestrian jewelry. So, we began to learn about making jewelry and started our business and that was 31 years ago. We make equestrian jewelry and sell it all around the country. My grandkids are involved in it. Some of the finest people in the world are ones that own horses."
In 2012, Meador was inducted into the Professional Football Researchers Association's (PFRA) Hall of Very Good. Formed in 2003, the Hall of Very Good is the PFRA's way of honoring players who have had excellent careers, but are not in the Pro Football Hall of Fame.
Awards:
• Inducted into the Arkansas Tech University Hall of Distinction (1969)
• Awarded the NFL Father of the Year (1969)
• Awarded the NFLPA Byron 'Whizzer' White NFL Man of the Year Award (1969)
• Elected to the Helms Athletic Foundation Sports Hall of Fame (1972)
• Elected to the Arkansas Sports Hall of Fame (1978)
• NAIA Collegiate Hall of Fame Member
• Inducted into the Professional Football Researchers Association's Hall of Very Good (2012)
Ken Crippen is the executive director of the Professional Football Researchers Association. He has researched and written about pro football history for over two decades. He won the Pro Football Writers of America's Dick Connor Writing Award for Feature Writing and was named the Ralph Hay Award winner by the Professional Football Researchers Association for lifetime achievement on pro fo otball history. He can be reached on twitter @KenCrippen.