December 19, 2013 -
Ken Crippen
Where are they now: Ken Riley
When asked about the top defensive backs not in the Pro Football Hall of Fame, Ken Riley's name is always on the list. However, he never received the recognition that he deserved during his playing career. In his 15-year tenure with the Cincinnati Bengals, he led the league in interceptions three times and is currently ranked fifth all-time in career interceptions. Riley felt that his demeanor may be the reason for his exclusion. "I am low key. I always thought that if you go out and do your job, you will get rewarded. Unfortunately, if you do not go out and be flashy or do some things that bring attention to yourself, your stats do not mean anything."
Riley was not always a defensive back. Throughout high school and college, he played quarterback. He was the starter at Florida A&M from 1966 through 1968, and in 1968, he led the team in points scored and touchdowns.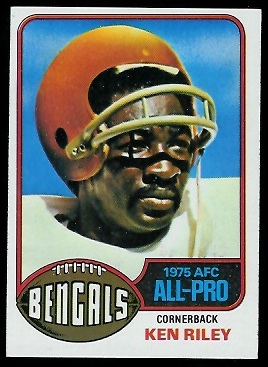 He was drafted by the Bengals in 1969. Riley recalled his time with the team, "It was a great experience for me. Having been a quarterback in high school and college, and from being from a small school, and being a black quarterback at that time, it was gratifying." Riley continued, "My first goal was to go to college and get an education to better myself in life. Then, this opportunity came along. I was drafted in the sixth round [of the 1969 NFL Draft]. Back then, they had 17 rounds. I was at a basketball game and someone came up to me and said that the Bengals wanted to talk to me. They are thinking about drafting you in the next round. Paul Brown gave me an opportunity and I was able to take advantage of it. They drafted Guy Dennis in the fifth round. They drafted me in the next round. I was their quarterback-slash-defensive back-slash-wide receiver. I was probably one of the first 'slashes' of that time. A lot of black quarterbacks at that time were converted to other positions."
When asked if he thought he would play quarterback for the Bengals, he responded, "I did not know at the time. When I got to training camp, Coach Brown said that I was going to be a cornerback. I was put in that position and I had never played it before. I think that was good, as I did not have any bad habits. They felt that I had the quick feet and could change direction. They took a chance on me and it worked out well. I never looked back. I was just happy to have the opportunity."
Riley had a lot of respect for Paul Brown. "It was a great experience. He was small in stature, but he could carry a big stick. I had a lot of respect for him. I learned a lot." He continued, "There were a lot of things I questioned back then, but when I became a coach, I could see why he did what he did. He revolutionized football."
Riley expanded on his impressions of Brown: "He believed in being punctual. If the meeting started at five o'clock, everybody would be there thirty minutes before. He didn't believe in you being late. He talked about life. He cared about his athletes. If you got out of line, he would discipline you. If you didn't do your job, he got rid of you. That was his philosophy. Do what you are supposed to do and do not get into trouble. Then, he would believe in you. You took tests. If you couldn't do it on paper, you couldn't do it on the field. We had classrooms and a playbook. You were assigned responsibilities. You had to know your position first. Then, you had to know what everyone around you was doing. You became a student of the game, which I thought was good."
Riley retired from the Bengals after the 1983 season. During his tenure, the Bengals made the playoffs five times and appeared in the Super Bowl (a 26-21 loss to the San Francisco 49ers).
After retiring as a player, Riley went into coaching. He commented, "Forrest Gregg was my coach. I retired in '83. When I went home, I thought I would be an administrator in the school system somewhere. He asked me if I wanted to coach pro ball. I told him that I wanted to give the Bengals an opportunity. I contacted the Bengals. They said 'Yeah. You would be working with Dick LeBeau in the secondary.' Forrest Gregg said, 'No. I want you to be my secondary coach. Period. I think that you are ready. I want you to come and take over the secondary.' I went with him. I thought that I was too close to the [Bengals] players and that I needed to get away."
He coached with the Green Bay Packers for two years, before moving on to a head coaching position with Florida A&M. Riley remembered, "I got summoned by my [college] coach Jake Gaither. He wanted me to come back to Florida A&M and be the head football coach there. I had my eyes set on being a head coach in the NFL. At that time, they said that most of the black guys did not have any head coaching experience. Back then, there were not too many black assistants. There was a few. Tony Dungy and Emmitt Thomas. I opted to go at [the college] level."
During his time at Florida A&M, the Rattlers won two Mid-Eastern Atlantic Conference titles and compiled a 48-39-2 record.
After the 1985 season, Riley became Florida A&M's athletic director and served in that position for nine years. He recalled, "They changed presidents and he said that he wanted to move in another direction, which means that you didn't have a job any more."
According to Riley, "I came home for a year. I got tired of sitting around the house. I was only 54 or 55 [years old]. I went into the school system here. I liked working with young people and became dean of students at [Winter Haven High School]." He retired from Winter Haven last year.
In 2010, Riley was inducted into the Professional Football Researchers Association's (PFRA) Hall of Very Good. Formed in 2003, the Hall of Very Good is the PFRA's way of honoring players who have had excellent careers, but are not in the Pro Football Hall of Fame. When informed of his induction, Riley commented, "I think that you've done your homework. I am very appreciative of you recognizing that. I am very appreciative that someone looked at the stats and felt that I was worthy for my accomplishments. I did well both on and off of the field."
Riley seems to have Hall of Fame statistics, but induction into the hallowed halls of Canton has eluded him. Riley commented, "If you get 65 interceptions, you are getting the job done. I led the conference three times. My accomplishments speak for themselves." Currently, he ranks fifth all-time in interceptions with 65. He is surrounded by Hall of Famers on that list: Paul Krause (81), Emlen Tunnell (79), Rod Woodson (71), 'Night Train' Lane (68), Ronnie Lott (63), Dick LeBeau (62), Emmitt Thomas (58), Mel Blount (57) and Lem Barney (56). There are more Hall of Famers farther down the list. Obviously, he has the statistics to get into the Hall of Fame.
Another argument people make against his induction is the lack of Pro Bowl nods. According to Riley, "The system is all screwed up. A lot of times, there were guys who made the Pro Bowl based on what they did the previous year. Lemarr Parrish and I are good friends. In 1976, I had nine interceptions and led the conference. I had three in the last game against the Jets. I will never forget it. Charlie Winters was my secondary coach. They took me out in the third quarter. He said that he didn't want me to get hurt, because, 'There is no way that this time they would pass you up.' Lemarr [Parrish] was hurt half of the season that year. When they picked the Pro Bowl, they selected him, which I never understood and neither did he. I can't fault him, but the system is all screwed up. My last two years, I led the conference in interception s and I made the press all-pro." Riley never made the Pro Bowl.
According to an August 3, 2013 article in the New York Times, teammate Cris Collinsworth said of Riley, "You'll never find a bigger advocate of his making the Hall than me." Collinsworth continued, "I probably learned more football from Kenny Riley than from anyone I played for or against. Everything I did that worked against everybody else never worked against him. But as soon as he would pick off a pass on my route or beat me to a spot, he'd tell me why, explain what I'd done wrong. He wanted me to be better because that made the team better." Riley responded to the glowing praise from his teammate, "That is very gratifying and heartwarming. While I was on my way up, I had to learn on my own. Helping others helped me concentrate on the little things."
Riley is currently retired and lives in Florida. He focuses his time working with kids in his community.

Teams:
• Cincinnati Bengals (1969-83)
Coaching:
• Green Bay Packers (Assistant Coach)(1984-85)
• Florida A&M (Head Coach)(1986-93)
Awards:
• Florida A&M Athletic Hall of Fame (1977)
• Tallahassee Sports Hall of Fame (1996)
• Florida Sports Hall of Fame (1992)
• Polk County Hall of Fame (1992)
• Black College Coach of the Year (1988)
• Twice Named Mid-Eastern Atlantic Conference Coach of the Year (1988 and 1990)
• Florida High School Association All-Century Team (2007)
• Professional Football Researchers Association's Hall of Very Good (2010)
Ken Crippen is the former executive director of the Professional Football Researchers Association. He has researched and written about pro football history for over two decades. He won the Pro Football Writers of America's Dick Connor Writing Award for Feature Writing and was named the Ralph Hay Award winner by the Professional Football Researchers Association for lifetime achievement on pro football history.
Follow Ken on Twitter @KenCrippen