March 11, 2013 -
Joel Corry
10 free agents to monitor starting Tuesday
"Be careful what you ask for, you just might get it," is a suitable term applicable to NFL free agency. Scrutiny increases on a player when he is viewed by the fans as a team's savior or missing piece of the puzzle. Some players don't live up to the expectations associated with a lucrative contract. A couple of mistakes on major free agent acquisitions can put a general manager or head coach on the hot seat, if not get them fired.
Players are eager to test the free agent market each year. Some are disappointed in the outcome because their market never develops for a variety of reasons (age, unrealistic contract demands, tight salary cap, etc.). Here's a look at some intriguing unrestricted free agents as we get set for the market to open on Tuesday afternoon: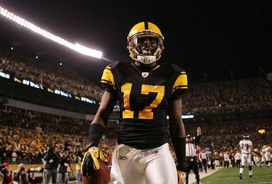 Wallace is headed for a monster payday this week.
Mike Wallace (WR): Although Wallace is not a polished wide receiver, he could land the biggest free agent contract because of his big play ability. His 27 catches and 16 touchdown receptions of 40 or more yards are the most in the NFL since his 2009. Wallace should supplant Dwayne Bowe, who signed a five-year, $56 million contract (including $26 million in guarantees) with the Kansas City Chiefs last week, as the NFL's third highest-paid wide receiver. The Miami Dolphins are considered as the leading candidate for Wallace, who is 26-years-old.
Paul Kruger (OLB): Kruger will reap the benefit of collecting 4.5 sacks in the postseason after a posting a career high nine sacks during the regular season. Teams usually place a high value on players who can consistently put pressure on opposing quarterbacks. The Cleveland Browns are switching to a 3-4 defense but need an outside linebacker who excels at rushing the passer. The Indianapolis Colts must find a replacement for Dwight Freeney at outside linebacker. Kruger could command a contract that averages in excess of $10 million per year, especially if the reports of Indianapolis and Cleveland pursuing him are true. The Browns have $47.1 million in cap space while the Colts are $37.46 million under the cap.
Steven Jackson (RB): As expected, Jackson voided his 2013 contract year, which is the final year of his five-year, $43,097,500 contract extension. He was scheduled to make $7 million in 2013. Jackson's days with the St. Louis Rams appear to be over. According to Jim Thomas of the St. Louis Post-Dispatch, Jackson was offered $3.5 million to stay in St. Louis as the Rams adopt a running back-by-committee approach. Jackson, who has eight straight 1,000-yard rushing seasons and will turn 30-years-old before the start of the 2013 season, feels he can still be a workhouse running back. He should expect a reduction in pay because of his age and high mileage (2,802 career touches and 2,395 rushing attempts).
Teams don't invest heavily in running backs who are in their thirties or approaching thirty because they usually don't sustain or improve their performance. A Super Bowl contender, like the Atlanta Falcons or Green Bay Packers, makes the most sense for Jackson since he hasn't been to the playoffs since his rookie year in 2004. 32-year-old Fred Jackson sets the salary bar for running backs in their thirties. The Buffalo Bills signed him a two-year, $8.7 million contract extension (with an additional $2.2 million in incentives) in 2011.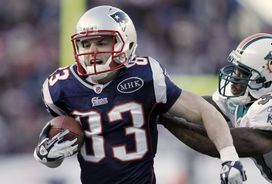 There's still a chance that Welker could return to the Patriots next season.
Wes Welker (WR): Welker has been the NFL's most productive wide receiver since joining the Patriots six seasons ago. He has averaged 112 catches and 1,243 receiving yards per year during his New England tenure. It wasn't a surprise that the Patriots didn't franchise Welker for a second time at $11.418 million. As an undersized slot receiver turning 32-years-old in May, Welker may not command a contract indicative of his production. Marques Colston's five-year contract averaging $7.26 million per year (including $17.7 million in guarantees) with the New Orleans Saints was the top deal signed by a slot receiver in last year's market. Welker's free agency market may not develop as he expects if teams attribute too much of his success to playing with Tom Brady and hold the failures of the wide receivers that have left the Patriots (Deion Branch, David Givens, David Patten, etc.) for other teams against him. Returning to the Patriots at New England's price tag could be Welker's best option. The Patriots could find a younger and cheaper alternative if Welker drags his feet in free agency, since they don't regard particular wide receivers as indispensable to their success.
Jared Cook (TE): The Tennessee Titans didn't franchise Cook after it became clear that he would file a grievance to be classified as a wide receiver for franchise tag purposes. There's a $4.471 million difference between the wide receiver and tight end franchise tag numbers. Cook is highly coveted by several teams because of his physical gifts even though he hasn't caught more than 49 passes in any of his four NFL seasons. He could land a contract comparable to Aaron Hernandez's five-year $37.5 million 2012 contract extension, but with more than Hernandez's $16 million in guarantees because of multiple suitors.
Andre Smith (OT): If Smith had lived up to the potential that made him the sixth pick overall in the 2009 NFL draft, he wouldn't be a free agent because the Cincinnati Bengals would have exercised their option on his 2013 and 2014 contract years. Smith, who plays right tackle, is seeking a contract comparable to the six-year contract extension averaging $8.9 million per year (with $22,081,500 in guarantees) Pro Bowl left tackle Duane Brown signed with the Houston Texans right before the start of the 2012 season. These types of deals are usually reserved for left tackles since they typically protect a quarterback's blindside. Any team considering Smith's asking price needs to be sure that the conditioning issues and laziness that plagued him early in his career are a thing of the past.
Sean Smith (CB): Smith's great size for a cornerback should outweigh his inconsistent play during the 2012 season. At 6'3" and 218 pounds, he is one of the only cornerbacks that can physically matchup with the NFL's bigger wide receivers, such as Calvin Johnson and Brandon Marshall. Since the NFL is a copycat league, teams could be willing to pay a premium for him after the Seattle Seahawks' success with their bigger cornerbacks. According to The Miami Herald's Armando Salguero, Smith is looking for a contract between the Jason McCourty ($8.608 million average per year, $17 million in guarantees) and Brandon Carr/Cortland Finnegan neighborhoods ($10 million average per year, $26.5 million-$27 million in guarantees).
Ed Reed (S): Reed is one of the few NFL players who represents himself. The Baltimore Ravens would like to re-sign Reed, but retaining inside linebacker Dannell Ellerbe with their limit ed cap space is more of a priority. The Ravens let Ray Lewis test the free agent market in 2009. He returned to Baltimore after finding out 33-year-old linebackers aren't in great demand during free agency. Taking this approach could backfire with Reed because the Indianapolis Colts and New England Patriots could be options for him. Bill Belichick holds Reed in such high regard that he could be the president of his fan club. Reed has an extensive history with Indianapolis head coach Chuck Pagano that dates back to his college days at Miami (FL) where Pagano was his position coach. Because Reed is turning 35-years-old in September, the nine-time Pro Bowler shouldn't expect his new contract to reach the $6,350,333 average per year of the six-year contract extension he signed in 2006.
Jake Long (OT): Long followed a subpar 2011 campaign with the worst season of his five-year NFL career. The 2008 first pick overall wasn't an ideal fit in head coach Joe Philbin's zone blocking scheme. Long was placed on injured reserve with a torn triceps in his left arm after twelve games. He received a clean bill of health from Dr. James Andrews last week. Long has made $53.125 million during his five-year NFL career. Unless there is a team that still views Long as an elite left tackle, he will have a difficult time getting a free agent contract equaling the $10.625 million average per year (with $30 million guaranteed) of his rookie contract.
Dwight Freeney (DE): Freeney struggled in his transition from 4-3 defensive end to 3-4 outside linebacker in the Indianapolis Colts' new defensive scheme, partially because of injuries. His five sacks in 2012 were the second lowest total of his eleven-year career. The 33-year-old faces competition in the older pass rusher market from Osi Umenyiora and John Abraham. The Atlanta Falcons, Denver Broncos and Tennessee Titans have reportedly expressed interest in him. Freeney may have his sights set on a contract similar to the four-year, $36 million deal (with $17 million guaranteed) his Indianapolis linebacker counterpart Robert Mathis received last year. The three-year, $17.5 million contract (worth up to $21 million with base salary escalators) the 34-year-old Abraham signed with the Falcons in 2012 may be a more important benchmark for Freeney.
Follow me on Twitter: @corryjoel
Joel Corry is a former sports agent who helped found Premier Sports & Entertainment, a sports management firm that represents professional athletes and coaches. Prior to his tenure at Premier, Joel worked for Management Plus Enterprises, which represented Shaquille O'Neal, Hakeem Olajuwon and Ronnie Lott. You can email Joel at jccorry@gmail.com