February 20, 2014 -
Joel Corry
10 players who could be headed for a contract restructuring
Contract restructurings have become a way of life in the NFL, particularly for teams with tight salary cap situations, because of slow growth in regards to the salary cap. The salary cap increased only 1.99 percent in 2013 to reach $123 million. The 2014 salary cap could be set at $130 million when it is finalized later this month or in early March, since CBS bought the rights to Thursday night games. All teams must be under the cap for the beginning of the 2014 league year on March 11.
A contract restructuring is different from a pay cut. In a typical restructuring, a player will convert some portion of his base salary or roster bonus (without reducing salary) into a signing bonus because it can be prorated or spread out evenly over the life of a contract (most other salary components usually can't be prorated) for a maximum of five years.
A restructuring results in a team receiving a lower cap number in the current season while the player gains more short-term security and potentially a better payment schedule for the current year of his contract. The player's cap numbers in the remaining contract years also increase, which can make him more susceptible to becoming a cap casualty in the future.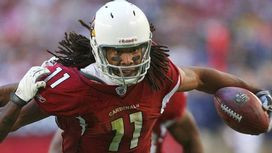 2014 may be Fitzgerald's final year in Arizona due to a recent contract restructuring.
Arizona wide receiver Larry Fitzgerald was the first player this off-season to reduce a high cap number through a contract restructure. He created $9.4 million of cap room for the Arizona Cardinals when he lowered his 2014 cap number from $18 million, which was the ninth-highest in the NFL, to $8.6 million by converting $11.75 million of his $12.75 million 2014 base salary into a fully guaranteed second day of the 2014 league year roster bonus (March 12). The Cardinals are able to prorate or spread out evenly this $11.75 million over the five years left on his contract. Fitzgerald's 2015, 2016, 2017 and 2018 cap numbers each increased by $2.35 million with the restructuring. As a result, Fitzgerald could be playing his last season with the Cardinals in 2014 because his 2015 cap number is now $23.6 million.
Players can restructure their contracts at any time, including multiple times in the same season. Chris Snee restructured his contract with the New York Giants twice in 2013. There isn't a limitation on how many consecutive years a player can restructure his contract. DeMarcus Ware has restructured his deal for three straight years to help the Dallas Cowboys with their never ending cap problems. However, once a player receives a salary increase when reworking his contract. He can't receive another salary increase for one year.
Here's a look at ten players—with their 2014 cap numbers—who could be candidates to restructure their contracts.
Tony Romo (QB)-Dallas Cowboys: $21.773 Million
Dallas must rid themselves of almost $21 million in cap obligations by March 11 (assuming a $130 million 2014 salary cap). Some cap flexibility was built into the six-year, $108 million contract extension (with $55 million in guarantees) Romo signed in 2013 because the deal gives Dallas the discretionary right to convert a portion of his base salary into a signing bonus. Most of the lucrative deals the Cowboys have signed in recent years also contain this clause which allows them to automatically create cap room. $10.036 million of cap room can be created by converting $12.545 million of Romo's fully guaranteed $13.5 million 2014 base salary into a signing bonus. Romo's 2014 cap number would drop to $11.737 million, but his 2015 cap number would rise to $27.782 million.
Charles Johnson (DE)-Carolina Panthers: $16.42 Million
Carolina barely has enough cap room to franchise All-Pro defensive end Greg Hardy for approximately $12.8 million. The team could turn to Johnson, whose six-year, $76 million contract runs through the 2016 season, for help because he can create up to $5,263,333 of cap room in a basic restructure. More cap room could be gained if the Panthers added one or two voidable years to Johnson's deal with a restructuring. It was done last year when the Panthers restructured DeAngelo Williams and Ryan Kalil's contracts.
Drew Brees (QB)-New Orleans Saints: $18.4 Million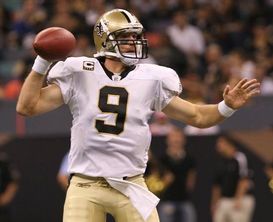 If the Saints want to get Jimmy Graham under contract for the next few years, Brees may need to make some changes to his recent deal.
Although the Saints picked up $16.905 million of cap room by releasing Jabari Greer, Roman Harper and Will Smith, more work needs to be done to accommodate restricted free agent tenders and Jimmy Graham's expected franchise tag. Brees has the highest cap number on the team and the NFL's seventh-highest 2014 cap number. He is willing to restructure his contract to help the Saints with their cap problems. Brees can generate $6.53 million of cap room by turning $9.795 million of his $10.75 million 2014 base salary into a signing bonus. His 2014 cap number would be $11.87 million in his reworked deal. The 35-year-old's league high $26.4 million 2015 cap number would become $29.665 million.
Andre Johnson (WR)-Houston Texans: $15,644,583
Johnson has the second-largest 2014 wide receiver cap number because he earned $3.5 million in 2014 base salary escalators primarily for ranking among the NFL's leaders in receptions and receiving yards during the 2013 season. The Texans gained $4.125 million in cap room when Johnson restructured his contract last September. If last year's contract restructure is an indication of how Houston will approach reworking Johnson's deal, $5 million of his $10 million 2014 base salary and his $1 million first regular season game roster bonus will be converted into a signing bonus. Such a move will create $4 million in 2014 cap room for the Texans. The cap numbers in the remaining two years of his contract (2015 and 2016) will each increase by $2 million. Johnson's 2014 cap number will become $11,644,583.
James Laurinaitis (MLB)-St. Louis Rams: $10.4 Million
The Rams have slightly more than $4.25 million of cap room. The three best options to free up cap space are Sam Bradford ($17.61 million), Chris Long ($14.9 million) and Laurinaitis. He could be the most appealing option because the five-year, $41.5 million contract extension he signed one day before the 2012 regular season opener only contains $400,000 of annual bonus proration and $4.025 million, $6.175 million and $8.1 million cap numbers in 2015, 2016 and 2017. Converting $9.72 million of Laurinaitis' $10 million base salary will create $6,952,500 of cap room. His 2014 cap number would become $3,447,500.
Darrelle Revis (CB)-Tampa Bay Buccaneers: $16 Million
The lack of security in the six-year, $96 million contract Revis signed as a part of a 2013 pre-draft trade with the New York Jets could become an off-season problem for Tampa Bay. The deal doesn't contain any guaranteed money. The team didn't get holdout protection in Revis' contract, like the Jets had, but have the right to convert a portion of his base salaries into a roster bonus and also guarantee a portion of his base salaries and roster bonuses. If the Buccaneers don't fully or conditionally guarantee Revis' 2014 or 2015 base salaries (both $13 million) the contract drama that plagued the Jets with Revis' tenure in New York could continue in Tampa. Any of Revis' money that becomes fully guaranteed roster bonuses through a salary conversion will be treated as a signing bonus on the cap. For example, if $12 million of Revis' 2014 base salary is added to his $1.5 million third day of the 2014 league year roster bonus (March 13) where the entire $13.5 million becomes guaranteed for skill, the cap and injury, the roster bonus will be prorated over the five years left on his contract ($2.7 million yearly proration). Under this scenario, $10.8 million of cap room would be created.
Antonio Brown (WR)-Pittsburgh Steelers: $8.47 Million
The Steelers have $140.1 million in 2014 cap obligations with only $1.35 million of unused 2013 cap room that can be carried over to the 2014 league year. $3,937,500 of cap space will be freed up if Brown drops his $6 million base salary to $750,000 where the rest is converted into a signing bonus. Brown restructured his contract last year by turning $3.85 million of his $4.5 million base salary into a signing bonus.
Jay Cutler (QB)-Chicago Bears: $22.5 Million
The seven-year, $126.7 million deal (includes $54 million in guarantees) Cutler signed within days of the 2013 regular season ending has the NFL's highest 2014 cap number. The deal's structure raised eyebrows because his 2014 cap number is approximately $6 million more than the projected non-exclusive quarterback franchise tag number. The Bears can lower Cutler's cap number since they can create cap room at any time during the deal with their discretionary right to convert a portion of his base salary into a signing bonus. Exercising the right may be necessary because the Bears have $122.96 million in 2014 cap commitments with 49 players under contract while the top 51 cap numbers count during the off-season.
Patrick Willis (ILB)-San Francisco 49ers: $6.863 Million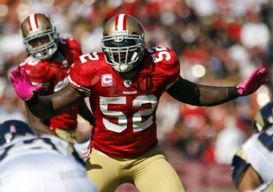 Willis is a prime candidate in San Francisco to help the Niners become a more cap-friendly team.
Willis has a reasonable 2014 cap number despite signing a five-year, $50 million contract extension (with $29 million in guarantees) in 2010. A clause that allowed Willis to void his 2013-2016 contract years at his discretion was added in 2011 where the 49ers could have bought them back for $1,000. Since the contract's voiding was within Willis' sole control, the proration from those years accelerated into the 2012 cap. His 2014 cap number dropped by $3,538,080 because of the clause. The 49ers will gain $2,953,333 of cap room if Willis lowers his $5.285 million base salary to $855,000, his minimum base salary, with $4.43 million becoming a signing bonus.
Dwayne Bowe (WR)-Kansas City Chiefs: $12 Million
Kansas City's $6.62 million of cap room won't go far if the plan is to re-sign some of their 11 unrestricted free agents or be active in free agency. Bowe has the team's highest cap number. $4.25 million of Bowe's $8.75 million 2014 base salary was fully guaranteed when he signed a five-year, $56 million deal last year. The remaining $4.5 million becomes fully guaranteed on the third day of the 2014 league year (March 13). The Chiefs can pick up $5,921,250 of cap room by turning $7.895 million of Bowe's base salary into a signing bonus. By restructuring, Bowe would become a potential 2015 cap casualty with post-June 1 treatment, so his cap hit could be taken in 2015 and 2016 if he has another season like 2013 (57 catches for 673 receiving yards).
Follow me on Twitter: @corryjoel
Joel Corry is a former sports agent who helped found Premier Sports & Entertainment, a sports management firm that represents professional athletes and coaches. Prior to his tenure at Premier, Joel worked for Management Plus Enterprises, which represented Shaquille O'Neal, Hakeem Olajuwon and Ronnie Lott. You can email Joel at jccorry@gmail.com.