December 02, 2014 -
Joel Corry
2014 salary cap kings
Defensive tackles have the NFL's top-two 2014 salary cap numbers, which is a rarity. As usual, quarterbacks dominate the list of the largest cap numbers. Here's a look at the players with 2014's highest cap numbers. The Collective Bargaining Agreement's (CBA) $175 daily amount for participating in a team's voluntary offseason workout program is included in the cap numbers.
1. Ndamukong Suh (DT)-Detroit Lions: $22,414,600 million
Suh's cap number is a product of restructuring his five-year rookie deal (worth up to $68 million with $40 million fully guaranteed) in 2012 and 2013. The Lions and Suh engaged in negotiations for a new deal during the offseason, but the team broke off talks at the beginning of training camp. It will be virtually impossible for the Lions to use a franchise tag on Suh in 2015. His franchise tag number will be $26.87 million, which is based off of 120 percent of his 2014 cap number. Suh's next contract will likely be the richest deal in NFL history for a defensive tackle because he isn't going to think a decrease from his rookie contract is warranted after being named All-NFL four times in his four NFL seasons and Gerald McCoy's recent contract extension averaging $13.6 million per year.
2. Gerald McCoy (DT)-Tampa Bay Buccaneers: $21.295 million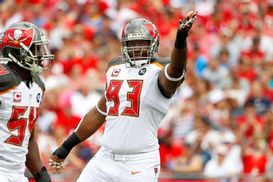 McCoy is currently the NFL's highest-paid interior defensive lineman.
McCoy had the NFL's second-highest 2014 salary cap number among defensive tackles at $15,627,253 before signing a six-year, $95.2 million contract extension (worth up to $98 million through incentives). The deal, which contains $51.5 million in guarantees, made McCoy the NFL's highest-paid interior defensive lineman. McCoy has the second-largest amount of guarantees ever in an NFL contract for a defensive player behind J.J. Watt's $51,876,385.
3. Eli Manning (QB)-New York Giants: $20.4 million
In 2015, Manning will be entering the final year of his 2009 six-year, $97.5 million contract extension (with $35 million guaranteed). It may be in the Giants' best interest to take a wait-and-see approach on a new deal with Manning because he's been inconsistent in new offensive coordinator Ben McAdoo's west coast offense. The Super Bowl XLVI MVP has a $19.75 million salary cap number in 2015.
4. Ben Roethlisberger (QB)-Pittsburgh Steelers: $18,896,750 million
The Steelers decided against renegotiating Roethlisberger's contract with two years remaining as they did with his rookie deal. Team president Art Rooney II indicated during the early part of training camp that Roethlisberger's contract situation would be addressed after the season. In order for Roethlisberger to maintain the same place in the quarterback salary hierarchy as the six-year contract extension averaging $14,664,417 per year with $33.2 million in guarantees he signed in 2008 (NFL's second-highest paid player and third-most contract guarantees), his new extension would need to top $20.75 million per year and $59 million in guarantees.
5. Mario Williams (DE)-Buffalo Bills: $18.8 million
Williams lost his place as the NFL's highest-paid defensive player ($96 million/six years, $50 million in guarantees, $4 million in incentives) when J.J. Watt signed a six-year, $100 million contract extension at the start of the regular season. The 2006 first overall pick's $53 million in the first three years of his deal is the best three-year cash flow in the NFL for a non-quarterback. Living up to the deal has been hard for Williams, but he's fourth in the NFL with 12 sacks and is also Pro Football Focus' second-ranked 4-3 defensive end this season.
6. Jay Cutler (QB)-Chicago Bears: $18,504,900 million
Cutler signed a seven-year, $126.7 million deal (includes $54 million guaranteed) within days of the 2013 regular season ending. He had the NFL's highest 2014 cap number at $22.5 million before the Bears lowered his cap number by exercising their discretionary right to convert a portion of his base salary into a signing bonus, which was necessary to sign defensive end Jared Allen.
7. Drew Brees (QB)-New Orleans Saints: $18.4 million
Brees became the NFL's first $20 million per year player with the five-year, $100 million contract (included a record $60.5 million in guarantees) he signed with the Saints in 2012. It will be difficult for the Saints to carry Brees' $26.4 million 2015 cap number with a league high almost $161 million in 2015 cap commitments when the 2015 cap isn't expected to exceed $145 million.
8. Sam Bradford (QB)-St. Louis Rams: $17.61 million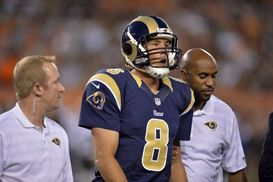 The Rams would gain $12.985 million of cap room by cutting Bradford in 2015.
Bradford is missing the 2014 season after tearing the ACL in his left knee for the second year in a row. He is one of the last beneficiaries of high draft picks receiving rookie contracts where easily achievable escalators created large base salaries in their deals. As the first pick overall in the 2010 NFL draft, Bradford signed a six-year, $78 million deal (worth a maximum of $86 million) containing $50 million in guarantees. By contrast, Cam Newton signed a fully guaranteed four-year, $22,025,498 contract (with a CBA mandated fifth year option worth $14.666 million) as the first pick in 2011 after the creation of a rookie wage scale. Bradford's future with the Rams is in doubt because of durability concerns and his $16.58 million 2015 cap number. The Rams would gain $12.985 million of cap room by cutting Bradford in 2015.
9. Aaron Rodgers (QB)-Green Bay Packers: $17.55 million
Rodgers is the highest-paid player in NFL history (by average yearly salary). He signed a five-year, $110 million contract extension in 2013 containing $54 million in guarantees, which included a $35 million signing bonus. The 2011 NFL MVP's 2014 cap number was originally $17.9 million. The signing bonus proration dropped from $7 million annually in Rodgers' 2014-2017 contract years to $6.65 million because of insurance policy payments to the Packers relating to the quarterback missing seven games last season with a broken collarbone.
10. Matt Ryan (QB)-Atlanta Falcons: $17,505,425 million
Ryan edged Peyton Manning for the tenth spot because he received $350 more in offseason workout per diem. The 2008 NFL Offensive Rookie of the Year became the NFL's second-highest paid player when he signed a five-year, $103.75 million contract extension (including $59 million in guarantees) in 2013. $42 million was essentially fully guaranteed at signing. Ryan is getting $63 million in the first three years of his contract, which is the best three-year cash flow in the NFL and narrowly eclipses Rodgers' $62.5 million.
Follow me on Twitter: @corryjoel
Joel Corry is a former sports agent who helped found Premier Sports & Entertainment, a sports management firm that represents professional athletes and coaches. Prior to his tenure at Premier, Joel worked for Management Plus Enterprises, which represented Shaquille O'Neal, Hakeem Olajuwon and Ronnie Lott. You c an email Joel at jccorry@gmail.com.