March 05, 2013 -
Joel Corry
A comprehensive look at Joe Flacco's contract
Joe Flacco's six-year, $120.6 million contract makes him the NFL's highest paid player. His $20.1 million average yearly salary narrowly tops the $20 million average per year Drew Brees received in the five-year, $100 million contract he signed with the New Orleans Saints last July.
The Ravens avoided using a franchise tag on Flacco by the March 4 deadline for designating franchise players because of his new deal. Flacco was scheduled to count at $14.896 million on Baltimore's salary cap at the start of the 2013 league year on March 12 without a new contract regardless of whether he received the non-exclusive or exclusive franchise tag.
Technically, Flacco's contract is a four-year deal with options for the fifth and sixth contract years. The deal contains $52 million in guarantees, which consists of a $29 million signing bonus, a $15 million option bonus in 2014, a $7 million option bonus in 2015 and a $1 million injury guaranteed 2013 base salary. Flacco has unguaranteed $6 million, $4 million, $18 million, $20.6 million and $20 million base salaries in his 2014, 2015, 2016, 2017 and 2018 contract years.
Baltimore's most lucrative contracts are structured with a signing bonus and option bonus. Haloti Ngata's contract includes a $25 million signing bonus and a $10 million option bonus. Terrell Suggs' deal has a $10.1 million signing bonus and $23 million option bonus. Most recently, there are $15 million and $7 million signing and option bonuses in Ray Rice's contract.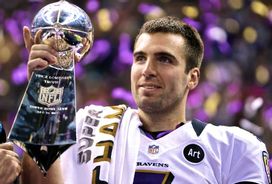 Flacco rode a stellar postseason performance all the way to the NFL's richest contract.
The Ravens haven't employed the double option bonus concept since Ray Lewis' 2009 deal. The contracts Ed Reed and Willis McGahee signed in 2006 and 2007 also contain two option bonuses.
An option bonus is essentially an additional signing bonus that's usually paid in the second or third year of a contract to exercise later years in the deal. Since an option bonus is given the same treatment on the cap as signing bonus, it is prorated or evenly spread out over the life of a contract for a maximum of five years. Flacco's $15 million option bonus is prorated during the 2014 through 2018 contract years. His $7 million option bonus is prorated over the 2015 through 2018 years.
Option bonuses aren't as secure as signing bonuses. Typically, the Ravens include an option non-exercise fee in their contracts for the same amount as the option bonus which is payable the day after the option exercise period expires if the player hasn't been released. Flacco's contract has a $22 million non-exercise fee in 2014 relating to the first option. There's a $7 million non-exercise fee with the second option in 2015.
It's been several years since Baltimore has released a player instead of paying his option bonus or non-exercise fee. Most notably, Elvis Grbac was released in 2002 before the $6 million option bonus in his five-year, $30 million contract was payable.
The Ravens include base salary injury guarantees usually in the second and third contract years equal to the option bonus amount that voids once the option bonus or non-exercise fee is paid. Flacco's $6 million 2014 base salary, $4 million 2015 base salary and $12 million of his $18 million 2016 base salary are guaranteed for injury. The injury guarantees void once the option for the 2017 contract year is exercised or the non-exercise fee is paid in 2014, except $3 million of the 2016 injury guarantee will remain until the option for the 2018 contract year is picked up or Flacco receives the $7 million non-exercise fee in 2015.
Flacco's guarantees falls short of the record $60.5 million in guarantees Brees received because Baltimore's contracts haven't included salary guarantees besides the injury guarantees associated with option bonuses. The Ravens were unwilling to break from their standard conventions on salary guarantees. Teams are normally reluctant to establish new precedents because they will become issues with other players in future negotiations.
Flacco's $6.8 million 2013 cap number is comparable to the first year cap numbers in the contracts of Baltimore's second and third highest-paid players. Ngata and Suggs had $7.1 million and $7.02 million first year cap numbers in their contracts. Flacco's 2014 and 2015 cap numbers at $14.8 million and $14.55 million are quite reasonable.
Flacco's low 2013 cap number should give the Ravens a better chance of re-signing free agent inside linebacker Dannell Ellerbe, who is now Baltimore's top priority. The Ravens are approximately $11.5 million under the cap after Flacco's deal but must decide how many of their six restricted free agents will receive tenders in order to retain their rights. The restricted free agent tenders should take up between $7.315 million and $10.894 million of the cap depending on which tenders the players receive.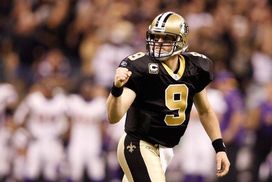 Drew Brees' reign as the NFL's highest-paid player came to an end when Flacco and the Ravens reached an agreement.
Flacco's payment schedule is slightly more favorable than Brees' payment schedule after their first contract year. Flacco gets $30 million in 2013 while Brees received $40 million in the first year of his deal. Brees has $50 million, $61 million and $80 million of compensation in the second, third and fourth years of his deal. Flacco's payouts are $51 million, $62 million, $80 million and $100.6 million, which is $600,000 more than Brees, after his second, third, fourth and fifth contract years.
Additionally, Flacco's payment structure is consistent with the payment structure in the six-year, $50 million contract (with a $10 million signing bonus and $5 million option bonus) Lardarius Webb signed last April. Webb receives 21.2% and 36% of his compensation in the first and second years of his deal while Flacco gets 24.9% and 42.3% of his money in those years. In the third through fifth contract years, Webb is at 51%, 67% and 83%. Flacco comes in with 51.4%, 66.3% and 83.4% for the third, fourth and fifth years of his contract.
Extremely high cap numbers in the later years of such a lucrative deal are unavoidable with the signing and option bonus structure. Flacco should be secure for the first three years of his contract regardless of how he performs. The Ravens would have $29.4 million of dead money in 2015 if they released him instead of paying the $7 million option bonus or non-exercise fee. He could be vulnerable during the remaining contract years because his dead money in each of these years is less than his cap number.
Flacco could be in line for a contract extension in 2016 when there are three years remaining on his contract and his cap number is $28.55 million provided that his regular seasons start consistently matching his playoff performances. At the very least, his contract could be restructured for cap purposes in 2016. His cap number peaks in 2017 at $31.55 million and drops to $24.75 million in the final year of the deal because the $5.8 million of proration from his signing bonus stops after the 2017 contract year. Flacco's 2019 franchise tag number will be $29.7 million if he completes his contract.
Fla cco's reign as the NFL's highest-paid player will be short-lived. Matt Ryan, who is entering the final year of his rookie contract, should exceed Flacco's deal before the 2013 season ends. Even if Ryan doesn't become the NFL's salary king, Flacco's deal is setting the stage for Aaron Rodgers to become the highest-paid player unless he is willing to give the Green Bay Packers a home team discount. Rodgers could get a new deal before he enters his contract year in 2014.
Follow me on Twitter: @corryjoel
Joel Corry is a former sports agent who helped found Premier Sports & Entertainment, a sports management firm that represents professional athletes and coaches. Prior to his tenure at Premier, Joel worked for Management Plus Enterprises, which represented Shaquille O'Neal, Hakeem Olajuwon and Ronnie Lott. You can email Joel at jccorry@gmail.com