February 19, 2013 -
Joel Corry
A game of tag
During a two-week period beginning Monday (February 18) and running through March 4, NFL teams have the right to place a non-exclusive or an exclusive franchise tag on one of their players with an expiring contract in order to retain his rights.
With the non-exclusive franchise tag, a player must be offered a one-year contract based on the average of the non-exclusive franchise numbers at his position over the last five years and their percentage of the salary cap or 120% of his prior year's salary (usually salary cap number), whichever is greater. This tag allows the player to negotiate with other NFL teams, but if he signs an offer sheet with another club, his team has five days to match the offer. If the offer is not matched, his team will receive two first-round picks as compensation from the signing team.
Under the exclusive franchise tag, a player will receive a one-year offer from his team that is the greater of the average of the top five salaries at his position once the restricted free agent signing period has ended (approximately April 19) or 120% of his prior year's salary. A player cannot negotiate with other teams with the exclusive franchise tag.
Instead of being reserved for marquee players, the franchise tag has become a tool that restricts a team's best free agent in a given year from entering the open market. Most teams opt to use the non-exclusive tag. A record twenty-one players were franchised in 2012, including six kickers and punters. These twenty-one designations were two more than were issued during the 2010 and 2011 seasons combined.
Below is a chart that contains the tentative 2013 non-exclusive franchise numbers according to NFL.com's Ian Rapoport. The numbers can't be finalized until the 2013 salary cap is set. The cap is projected to increase from $120.6 million to $121.1 million for the 2013 season.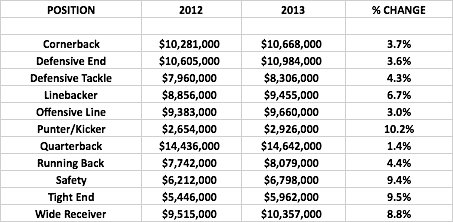 Here's a look at each team's franchise tag situation by division.
AFC East

Buffalo Bills: The Bills can't afford to lose Jairus Byrd while they are revamping their secondary. Strong safety George Wilson and cornerback Terrence McGee were released last week. Byrd was named to his second Pro Bowl in 2012 and also received All Pro honors (first team Sporting News and second team Associated Press).
Miami Dolphins: There is conflicting information on whether the Dolphins could use their franchise tag on cornerback Sean Smith. The Miami Herald's Armando Salguero reports that Smith wants to be paid like an upper echelon cornerback ($8 million to $10 million per year range). Smith could capitalize on his rare cornerback size (6-3, 218 lbs) on the open market. Left tackle Jake Long hasn't played at an elite level in two years and wasn't named to the Pro Bowl in 2012 for the first time in his five-year career. His franchise number is $15.36 million. The Dolphins can easily carry such a high figure because they are $43.5 million under the cap, which is the NFL's third-most cap room.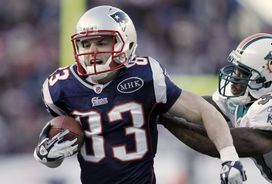 Due to the high cost, Wes Welker could be playing elsewhere next season.
New England Patriots: It will cost $11.418 million to use a second franchise tag on Wes Welker. It seems unlikely considering New England historically hasn't placed a high value on wide receivers. Right tackle Sebastian Vollmer was contending for All-Pro honors before his back troubles resurfaced. Aqib Talib helped shore up New England's secondary when he was acquired for a 2013 fourth-round pick at the trading deadline. His absence was felt in the AFC Championship game when he injured a hamstring in the first quarter. The Patriots are reluctant to make a long term commitment to Talib because of his well-chronicled off-the-field troubles.
New York Jets: 2012 Pro Bowl safety LaRon Landry would be a viable franchise tag candidate, but his one-year, $3.5 million deal contains a clause that prohibits him from being franchised.
AFC North

Baltimore Ravens: It's only a question of which franchise tag the Ravens put on Joe Flacco if they can't quickly work out a long-term deal with the Super Bowl MVP. A team with an abundance of cap room that needs a quarterback, like the Cleveland Browns, could sign Flacco to an offer sheet containing an extremely high 2013 cap number (over $20 million) with the non-exclusive tag. The Ravens would have difficulty matching such an offer sheet. The exclusive franchise number is currently expected to be $20.463 million but could decrease if any of the quarterbacks with the highest salaries rework their contracts to lower their cap numbers before Flacco receives this designation.
Cincinnati Bengals: The Bengals have the NFL's largest amount of cap room with $53.5 million. Defensive end Michael Johnson and right tackle Andre Smith are Cincinnati's two franchise tag possibilities. Johnson had a career high 11.5 sacks in 2012. Smith finally started living up to the potential that made him the sixth overall pick in the 2009 draft. If the Bengals work out a long-term deal with one of these players, the other one will probably get franchised.
Cleveland Browns: Kicker Phil Dawson is Cleveland's only legitimate franchise tag prospect. He's been franchised in each of the last two years and will not be franchised again. Franchising him a third time will cost the Browns $14.642 million, the quarterback figure, because a third franchise tag on a player is the greater of the highest franchise number at any position or 144% of the player's salary from the prior season.
Pittsburgh Steelers: Pittsburgh has said that they will not be using their franchise tag. Their receiving corps should have a different look when the 2013 season opens. Mike Wallace reportedly turned down a five-year, $50 million deal before his lengthy preseason holdout. He could exceed Vincent Jackson's five-year, $55,555,555 deal (with $26 million guaranteed) on the open market.
AFC South

Houston Texans: The Texans may not use their franchise tag because they signed left tackle Duane Brown and quarterback Matt Schaub to contract extensions during the preseason. Free safety Glover Quin is Houston's best franchise tag candidate. The former cornerback would be difficult to replace because of his versatility. Outside linebacker Connor Barwin probably removed himself from consideration with a three sack 2012 season after collecting 11.5 sacks in 2011.
Indianapolis Colts: The Colts are in a much different position than last year when they franchised outside linebacker Robert Mathis before signing him to a four-year, $36 million deal (with $17 million guaranteed). Indianapolis doesn't have any free agents of Mathis' caliber this year. Punter Pat McAfee is a franchise tag possibility because his franchise tag number is only $2.926 million.
Jacksonville Jaguars: The Jaguars used their franchise tag on kicker Josh Scobee last season. Jacksonville doesn't have a free agent worthy of this year's franchise tag. Cornerback Derek Cox is the free agent the team can least afford to lose.
Tennessee Titans: Jim Wyatt of The Tennessean has reported that the Titans are expected to franchise tight end Jared Cook. He asked for trade last season because he was unhappy with his role before offensive coordinator Chris Palmer was fired.
AFC West
Denver Broncos: Executive Vice President of Football Operations John Elway has announced that left tackle Ryan Clady will be franchised with the intention of working out a long-term deal. The 2012 first team All-Pro gave up one sack during the season. He reportedly turned down a five-year, $50 million deal before the season because he wants to be the NFL's highest-paid offensive lineman. Cleveland Browns offensive tackle Joe Thomas currently holds that distinction with a seven-year, $80.5 million contract extension (with $37 million in guarantees and $3.5 million in Pro Bowl escalators) signed in 2011.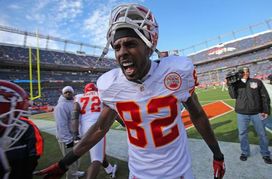 Will Dwayne Bowe get hit with a second franchise tag?
Kansas City Chiefs: Re-signing wide receiver Dwayne Bowe and left tackle Brenden Albert is a priority. Bowe may regret that he didn't insist on a franchise tag prohibition clause before he signed his $9.515 million franchise tender in August. He can be franchised for a second time at $11.418 million. Instead of franchising Bowe or Albert, the Chiefs could go the economical route by using their tag on Pro Bowl punter Dustin Colquitt.
Oakland Raiders: Tight end Brandon Myers had a breakout season with 79 catches for 806 yards. He led the Raiders in receptions and receiving yards. 37-year-old punter Shane Lechler has been the highest paid punter at $4 million per year. The Raiders may be reluctant to franchise Lechler because his $5.88 million franchise number is more than double the minimum tender for kickers and punters.
San Diego Chargers: Offensive guard Louis Vasquez is San Diego's best offensive lineman on a unit that needs revamping. Quarterback Philip Rivers was sacked a career-high 49 times in 2012. Offensive guards typically aren't franchised. New England's Logan Mankins is the only offensive guard that has been franchised during the last five years.
NFC East
Dallas Cowboys: Outside linebacker Anthony Spencer was franchised last year. Even though Dallas is switching to 4-3 defense where Spencer would become a defensive end, his franchise number is based on the linebacker number because it's the position where he played the most snaps during the 2012 season. It would cost $10.627 million to franchise him for a second time. Since the Cowboys' primary concern is clearing slightly over $21 million of cap room in order to be cap compliant when the 2013 league year starts on March 12, they may not use their franchise tag.
New York Giants: Left tackle Will Beatty is a prime franchise tag candidate since he plays a premium position. Victor Cruz would be franchised if he were headed towards unrestricted free agency. As a restricted free agent, Cruz can be given a $2.879 million tender which entitles the Giants to a first-round pick if he signs an offer sheet with another club that isn't matched. It would be a waste of resources to allocate an additional $7.478 million to Cruz with a franchise tag because the restricted free agent market has been dormant in recent years. None of last year's 42 restricted free agents signed an offer sheet.
Philadelphia Eagles: The Eagles will not use their franchise tag according to Comcast SportsNet's Geoff Mosher. Cornerback Dominique Rodgers-Cromartie was the only player who got consideration.
Washington Redskins: Tight end Fred Davis, who was franchised last season, tore his left Achilles tendon in the seventh game of season. The injury could limit his free agent market. The Redskins would like to re-sign him but probably don't have to put a $6.535 million franchise tag on him since he isn't expected to be healthy for at least three months.
NFC North
Chicago Bears: Defensive tackle Henry Melton was named to his first Pro Bowl after registering six sacks, which ranked third among defensive tackles. The Bears reportedly opened contract negotiations for a new deal with Melton during the 2012 season without much progress being made.
Detroit Lions: Lions General Manager Martin Mayhew has indicated that their franchise tag will not be used. Defensive end Cliff Avril will get a crack at free agency after playing the 2012 season on his $10.605 million franchise tender.
Green Bay Packers: Green Bay's offense didn't suffer when wide receiver Greg Jennings missed eight games with a groin injury. He could attract a lot of interest early in the free agent signing period.
Minnesota Vikings: The Vikings would like to retain fullback Jerome Felton and right tackle Phil Loadholt. Using a franchise tag on either one of them isn't necessary since they won't command a long-term deal averaging anything close to their respective franchise numbers.
NFC South
Atlanta Falcons: Strong safety William Moore made the Pro Bowl as a replacement after San Francisco's safeties weren't available because of the Super Bowl. Cornerback Brent Grimes was franchised last season. Committing $12.337 million on a second franchise tag is an expensive proposition for a cornerback who turns 30-years-old in May and tore his Achilles during the 2012 regular season opener. The Falcons may want to consider hedging their bets by franchising tight end Tony Gonzalez at $7.099 million since general manger Thomas Dimitroff believes his retirement is a 50/50 proposition.
Carolina Panthers: Restructuring contracts and releasing players is the focus for Carolina. The Panthers are approximately $10.5 million over the cap. The Panthers do not have any impact free agents. Defensive end Dwan Edwards is the best of the bunch.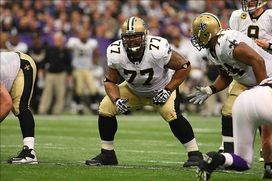 The Saints lost Carl Nicks last season. Will Bushrod be next?
New Orleans Saints: The Saints could be saying goodbye to a key offensive lineman for a second straight year. The Tampa Bay Buccaneers quickly snapped up offensive guard Carl Nicks in free agency. Left tackle Jermon Bushrod could be in high demand without a franchise tag.
Tampa Bay Buccaneers: The Buccaneers have plenty of cap room to afford the $10.984 million tender required to franchise defensive end Michael Bennett. He had nine sacks in 2012 as Tampa Bay's only consistent pass rusher. Defensive ends Da'Quan Bowers and Adrian Clayborn both missed significant time with injuries. Bowers' arrest on Monday at LaGuardia Airport for carrying an illegal handgun could factor into Tampa Bay's franchise tag decision because of New York's tough gun laws.
NFC West
Arizona Cardinals: Greg Toler had a productive 2012 season after missing the 2011 season wit h a torn ACL in his left knee. It isn't necessary for the Cardinals to franchise Toler.
San Francisco 49ers: Dashon Goldson does not want to be franchised again for $7.454 million. He has been vocal about his desire for a multi-year deal. Jim Harbaugh supports signing Goldson long term.
Seattle Seahawks: Kicker Steven Hauschka is the best bet to get franchised because of a lack of other alternatives.
St. Louis Rams: It would be an easy decision for the Rams to franchise Danny Amendola if he could stay healthy. Although Amendola is a key ingredient in the St. Louis offense, he has missed 20 games over the last two seasons. According to the St Louis Post-Dispatch's Jim Thomas, the Rams and Amendola are far apart in their negotiations.
Follow me on Twitter: @corryjoel
Joel Corry is a former sports agent who helped found Premier Sports & Entertainment, a sports management firm that represents professional athletes and coaches. Prior to his tenure at Premier, Joel worked for Management Plus Enterprises, which represented Shaquille O'Neal, Hakeem Olajuwon and Ronnie Lott. You can email Joel at jccorry@gmail.com