March 12, 2012 -
Joel Corry
A long-term deal for Forte could be challenging
Conventional wisdom suggests that Marshawn Lynch and Arian Foster's new contracts will serve as the parameters in Matt Forte's negotiations. Lynch signed a four-year, $30 million deal (with $18 million guaranteed) while Foster signed a five-year, $43.5 million deal (with $20.75 million guaranteed). However, signing Forte to a long-term deal may be easier said than done.
Adisa Bakari, Forte's agent, won't consider Lynch's deal as indicative of his client's marketplace. Forte has established himself as one of the NFL's top dual-threat running backs while Lynch hasn't displayed that type of versatility. Forte has also been a more productive player. He has 656 more yards from scrimmage than Lynch has in his career despite playing one less season. The difference between the two is more dramatic when comparing their last three seasons. Forte's 4,503 yards from scrimmage are 53.8% greater than Lynch's 2,927 yards from scrimmage.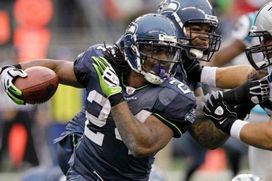 Despite inferior numbers to Forte's, Marshawn Lynch just landed a $30 million contract.
Forte's contract demands were never made public during last preseason's negotiations but Bakari was probably using the deal he negotiated for Maurice Jones-Drew in 2008 as a benchmark after adjusting for inflation since it was a three-year old deal. Jones-Drew received a four-year contract extension averaging $7,641,250 per year (with $17.5 million guaranteed) when he was going into the final year of his four-year rookie contract and hadn't yet established himself as an every down running back. If the Bears had made Forte an offer similar to Lynch's deal during those talks, it probably would have been hard for him to turn it down.
Forte's demands have surely increased since then. Despite missing the final four games of the regular season because of a sprained MCL in his right knee, the former Tulane standout became the Bears' first Pro Bowl running back since Neal Anderson in 1992. At the time of his injury, Forte was considered as an Offensive Player of the Year candidate and topped the NFL in yards from scrimmage with 1,487 yards. Conservatively, Forte will want to eclipse DeAngelo Williams' five-year, $43 million contract (with $21 million guaranteed), which he signed as an unrestricted free agent once the lockout ended. He got this deal despite missing a majority of the 2010 season with a foot injury.
It's more likely that Forte wants something closer to Adrian Peterson and Chris Johnson's deals, which raised the bar for running back salaries. Johnson signed a four-year contract extension averaging $13,493,750 per year (with $30 million in guarantees) after a lengthy preseason holdout. Peterson received a six-year contract extension averaging $14,213,333 per year (with $36 million guaranteed). He is getting $40 million in the first three years of his deal while Johnson has $31 million over his first three years.
Forte and the Bears are probably looking at Foster's deal in two different lights. Since the Texans could have retained Foster as a restricted free agent by giving him a first-round tender (approximately $2.75 million), Bakari is probably viewing this contract as a four-year deal averaging slightly under $10.2 million per year. That's the value of Foster's four unrestricted free agent years after subtracting his expected restricted free agent tender (I find it unlikely that the Texas would have franchised Foster since teams rarely give up first-round picks for restricted players). As far as the Bears are concerned, Foster's deal is comparable to Williams' deal. The deals are structured similarly where the overall guarantees are practically the same and both have $30 million over first three years.
Forte expressed renewed optimism for a long-term deal when Phil Emery was hired as general manager to replace Jerry Angelo. Since Emery comes from a scouting background and doesn't have salary cap or negotiating experience, he is relying on, if not deferring to, Cliff Stein's expertise. Stein, who has spent over a decade with the Bears as their salary cap administrator and chief negotiator, played a pivotal role in the prior Forte negotiations and was part of the interview team during their general manager search. Stein's significance and Emery's unfamiliarity with the details of player contracts could mean that the Bears may be reluctant to radically alter their financial philosophy towards running backs.
During Angelo's eleven-year tenure as general manager, none of the Bears running backs were among the NFL's ten highest paid running backs in any season (by average yearly salary). Instead, they had constant turnover at the position. Anthony Thomas, Thomas Jones and Cedric Benson had a stint as the Bears' primary ball carrier before they selected Forte in the second round of the 2008 NFL Draft. None of them signed a second contract with the Bears.
Consequently, increasing their offer from the one they made before shutting down negotiations last September (reportedly $6 million per year with $13-14 million guaranteed) to Lynch's neighborhood would be a major concession by the Bears.
Both sides need to recognize that the alternatives to making a deal aren't that desirable. In Forte's case, it's getting stuck with franchise tags. Going season-to-season with the franchise tag is most advantageous to the Bears from a pure economic standpoint. As the Bears' franchise player, Forte will receive a projected $7.727 million by signing his franchise tender. If they franchised him for a second time next year, he would get approximately $9.27 million, which is 120% of his 2012 franchise amount.
The Bears could franchise Forte for a third time but that's extremely unlikely because his franchise number would be the greater of 144% of his 2013 franchise number (approximately $13.35 million) or the largest franchise number at any position, which is always quarterback. After making $17 million with the two franchise tags, Forte would be 28-years-old when he finally became an unrestricted free agent and his window of opportunity for a big payday would be compromised. In the meantime, the Bears would have had ample time to find a younger and much cheaper successor for Forte, presumably through the NFL draft.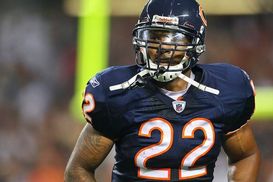 ICONForte was very professional during last year's negotiations...and it got him nowhere.
Despite being unhappy with the dynamics of his negotiations last season, Forte handled himself in a professional manner and didn't let his dissatisfaction affect his play, unlike Peyton Hillis. Since Forte wasn't rewarded with a new contract for doing things "the right way," the Bears should be prepared for him to play hardball this time around. He contemplated holding out last year but decided against it. Given that Forte has said that he's fine with getting franchised provided that it leads to a new deal, the Bears shouldn't expect him to sign his franchise tender anytime soon.
As long as Forte isn't under contract, h e can't participate in the Bears offseason activities or training camp. If significant progress hasn't been made as the July 15th deadline for franchised players signing long term deals approaches, it wouldn't be surprising for Forte to demand a trade. Once that deadline passes, it might take the Bears agreeing to a one-year deal at his franchise number where they couldn't restrict him when it expired to get him back into the fold. Albert Haynesworth and Asante Samuel signed such deals with franchise/transition prohibitions that kicked in if they or their respective teams reached certain statistical thresholds when they were franchised.
If the Bears believe that Forte can duplicate or exceed his level of production during his rookie contract over the next four seasons, then Forte and the Bears should be able to find some sort of middle ground. Forte's 6,218 yards from scrimmage would rank as the fourth best total for a running back in his fifth through eighth seasons over the last decade. It would also place him right behind Steven Jackson (6,261 yards from scrimmage), who signed a five-year contract extension averaging $8,619,500 per year (with $20.5 million guaranteed) in 2008.
With that type of production, Forte wouldn't join Shaun Alexander, Edgerrin James and Larry Johnson as another cautionary tale for running backs with lucrative second contracts.
Joel Corry is a former sports agent who helped found Premier Sports & Entertainment, a sports management firm that represents professional athletes and coaches. Prior to his tenure at Premier, Joel worked for Management Plus Enterprises, which represented Shaquille O'Neal, Hakeem Olajuwon and Ronnie Lott. You can email Joel at jccorry@gmail.com